Adelphi taught me discipline.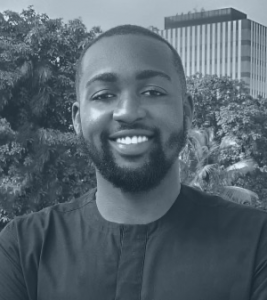 Member of Adelphi University's 10 Under 10
Co-founder and CEO, FINT Technology Africa
Chiwete John-Njokanma '15 is driven to succeed. From the moment he set foot on Adelphi's campus as a student-athlete, he needed to manage conflicting priorities to achieve his goals. Academics and athletics were always a balancing act, but "perseverance was a trait I had to build along the way to deal with the highs and the lows."
Originally from Nigeria, John-Njokanma was recruited by the Adelphi tennis team from IMG Academy in Bradenton, Florida. The campus culture and convenient location to New York City were appealing. He quickly found a mentor in Professor David Gleicher and a passion for economics.
Today, John-Njokanma's studies and discipline are being used to help others in Nigeria. He returned to the country after graduation and co-founded the fintech company FINT. His responsibilities include managing partnerships with investors and leading the new business development strategy. The reward: "providing access to loans for businesses and individuals, and creating wealth opportunities for people in a country like Nigeria where access to credit is less than 3% of the population gives me the satisfaction that I am contributing to my society positively."
John-Njokanma recommends current Adelphi students to follow their passions: "Take risks and let purpose fuel the work or career you get into."