Adelphi University students were engaged in community service during Fall 2019.
Each year, Adelphi University students dedicate their time and energy to help people and organizations within our community. Through a series of events hosted by the Center for Student Involvement (CSI) and other student organizations on campus, students have put what they have learned in class, as well as their skills and other talents, to use by serving those in need in our local communities.
"Adelphi University prides itself on our commitment to giving back to the surrounding areas," said Arianna Livreri, senior assistant director of CSI. "Students here at Adelphi have a deep-rooted spirit of helpfulness and are extremely compassionate individuals who strive to better the lives of others. Through programs like Panther Day of Service and Can Castles, Adelphi is dedicated to supporting the outside community."
Theresa Woods, an administrative assistant in the Department of Anthropology, experienced firsthand the difference Panthers can make in the lives of others. When she arrived at the Garden Care Center to visit her mother, she saw people dressed in Adelphi gear. They had volunteered to spend time with the residents of the center during September's Panther Day of Service. "The students were so nice. Their visit just perked up the residents so much," said Woods. "They really made a difference in the lives of the people that were there. It was very heartwarming to see."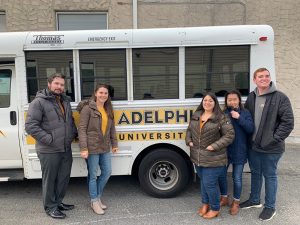 Here are some highlights of CSI's work this semester:
A week before the Fall 2019 semester started, 63 first-year students participated in the First-Year Community Action Program. This three-day experience allowed them to serve in the city, in the local community and on campus. Their efforts were featured on the Adelphi website and covered on local TV news.
Leaders of the First-Year Community Action Program (FCAP) established the FCAP and Beyond initiative. First-year students continue their community service beyond the initial FCAP experience by completing 10 projects in local communities during the first few weeks of the semester, thus reconnecting with fellow first-years and continuing in the spirit of serving.
Every fall and spring, CSI holds a volunteer fair, where students meet representatives from local nonprofit organizations. This semester, 125 students and 22 sites participated.
On Saturday, September 21, 99 Panthers took part in the sixth annual Panther Day of Service. They volunteered at 13 different service sites on Long Island, including Theodore Roosevelt Sanctuary and Audubon Center, Garden Care Center, Island Harvest and Crossroads Farm at Grossmann's.
Approximately 500 students participated in the 29 volunteer opportunities CSI provided on and off campus, New York City and in the local community.
CSI held its first-ever Can Castles event this semester and 73 Panthers participated. The Adelphi community donated more than 1,100 nonperishable food items for the Mary Brennan INN.
CSI has collected 6,067 water bottles since the beginning of August, with proceeds of over $300 donated to the Thirst Project, an organization that builds wells in communities around the world that lack access to potable water.
In addition, the Adelphi Chapter of Circle K International, one of the world's largest collegiate student-led service organizations, is aiming to raise $12,000 for the Thirst Project. On November 15, the organization held its first-ever Thirst Gala that was attended by 150 people and raised $5,136. So far, $9,202 out of the $12,000 has been raised for the well.
CSI hosted its first-ever CSI Giving Room on December 3. Members of the Adelphi community donated more than 800 items to the Mary Brennan INN in Hempstead.
—Additional reporting by Corrada Spatola '20 (anticipated)
---
For further information, please contact:
Todd Wilson
Strategic Communications Director 
p – 516.237.8634
e – twilson@adelphi.edu