The president of Adelphi's Latino Student Association, Heidi Peña Ortiz, speaks about the organization's goals and upcoming events.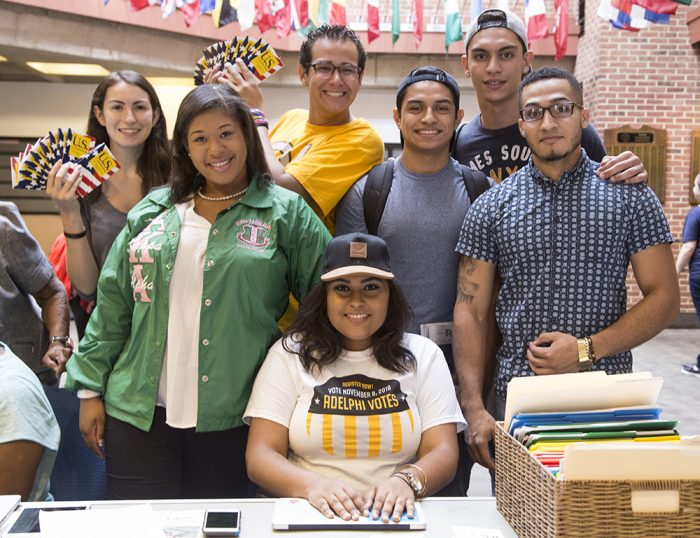 Hispanic Heritage Month (September 15–October 15, 2016) is a busy time for Adelphi's Latino Student Association (LSA). The club has been hosting a series of events to educate the Adelphi community about Latinx (a gender-inclusive reference to people of Latin American descent) culture and identity.
We spoke with LSA President Heidi Peña Ortiz, a junior majoring in psychology and a member of the Levermore Global Scholars program, about LSA, its goals and upcoming events.
What are the goals of LSA and how do you achieve them?
Our goals are to unify, inspire, educate and advocate for Latinx culture. For Hispanic Heritage Month, we have planned both social and educational events. We are social justice-oriented, and we collaborate with other groups on campus to advocate for causes important to our community. 
What are some of LSA's signature events?
One of our big events is Havana Nights, which is a kickoff for Hispanic Heritage Month. Hispanic Heritage Month as a whole is a busy time for us. We also have our Know Your Roots event, which features origin stories and the importance of sharing cultural stories to create unity. Last spring, at Sabor Latino, we gave dance lessons to students [and we also] hosted an event, L.I. Students Fight for Educational Equality, to teach the community about the Dream Act and ways to advocate on behalf of undocumented immigrants.
What are some of your upcoming events?
We have a wide variety of upcoming events, including I Dream for Educational Equality, on Thursday, October 6, 2016, from 6:00 p.m. to 8:00 p.m., a panel discussion to advocate for educational equality, access and social mobility. We are also screening the film Millie and the Lords and hosting a talkback with the film's star, Jennica Carmona—a friend of LSA—on Thursday, October 13, 2016, at 5:00 p.m., in the University Center's Fireplace Lounge. The film was picked up by HBO Latino and won recognition at Latino film festivals across the nation.
I see that you have an upcoming event, Hispanic vs. Latino. Can you briefly describe the difference between the two?
Hispanic is a derivative from Spanish-speaking countries. Latino means you are from anywhere in Latin America. An example is Brazil. People from Brazil are considered Latino, not Hispanic. Although the general goal of the event wasn't to give a vocabulary lesson, but rather to give individuals in attendance the opportunity to learn a little more about terms used to self-identify through different Latinx/Hispanic countries.
How can students get involved in LSA?
They can come to weekly meetings (every Tuesday, from 6:00 p.m. to 7:00 p.m., in the Ruth S. Harley University Center, Room 216), attend programs, join on My AU Life and follow on social media (@Adelphi_lsa).
---
For further information, please contact:
Todd Wilson
Strategic Communications Director 
p – 516.237.8634
e – twilson@adelphi.edu