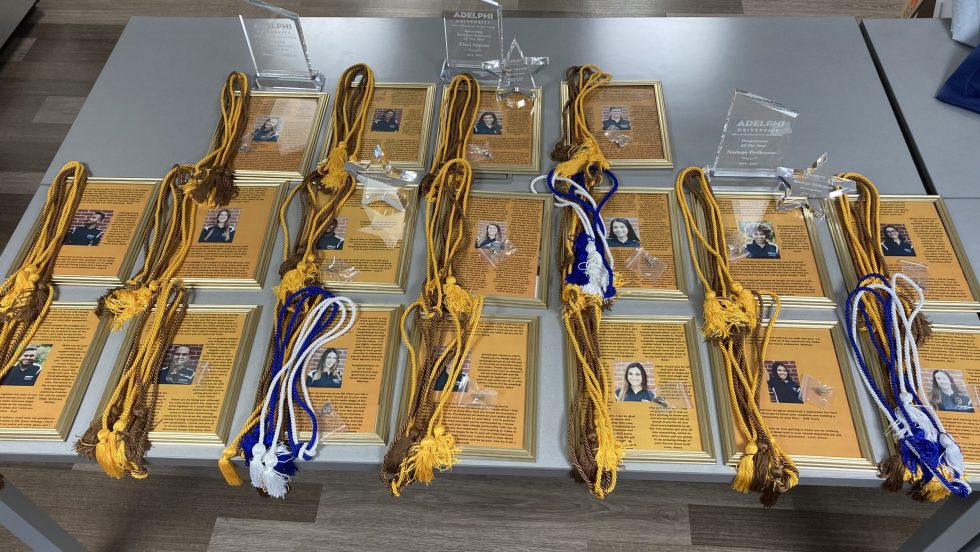 The Office of Residential Life and Housing recognizes the work of outstanding resident assistants (RAs) and celebrates graduating RAs.
This semester was challenging to all, especially to those who call Adelphi their second home. Making Adelphi feel like home is the job of our resident assistants (RAs) who foster a sense of community filled with pride and safety. Before spring break, these RAs didn't know they were hosting their last programs or having their last in-person resident interactions. Among residents, there were no hugs, and certainly no closure, to mark the end of another successful academic year.
The Office of Residential Life and Housing traditionally hosts a reception to celebrate all our resident assistants for their work throughout the year and to recognize RAs who had outstanding moments. On May 7, 2020, we held a virtual reception to continue our tradition, celebrate the RAs and recognize the following students:
Returning RAs of the Year: Jessica DiRico and Eleni Spyrou
New RA of the Year: Rachel Rossi
Programmer of the Year: Nadege DeBrosse
Program of the Year: Panthers Got Talent! (Chapman Hall)
Bulletin Board of the Year: Caitlyn Castiglione for "Chappy Station"
This year, a new award was unveiled. The Shining Star Award gives recognition to a fellow RA who has shown exemplary dedication within their own community. The recipients are nominated by their peers. The 2019–2020 recipients of the Shining Star Awards are: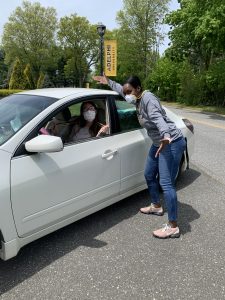 Eleni Spyrou
Jillian Hershman
Tyler Simpson
Josephine Sanabria
Jeff Joseph
Stephany Staroselskiy
Nadege DeBrosse
The celebrations did not stop there. A few RAs planned on posting pictures on the original date of Commencement wearing their graduation attire, including stoles and graduation cords. Residence Hall Directors (RHDs) Samantha Bassford, Meena Elango and Terry Ann Joseph facilitated "cordside" pickup for RAs who wanted to come near campus to pick up their cords instead of waiting for them to come in the mail. Lining up their cords safely on South Avenue, each RA was greeted with the playing of "Pomp and Circumstance" and cheers from anyone who was walking by.
Resident Assistant Nadege DeBrosse received a "cordside delivery" from her RHD as she could not make it to campus.
The RHDs acknowledge that this was not how the end of the year normally goes, but they sincerely hope the RAs know how much the Adelphi community appreciates their dedication in assisting their peers through their college careers.
Congratulations to all graduating RAs:
Rawad Akhand
Rochelle Bubis
Valerie Cirisano
Alexa Cohen
Amanda Considine
Jessica DiRico
Marissa Flaherty
Nicole Geary
Chloe Gonzales
James Haddad
Alex Harris
Jillian Hershman
Gileen Reyes
David Robres de Veciana
Jessica Schulteisz
Gagandeep Singh
Eleni Spyrou
Sean Zelenke
---
For further information, please contact:
Todd Wilson
Strategic Communications Director 
p – 516.237.8634
e – twilson@adelphi.edu