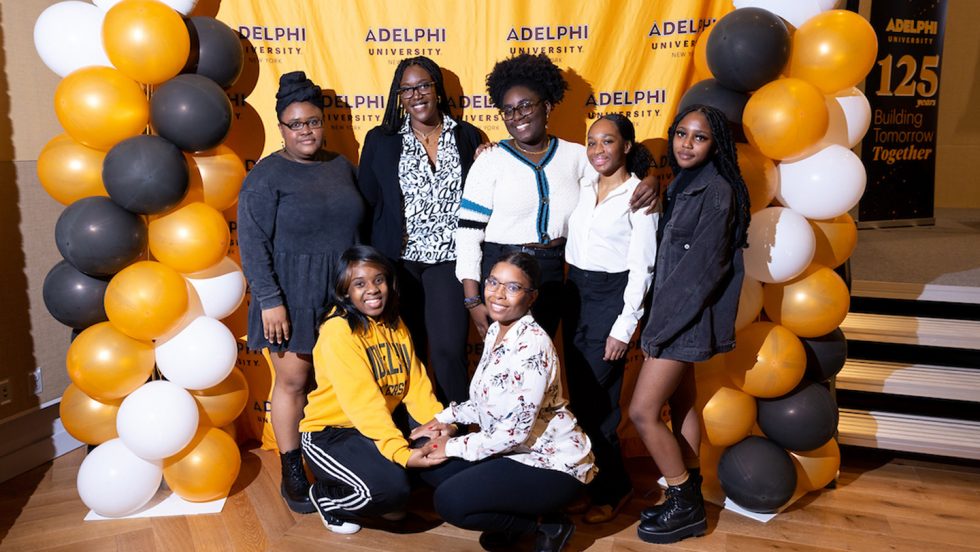 For the past 19 years, Adelphi has honored students, student organizations and faculty members who have made a commitment to pursue excellence in their various endeavors.
This past spring, a sizable audience of faculty, students and administrators gathered in person for the first time in the past two years to celebrate student and faculty excellence at the annual Brown and Gold Awards ceremony. The awards have been given for the past 19 years but this year marked two firsts: the first ceremony to be held in person since 2019 (the 2020 and 2021 ceremonies were held virtually) and the first held in the renovated Ruth S. Harley University Center.
It was also the first attended by both R. Sentwali Bakari, PhD, vice president for student affairs, who joined Adelphi in December 2019, and the Student Affairs Advisory Board.
Dr. Bakari reflected on the joyous evening, saying, "The Brown and Gold event was exceptional! Students could display their joy and enthusiasm and embrace one another with hearty congratulations. The hugs, individual and group photos, and the opportunity to be acknowledged on the stage were significant. It's challenging to observe in a virtual format students' sense of pride in being recognized for their campus engagement and their leadership in their student organizations and clubs."
Anna Zinko, assistant vice president for student affairs, said that the event provided a rewarding opportunity to hear students' stories about their achievements.
"We are incredibly proud of the accomplishments of our student organizations and student leaders on campus," she said. "Brown and Gold is a treasured tradition because it gives us an opportunity to celebrate our exceptional students. I believe Adelphi University has some of the most passionate, engaged and resilient students."
Awards were presented to individual students, student organizations and faculty members who served in student advisory roles.
Individual Student Awards
Excellence in Service: Jacob Rosenfeld, Gamma Beta Phi National Service Honors Society
Excellence in Social Justice: Kelly Andreuzzi, president of the Environmental Action Coalition; senator of the Student Government Association
Best Student Government Senator: Michael Scandiffio, senator of the Student Government Association
Senator Serving a Greater Audience: Christopher Sciortino, senator of the Student Government Association
Officer of the Year: Jessica Patel, vice president of the South Asian Student Association
Outstanding Officers: Melissa Garber, vice president of the Psychology Club; Gabriel Silva, vice president of the Latino Student Association
President of the Year: Sloane Somerstein, president of the Commuter Student Organization
Outstanding Presidents: Tracy McSorley, president of the Accounting Society; Lena Demas, president of the Future Teachers Association
Outstanding Commuter Student: Melissa Saporito, senior commuter assistant
Outstanding Transfer Student: Casey Bass, vice president of external affairs for the Student Government Association, ambassador of admissions and commuter assistant
Panther Pride:

 

Kennie Cervantes, social media content creator for University Instagram; event ambassador of admissions; assistive technology assistant at the Student Access Office; PR manager of the Gender and Sexuality Alliance; peer assistant leader;

 

Rubi Varughese, vice president of NSNA Affairs, AUSNA; treasurer of South Asian Student Association; editor at Circle K; society events chair of the National Society of Leadership and Success; peer assistant leader
Emerging Leader Award:

 

Wynn Andersen, parliamentarian at the Gender and Sexuality Alliance; public relations at Students Beyond the Binary;

 

Jonay Jackson, volunteer coordinator at Panther Pantry; resident assistant
Established Leader Award:

 

Maria Paradiso, president of the Student Government Association;

 

Tasmiah Basher, president of the Muslim Student Association
Student Leader of the Year: Sarah Carbain, president of the Class of 2022, president of the Student Activities Board
Student Organization Awards
Commitment to Organizational Growth: Latino Student Association
Excellence in Philanthropy: Future Teachers Association
Beyond Adelphi: Environmental Action Coalition
Excellence in Recruitment: Society of East Asian Students
Excellence in Marketing: Black Students United
Excellence in Programming: Gender and Sexuality Alliance
Excellence in Collaboration: Adelphi Christian Fellowship
Outstanding Organization Management: Psychology Club
Keeping the Spirit Alive: C.A.L.I.B.E.R.
Student Organization of the Year: South Asian Student Association; Society of East Asian Students
Faculty Awards
Professor of the Year: Patricia Garofalo, MS '04, adjunct faculty in the College of Nursing and Public Health
Adviser of the Year: Tiffany Martino, adviser of the Commuter Student Organization and the Student Activities Board, and assistant director of the Center for Student and Community Engagement
Commitment to Student Life: Andrea Ward, PhD, associate dean for Student Success and Strategic Initiatives, College of Arts and Sciences; Lisa Ambrosio, catering director of campus dining