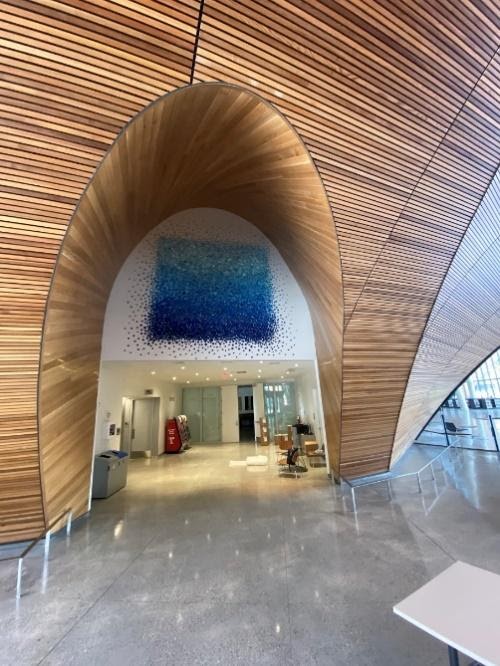 Carson Fox, MFA, professor of visual arts, has completed a commissioned installation of public art in the new Charles Library at Temple University in Philadelphia. "Blue Ombre" fills a soaring arched wall with thousands of handcrafted, unique flowers in shades of blue for a spectacular effect.
When Carson Fox, MFA, professor of visual arts at Adelphi University, was approached by the curator for the new Charles Library at Temple University in Philadelphia, she knew this would be a wonderful opportunity to create art that would touch the lives of countless people.
Professor Fox has created major installations at Boston University, the University of Arkansas, and in private and corporate spaces, but she studied in Philadelphia at the Pennsylvania Academy of the Fine Arts and her husband attended Temple University, so this commission also had personal meaning for her. Designed by the internationally renowned architecture firm Snøhetta, in collaboration with local design and construction firm Stantec, Charles Library is an architecturally stunning, state-of-the-art environment for scholarly and creative work.
Approaching Fox's work, the viewer sees a magnificent spray of shades and tones of blue, created by the brilliant arrangement of approximately 8,400 flowers over a soaring arched wall, 14 feet wide and 15 feet high.
Fox's work relies heavily on the imprint that individual experience has on the artist, and flowers have been a theme in many of her pieces, particularly since she lost both of her parents within a year of each other in 2001. For her, flowers symbolize memorials, like the makeshift roadside memorials that demonstrate so passionately the human need to honor and remember loved ones when they pass. Fox knows that flowers represent different things to different people, however, and viewers bring their own frame of reference to their experience with and perception of art.
"The beauty of this work," says Fox, "is the gradation of color, the nuanced progression from light to dark, and deep to light." Hence the piece's name, "Blue Ombre," from the French word for the blending of one color hue to another.
Fox has many pieces of her work included in private collections and gallery exhibitions, but she finds special gratification in the opportunity to create public art.
"Installing public art is enormously gratifying as it allows the artist to be a part of so many people's day-to-day lives," said Fox. "Public art makes art and creativity, color and imagination, a part of daily life for vast numbers of people, unlike art that they would have to plan a visit to a museum or gallery to see."
In addition to teaching art making and artist principles and theories, which she loves to do, Fox also teaches a course called Strategies for Emerging Artists at Adelphi. This course prepares students for life as working artists. It covers the business realities of being a professional artist and what is necessary to make a living in the arts.
"While pure art for art's sake is important and wonderful, as a university, we owe it to our students to prepare them for a successful career in the arts," Fox says.
At Adelphi, art students surely benefit from studying with this enormously talented and highly successful artist.
Fox received her MFA from Mason Gross School of the Arts at Rutgers University, her BFA from the University of Pennsylvania, and a four-year studio certificate from the Pennsylvania Academy of the Fine Arts. Her work can be found in the permanent collections of the Museum of Arts and Design, the Royal Museum of Fine Arts of Belgium, the Pennsylvania Academy of the Fine Arts, and other locations across the United States and abroad.