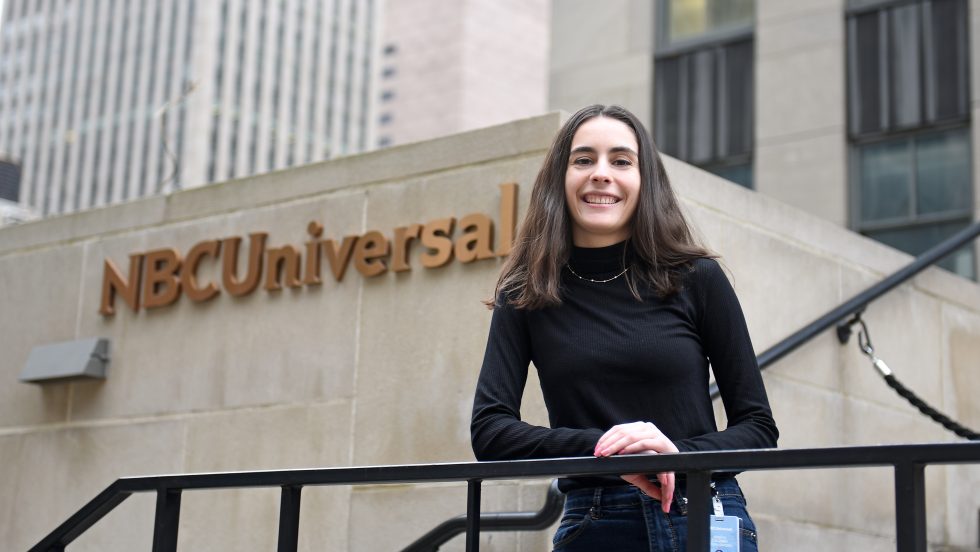 Jessica Colonna and other Adelphi students are beefing up their résumés through on-campus jobs and Adelphi internship programs.
When senior Jessica Colonna interviewed for a graphic design internship at NBC, she was ready.
She had two years of on-campus job experience doing graphic design for Adelphi's Office of University Communications and Marketing, which gave her a portfolio with diverse examples of her design work.
Her part-time internship creating graphic designs for NBC's Oxygen network, based out of the NBC headquarters at 30 Rockefeller Plaza in Manhattan, began in January.
At Adelphi, students can gain valuable career skills and experience through on-campus jobs, the Federal Work-Study program and internships. Adelphi is committed to offering these experiential learning opportunities to give students hands-on experience in their fields.
"The outcome we're looking for in the career center is to partner our students with jobs and internships that will open up opportunities," said Bernadine Waller, MA '10, associate director of experiential learning at the Center for Career and Professional Development. "The goal is to give our students a leg up on the competition."
Real-World Preparation, On and Off Campus
This real-world preparation helps students get experience that leads to job offers, giving them a solid return on their college education investment.
"In my interview with NBC, I was able to tell them that I have experience collaborating with creative directors and marketers, and that's something they look for when hiring an intern," said Colonna, a graphic design major and marketing minor.
Progga Deb, a senior majoring in computer science, works at the Office of Information Technology's Help Desk through the Federal Work-Study program. As senior Help Desk assistant, she answers computer questions from faculty, staff and students, troubleshooting technical issues via phone, email and live chat. She is also a lead trainer, onboarding new hires and making sure co-workers are up-to-date on any changes in equipment and processes.
"This job pushes you to think on your feet, which helps build your critical thinking and problem-solving skills," Deb said.
Students can get paid work experience in their department of study, too. The career center's Hire a Panther program helps faculty find students to help compile information for new books or to work as lab assistants. Staff members can use Hire a Panther, too, to hire students for office projects.
Work-Study Programs Provide Opportunity—and Paychecks
Adelphi also participates in the America Reads/America Counts Federal Work-Study program. Students receive transportation to nearby elementary and middle schools, where they tutor children and teens in English and math. The program draws students from a range of disciplines, including education, social work and nursing.
"This is a great opportunity for students to connect with children and gain experience working with people from diverse communities," Waller said. "Beyond tutoring, students can also be mentors. They can share what it's like being in college and kids can ask questions about their experiences."
Panthers with a Purpose, another Federal Work-Study program, connects students with semester-long paid internships at nonprofits like the American Cancer Society and the Long Island Children's Museum.
By taking advantage of these opportunities, students can gain real-world job experience and take their first steps to building a career in their fields. Building off her on-campus job, and now her network internship, Colonna hopes to land a full-time job at the media company after graduation.
---
For further information, please contact:
Todd Wilson
Strategic Communications Director 
p – 516.237.8634
e – twilson@adelphi.edu