Exercise Science students help clients get started on a training program.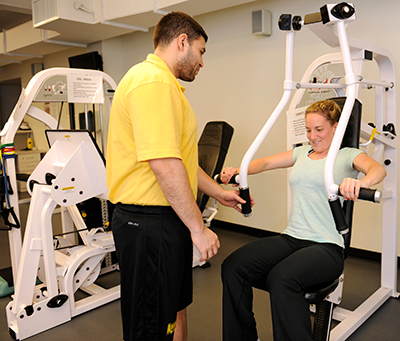 In collaboration with the Department of Exercise Science, Campus Rec began offering Introductory Personal Training to students, faculty and staff for free during the Spring 2017 semester. The first session, January 30-March 10,  filled up quickly with 42 participants and 20 on a waiting list, but another session will be offered starting after Spring Break.
Trainers are third and fourth year exercise science practicum students who are supervised by faculty in the Department of Exercise Science, Health Studies, Physical Education and Sports Management. 
The goal is to get "clients" started on a fitness program that is safe and customized for their fitness level. And, at the same time, the student trainers get hands-on experience in the field of fitness training, applying what they have learned in the classroom. 
Participants receive a fitness evaluation, a personalized exercise prescription and two  training sessions a week for up to four weeks, as well as a follow-up assessment.
Registration for the second training period, March 20-April 28, will be available at recreation.adelphi.edu/training.