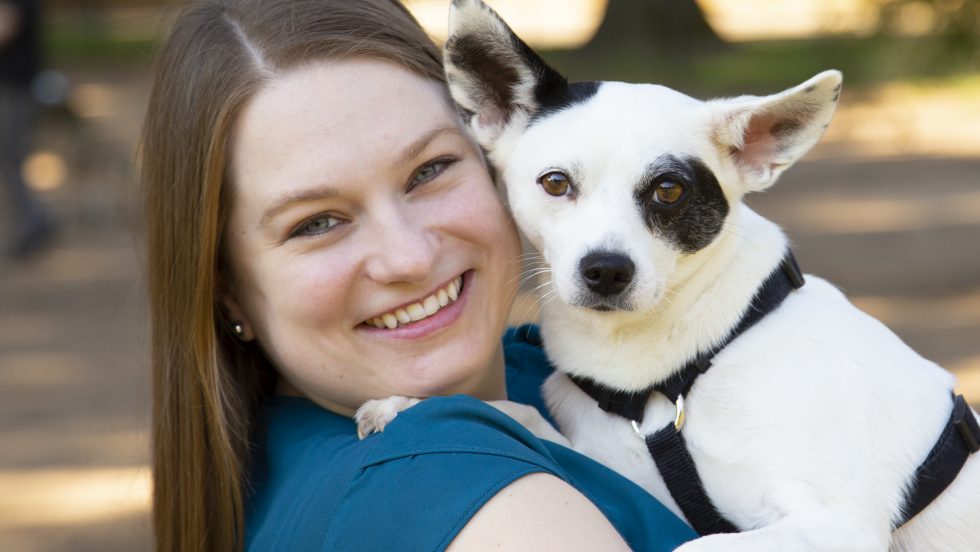 "Adelphi has educated me, sustained me, challenged me, built me up, and has forever enriched my life with an extraordinary network of friends, mentors, and colleagues. Vita sine litteris mors est!"
Member of Adelphi University's 10 Under 10
Title IX Coordinator, The Juilliard School
While Camille Pajor '09, MBA '16 has taken on several different roles since graduating from Adelphi, the core of her career has always been education, service, and gender equity.
After graduating from Adelphi, she served as a Peace Corps Volunteer in Ukraine, teaching English as a foreign language in a rural primary/secondary school. She also became involved in Peace Corps Ukraine's Gender and Development Council where she served as the chair of the Counter Human Trafficking Subcommittee and led two nationwide anti-human trafficking campaigns.
Upon returning to the United States, she began her career as a higher education administrator, first returning home to Adelphi to work as a residence hall director. "I was a dedicated 'Res Lifer' throughout my undergraduate years—I served as a resident assistant and hall council president—which made it very gratifying to give back to the community that helped shape who I am," said Pajor. After two and a half years, she transitioned to the position of coordinator of Student Conduct and Community Standards and, after completing her master's degree at Adelphi, was promoted to director of the department.
Throughout her time in Student Conduct, she was very involved in Title IX [a federal law that prohibits discrimination on the basis of sex in educational programs or activities receiving federal financial assistance] student, faculty, and staff cases. This experience, as well as the related training and mentorship that she received, led her to her current role. As Title IX coordinator at The Juilliard School, she leads the school's prevention, education, response, and compliance activities involving Title IX and related legislation. Among her responsibilities are leading training and educational programming, connecting individuals with resources, advising community members of their rights, and managing investigations and the school's resolution process.
"While this work is challenging, I believe it is important for the safety and well-being of academic communities," she said. "I find it very rewarding that my skills and experience can help others navigate difficult situations. I also find it gratifying to serve the performing arts community…It is such a joy to be surrounded by music, dance, and drama every day."
In addition to her current position, Pajor also makes time to continue her passion for volunteerism. Pajor, who had served as an advisor to Adelphi's C.A.L.I.B.E.R. students after returning from the Peace Corps, said this opportunity led to a pursuit she is involved in today.
"One of C.A.L.I.B.E.R.'s annual activities is an overnight service-learning program focused on hunger and homelessness, organized by Youth Service Opportunities Project (YSOP). The program involves hosting a dinner party for a group of guests living in New York City shelters, listening to a speaker in the field (individuals formally impacted by homelessness or hunger or directors of homeless shelters), a day of service in NYC soup kitchens, pantries, or community gardens, and reflection activities," she said. After her second trip, she knew she wanted to continue her involvement with the organization, and has been working as a workcamp leader with YSOP ever since. "YSOP programs are some of the most meaningful educational opportunities I have ever participated in," she said.
In her own community of Kew Gardens, Queens, she also serves as the president of Forest Park Barking Lot, Inc., a volunteer advocacy group for the community's local dog run. "We lead advocacy, maintenance, and community-building efforts," said Pajor. "And have a ton of fun doing so!"