A week after the Pulse nightclub shooting, Scott Zotto '03, M.S.W. '09, an Adelphi student counselor, traveled to Orlando to help its residents heal.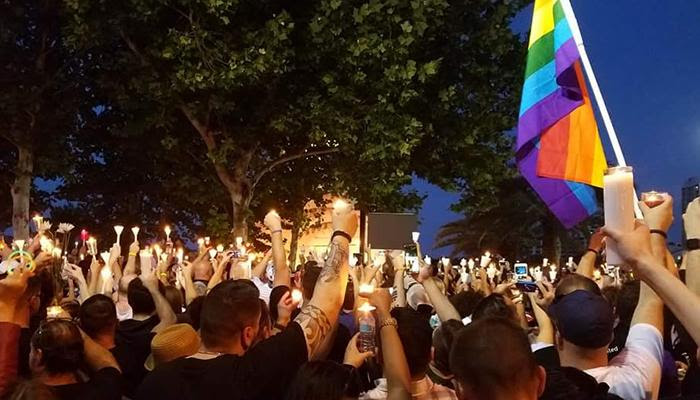 For Scott Zotto '03, M.S.W. '09, a counselor at Adelphi University's Student Counseling Center, the shooting at Orlando's Pulse nightclub in June felt like a personal attack, despite the fact that he didn't know any of the victims. "It was as if someone had harmed my husband Anthony or one of my friends, parents or siblings," he said. He quickly turned his grief and anger into action. Within a week, he was in Orlando to help console the city's stricken residents.
He spoke about his experience.
What was the atmosphere like in Orlando?
From the moment I boarded the Orlando-bound plane, the atmosphere felt somber. People I met were hospitable and friendly but also shocked and apologetically quiet. I attended the vigil on Sunday, June 19. More than 50,000 people poured into the areas surrounding Lake Eola. We cried. We laughed. We held one another. We were strangers, but we were also family.
What were you intending to do, and what did you actually do?
My impression was that I would be assigned to a counseling center and would be expected to provide individual, group and family therapy. When I arrived, though, I was not assigned to a specific place. There were already so many clinicians in place and so many volunteers working around the clock. So I decided to walk around downtown Orlando. I met with restaurant employees, Uber drivers, business owners and locals to talk about their feelings in the wake of the shooting. I went to local gay bars and offered to sit with anyone who needed to share. And share they did. It became very clear that the client was Orlando itself and my role was to help in any way I could.
Are there any memorable stories or experiences that you feel comfortable sharing?
I spent some time at Stonewall Orlando. I sat at one of its bars and spoke with Tim, the bartender. He told me he lived right next to Pulse and came home early Sunday morning to learn of the shooting. He pointed to a display board at the end of the bar. "He used to dance here," he said. He was referring to Xavier Emmanuel Serrano Rosado, 35. He and his partner, Leroy Valentin Fernandez, died in the shooting. Rosado had a young son.
The bar had decided to collect donations for Rosado's son. Some bargoers shared their stories of Rosado and how beautiful he was inside and out. What was most touching was just how connected everyone was to one another and Rosado. Everyone I asked knew of him and had feelings of shock and sadness.
How did your Adelphi training prepare you for the experience?
One of the most meaningful elements of my training at the School of Social Work was that so many of my professors had a real get-in-there attitude—a fearlessness to respond to crises because that is what social workers do.
From them, I also learned to listen and leave a lot of room for people to grieve. Sometimes, seeing people hurt causes us to step in and try to solve their problems so there's no more hurt. But there is nothing one person can do to relieve a city of its pain. Instead, being empathic goes a very long way.
As a counselor at the Student Counseling Center, I have been fortunate to learn from some incredible clinicians. Carol Lucas, Ph.D. '13, director, Katherine Sapadin, Ph.D., associate director, Jeffrey Chilton, Ed.D., counselor, and the rest of the team have given me the confidence I needed to make the impulsive trip to Orlando. They taught me to listen first and act second. I learned how to remain calm and judgment-free while working with clients. And, most of all, I learned how to take care of myself while working under trying circumstances.
---
For further information, please contact:
Todd Wilson
Strategic Communications Director 
p – 516.237.8634
e – twilson@adelphi.edu