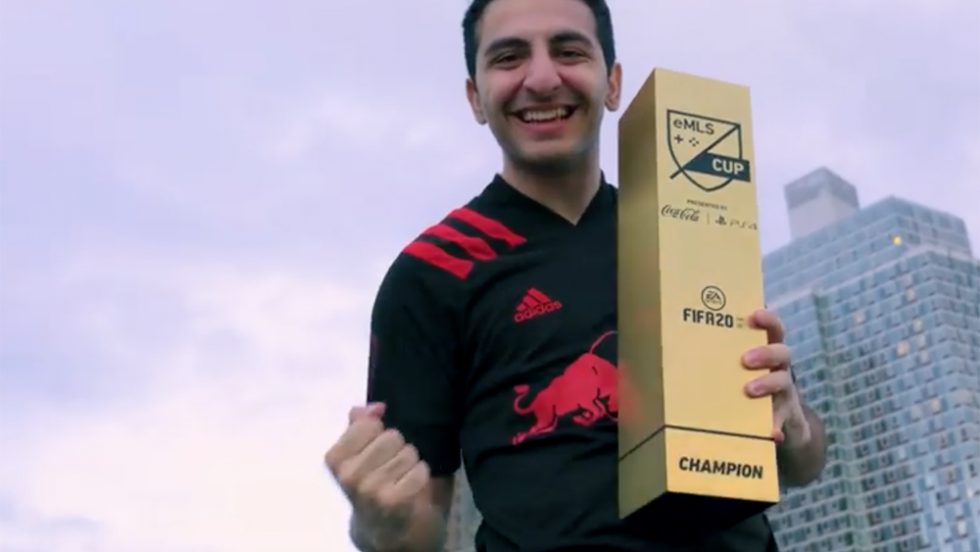 Senior business major George Adamou is one of the world's top-ranked players of the FIFA soccer video games. He's already earning money doing it, and now he's considering esports as a career.
After an injury took him off the soccer field, George Adamou, 20, had to find a new outlet for his passion for the sport. The senior business management student at Adelphi's Robert B. Willumstad School of Business found it playing FIFA soccer video games. Now, he's doing that professionally as one of the world's top players—and contemplating turning it into his postcollege career.
"I am giving myself a year to a year and a half in order to make it, as in being able to make a salary playing eMLS professionally," said Adamou, who represents Major League Soccer's New York Red Bulls team in tournaments. "It is possible to make anywhere from $70,000 to millions of dollars."
Growing up in Queens, New York, Adamou always loved to watch and play soccer. That's something that runs in his family. His grandfather was a professional soccer player in Cyprus, in the eastern Mediterranean. He passed his talent down to Adamou's father, then to George.
Adamou was a captain of his high school soccer team, with aspirations of playing in college. He landed a spot on Adelphi's men's team as a first-year student, but severe shin splints cut his career short. That's when he focused his energy on the popular video games licensed by FIFA, the international soccer governing body.
From Soccer Field to Digital Screen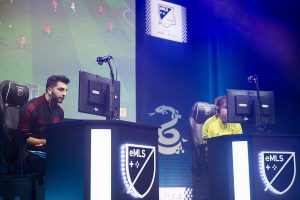 "I grew up playing soccer, so it was natural for me to play virtually when I wasn't playing it in real life," Adamou said. While playing FIFA just seemed like a fun alternative to him, his brother, Panayiotis, quickly recognized his talent for the game and pushed him to try to compete on a national level. Taking that advice, Adamou began competing in various tournaments, even abroad in Romania and France, against some of the world's best FIFA players.
In November 2019, while a full-time student at Adelphi, Adamou had his first big score, finishing 42nd in the FIFA 20 Global Series. "At the time, I was the highest-ranking player in North America, but ranking in the Global Series really took me to the next level." After that, he was recruited by the Red Bulls and signed a contract to play for them in eMLS tournaments and EA Sports FIFA competitions worldwide for the 2020 season.
Playing During the Pandemic—and Winning the eMLS Cup

E-sports, like everything else, was affected by the COVID-19 pandemic, with tournaments moved from in-person events to virtual competitions. While this has put a damper on Adamou's first professional season, he said that being able to take his business classes from home was a benefit, giving him more time to focus on his studies as well as practice his gaming.
In May, ahead of a big tournament, Adamou decided to livestream his games on Twitch, a popular video game streaming platform, to build his own brand and following. Now he has more than 9,000 followers on Twitch and thousands of followers on social media. "I stream four to five hours every day," he says. "I wouldn't have started streaming if it weren't for COVID."
In June, Adamou's extra practice time paid off. He competed in the 2020 eMLS cup, representing the Red Bulls against 12 other elite clubs—and won. Adamou was named the 2020 eMLS Cup Champion, taking home $12,500 and bragging rights for his club and his newly formed brand. As a rookie in the game, bringing the Red Bulls their first cup made the win extra special. "It made me want to grind and pursue this dream even harder," he said.
The Pursuit of "Making It"
With an Adelphi business degree on the horizon and a big win under his belt, Adamou has decided to pursue a long-term professional gaming career and to make it as a top player in eMLS. Over the years, many young gamers have made a lucrative career out of playing video games professionally.
To do this, Adamou said you need to be the best of the best. "You'd have to not only be the best in North America, you'd have to be the best in the world," he said. "I finished in the Top 50 in the world this year; my goal is to make it in the top 20–30."
While it is Adamou's dream to make gaming a career, he says even if it doesn't work out, he'd be happy to put to use his business degree and all he has learned at Adelphi. "If I don't make it playing FIFA professionally, I plan to either look for work in my field or return to Adelphi to earn my master's in business."
Whichever Adamou decides, he says, "The sky's the limit."
You can follow Adamou's journey on his social media: Twitter, Instagram and Twitch.