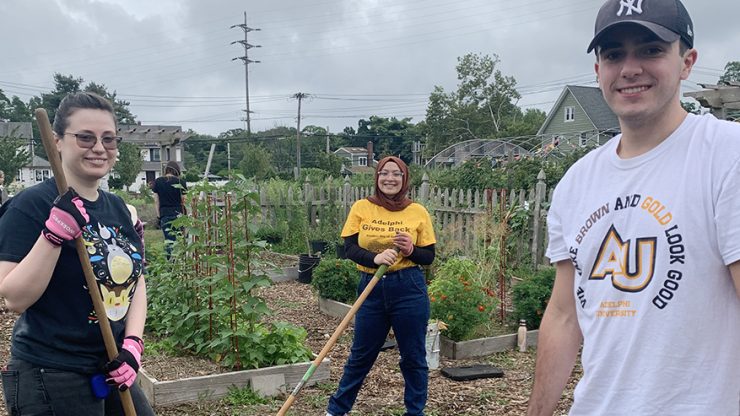 Most colleges have programs to get incoming first-year students acquainted with the campus. Adelphi takes that idea one step farther with a program that gets new students acquainted with the University's commitment to serving the surrounding community.
The University's First-Year Community Action Program (FCAP) brings students to campus a week before classes begin to start to work in service projects with partner organizations in neighboring Long Island towns. In recent years, Adelphi students have harvested seeds on an organic farm in Malverne, beautified train and bus stations in the Town of Hempstead, volunteered at a veterans hospital in Northport, worked at soup kitchens and food pantries in New York City, and made pet toys for a no-kill animal shelter in Port Washington.
The innovative program just won a national award from the Council for Advancement and Support of Education (CASE). Judges gave FCAP a Circle of Excellence Bronze Award, saying the program "changed lives" and "set the tone for the rest of [the students'] college career."
Building "a culture of giving back"
"For many of our students, their experience in FCAP is the first time they have encountered poverty, at-risk children or people with disabilities," said Arianna Livreri, director of Adelphi's Center for Student and Community Engagement, who oversees the program. "We see students grow emotionally and socially as a result of FCAP."
The program also helps students settle in to college quickly. "We usually get 95 to 99 percent of students telling us they felt connected to the University after their FCAP experience," Livreri said. "They say they have developed relationships among their peers and will continue service work throughout their college career."
Livreri also said she sees Adelphi's FCAP participants go on to do more service projects in Adelphi's Gamma Beta Phi National Community Service Honor Society chapter, which won the 2021 Day of Service Award and was cited as an exemplary chapter. "We induct anywhere from 200 to 250 people a semester. That's a big number, and it shows we're building a culture of giving back."
More than 800 students have participated in FCAP since its inception in 2006, with many returning to serve as mentors. FCAP also helped the University attain the prestigious Carnegie Community Engagement Classification.
FCAP doesn't stop at that initial round of volunteer work before the start of the fall semester. Students have the chance to do more service work at two weekend workshops offered each semester, Livreri said. Students who return later in their college career as FCAP mentors host service projects in the fall and spring semesters.
Helping others can be a form of self-help
Livreri said she teaches students that they get something out of giving to others. "I tell them, 'Service work is actually selfish work. We're helping the community and leaving an impact on the community, but the work we do leaves an impact on us, and it makes us feel good,' " she says. "When you feel good, you have more serotonin and you're happier. Statistically, people who do random acts of kindness and service work are happier people."
That helps fulfill another goal at FCAP: improving student retention rates. Happy students stay in school. "The first six weeks of school are the most crucial time for our first-year students," Livreri said. "Getting them involved early builds a sense of belonging that helps them succeed and have the best experience they can during their four years at college."
FCAP is the latest example of Adelphi's commitment to growing students into future leaders. "The FCAP program is an example of the exceptional desire among our first-year students to be immediately engaged in our communities and make a difference in their own unique way," said R. Sentwali Bakari, PhD, the University's vice president for student affairs. "Students in the program benefit from an increased sense of engagement and belonging and often go on to be leaders within our community."