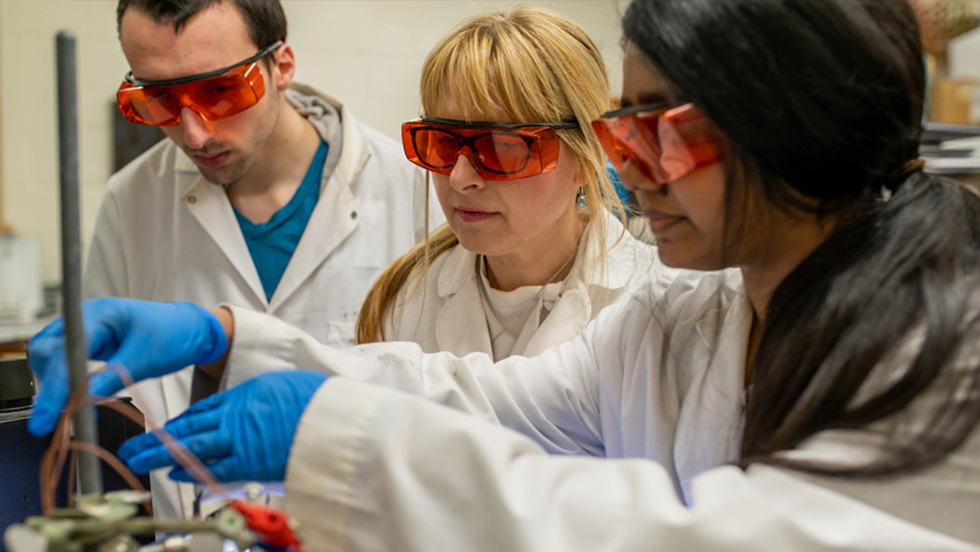 An international collaboration leads to the development of eco-friendly solar technologies
The world may be in the midst of a solar power revolution, but according to Justyna Widera-Kalinowska, PhD, professor of chemistry, the technologies that have enabled it are not sustainable. Silicon, the element most commonly used to manufacture photovoltaics (or solar panels), requires a prohibitive amount of energy to produce and often proves inefficient in harnessing solar energy.
As energy policy and industry leaders work to fortify the long-term security of our clean energy supply, Dr. Widera-Kalinowska has been busy investigating a better alternative to silicon. In collaboration with colleagues at the University of Warsaw, as well as former Adelphi undergraduates Stephanie Dulovic '20 and Sophia Casto '20 (who participated in this research as part of a National Science Foundation International Research Experiences for Students grant), she published her findings in the paper "Comparative studies of properties of CdSe/POMA hybrid films electrodeposited on HOPG, Au and Pt substrates," which appeared in the journal Surfaces and Interfaces in July 2022.1
The paper demonstrates that the choice of substrate material in the manufacturing process has a direct influence on the chemical structure and photoelectrochemical properties of the resulting semiconducting nanoparticles and polymers. Notably, Dr. Widera-Kalinowska and her team were able to establish that the combination of these semiconductors will yield the "most optimal hybrid materials for the most efficient conversion of solar energy into electrical energy"—a process that can be applied in everything from hazardous waste treatment to alternative energy sources and solar fuel production.
Dr. Widera-Kalinowska credits the project's success to the power of collaboration, both with her students and with fellow scientists around the globe. Adelphi students played a vital role in shepherding the research to completion, gaining hands-on experience in advanced instrumentation and topics in photochemistry, material science and nanotechnology. They also spent several months in Poland working alongside experts in the lab. "My students were able to learn that science is an international language," she said. "No matter our nationalities, partnerships like this make it possible for people to help each other find solutions that alleviate global concerns."
In that spirit, Dr. Widera-Kalinowska is now planning a new research project with her U.S.-Polish team in the hope of developing additional hybrids that contain novel semiconducting materials. "We want to gain a better understanding of the basic working principles of these semiconducting nanohybrid materials," she said. "Our goal is to make these materials more effective in their potential applications as alternative energy sources, tools of environmental remediation and producers of solar fuel."
---
1 Widera-Kalinowska, Justyna, and Stephanie Dulovic, Sophia Casto, et al. "Comparative studies of properties of CdSe/POMA hybrid films electrodeposited on HOPG, Au and Pt substrates." Surfaces and Interfaces, vol. 22, October 2022.