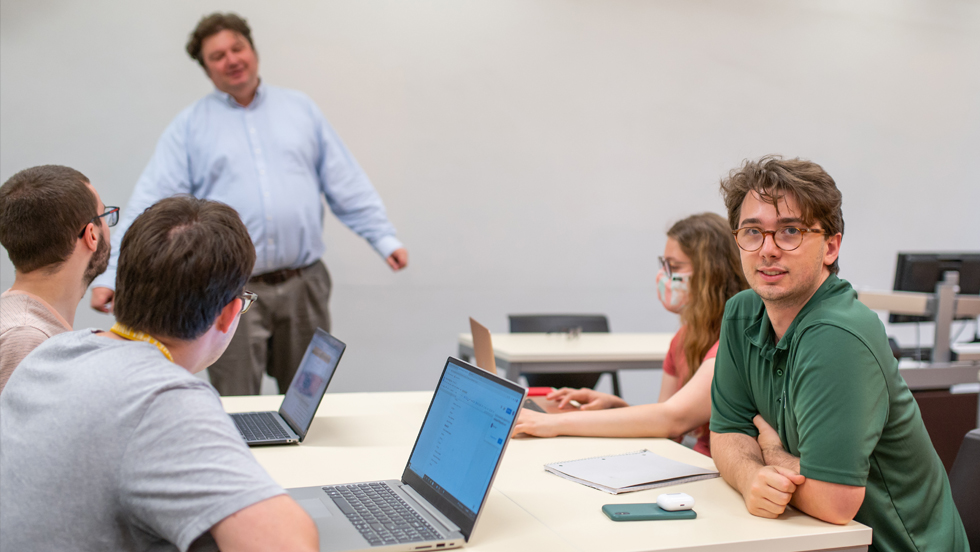 Virtual fall and spring workshops provide tools and strategies so that CAS faculty can help students succeed in the classroom.
Adelphi's award-winning Bridges to Adelphi program has been assisting neurodivergent students adjust to college and classes—and more recently careers—since 2007. The program's latest undertaking, according to Director Diana Damilatis-Kull '10, MA '12, MA '14, is working with the College of Arts and Sciences (CAS) to "build a bridge," so to speak, to faculty members wishing to learn how to best support students and, in the big picture, understand how neurodiversity enriches us all.
Damilatis-Kull said the successful Bridges program has grown exponentially. This fall, there will be 148 students in the program, the majority of whom are enrolled in CAS, predominantly in computer science, communications and interdisciplinary majors. Faculty members have asked Bridges to provide guidance on how to meet the needs of those enrolled in the program and neurodivergent students in general.
That's why Maggie Lally '82, associate dean of faculty programs in CAS, reached out to Damilatis-Kull to see if they could create a faculty workshop. As a result, since Fall 2020, CAS has been sponsoring a virtual Best Practices in Working With Neurodivergent Students workshop for full-time and adjunct faculty working with neurodivergent students.
"It's really important to me that we create opportunities for our colleagues to learn best practices in working with neurodivergent people," said Lally. "We recognize that Bridges is a tremendously successful program. The number enrolled grows every year but not all students who are neurodivergent are in the Bridges program, so the workshop that Diana and her team run for CAS offers faculty a clear and defined foundation."
A Broad Range of Needs
The response to the 90-minute recorded Zoom workshop was so positive that it's now a regular offering. CAS offered a part two session in the Spring 2023 semester, in which a panel of Bridges students spoke about constructive as well as challenging experiences they've had in the classroom. Lally said it will be offered again next spring.
The fall workshop is led by Stephanie Grindell, senior associate director of Bridges.
Attendees learn:
What autism spectrum disorder, executive functioning impairment, sensory processing difficulties and neurological deficits are
How students may struggle when they experience anxiety, processing delays or trouble acknowledging their difficulties and problems
How to best communicate with students, such as letting them know what will be discussed in class at the start of the meeting
How to share feedback
"We're not here to tell faculty how to teach their classes. We're just here to share some experiences, anecdotes and strategies to help them better manage and understand the students and suggest strategies," Damilatis-Kull said.
What Students Said
Lally said that hearing directly from students what their experiences and needs are made the inaugural spring session helpful. Olivia Hurd, a junior communications major who is in the Bridges program, spoke about a time she asked a professor for accommodation but was refused; she dropped the class. "I wanted professors to know that you should never judge a book by its cover," she said. "Because you can look at somebody and think they're not disabled, but what if they have something that is not like autism or ADHD? There are other different disorders that are not common. I recommend that professors get to know the students in their classes and understand how they can accommodate them even though we're at the higher education level."
Laszlo Goch, a senior computer science major with a concentration in software engineering and applied sciences, said he felt it was important to speak on behalf of other students in the program. "One thing that a lot of people on the spectrum and neurodivergent people in general have in common is we tend to be introverted and we tend to not really focus too much on social interaction unless it's absolutely necessary," he said, citing how many professors suggest students work with a partner or in groups. "If I had to pick one thing in class that is the least neurodivergent-friendly, it would probably be that."
Longstanding Support
Some faculty members have been partnering with Bridges long before the workshops were developed. Edward Reno, PhD, associate professor and chair of the Department of History, said the Bridges staff has worked with the department to help them support individual students. "I have found the Bridges staff to be extremely supportive and accessible," Dr. Reno said. "Having neurodivergent students registered in our department has made us better teachers." Kees Leune, PhD, associate professor and incoming chair of the mathematics and computer science program, is another regular partner, as a third of the department's students are in Bridges. He advises faculty members to "always be exceptionally clear about what your expectations are, like due dates, and then stick to that."
Damilatis-Kull said the Bridges staff are always available to answer questions. "Faculty are not expected to do this on their own. That's why we're called Bridges. You can't have a bridge with just one side; you need both sides to be there to support it."