She was sexually abused as a child. Now, she dedicates her life to helping other survivors break the silence.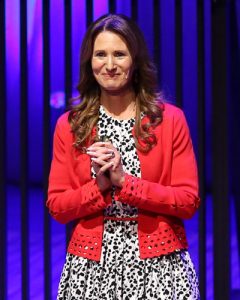 "You are the author of your script," said Tracy Stopler, an adjunct professor of nutrition at Adelphi.
It's one of her core beliefs, and one that she shared this spring in her TEDxAdelphiUniversity talk. It's a conviction she came to only years after suffering the trauma of being sexually abused as a child.
Stopler now devotes her life to helping other survivors break the silence. Eight years ago, she began working as a child victims' advocate at The Safe Center LI in Bethpage, New York, a resource center for abuse and assault victims. In December 2015, she became a trained facilitator for the Enough Abuse Campaign and was promoted to coordinator in May 2016. Along with 50 other volunteers, she travels across Long Island to present free, hourlong child abuse prevention training sessions at PTA meetings, churches, fire departments, hospitals, schools, local businesses and other community hubs.
The nutrition courses Stopler teaches at Adelphi complement her advocacy work. "Overeating or undereating are coping mechanisms," she explained, citing a 1998 study on Adverse Childhood Experiences (ACE) that links childhood trauma to lifelong health problems. "Research shows that it's not the high-risk behaviors people choose that cause early disease, it's the body's stress response to trauma that doesn't shut off and causes disease."
Every semester, Stopler gives her students an ACE questionnaire that asks them to note instances of abuse, neglect or family dysfunction in their lives. "Several survivors in my classes have trusted me enough to share their story, and I've referred them to The Safe Center," she said.
Stopler shared her own story in The Ropes That Bind: Based on a True Story of Child Sexual Abuse (CreateSpace, 2016), a novel that took her 15 years to write. She called the book a "labor of love" that's perfectly timed with the #MeToo movement, and said the real reward has come from the book's reception. "There has been a disclosure from a survivor at every single book signing I've ever done, which means I get to give out The Safe Center's hotline: 516.542.0404."
With the support of The Safe Center and the Enough Abuse Campaign, Stopler is able to achieve her dual mission: educating adults in order to prevent child sexual abuse and supporting fellow survivors.
She concluded her TEDx presentation—which can be seen online at tedxadelphiuniversity.com—with a question she's taken a lifetime to answer: "Is it possible to break free from the ropes that bind? Not only is it possible—it is imperative."
Tracy Stopler is a registered dietitian, fitness trainer, pastry chef, adjunct professor of nutrition at Adelphi University and coordinator of the Enough Abuse campaign at The Safe Center LI. She is also an author. Her debut novel, The Ropes That Bind, was named a distinguished favorite by the NYC Big Book Awards and won a 2017 Independent Press Award.
---
For further information, please contact:
Todd Wilson
Strategic Communications Director 
p – 516.237.8634
e – twilson@adelphi.edu