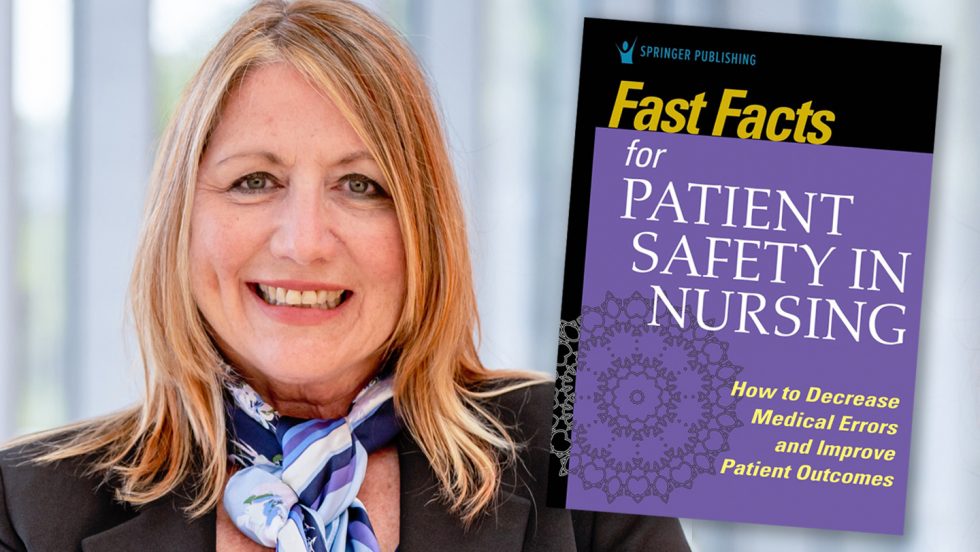 When Deborah Hunt, PhD '12, learned that patient errors are on the rise despite years of new protocols, the dean of the Adelphi University College of Nursing and Public Health decided to provide best practices for all healthcare workers.
Patient safety is a goal of all healthcare professionals who strive to promote health and wellness within the healthcare system and the communities they serve. But Deborah Hunt, PhD '12, the Dr. Betty L. Forest dean of the Adelphi University College of Nursing and Public Health, said that errors may occur. In today's often-understaffed healthcare facilities, overworked nurses are expected to oversee multiple patients and handle various tasks almost simultaneously. Unfortunately, this can result in patients being misidentified, medications issued incorrectly and hospital-acquired infections by not adhering to infection control protocols. She added that according to a 2019 report from the World Health Organization, one out of every four patients receiving primary or ambulatory care is harmed. Further staffing shortages as a result of the COVID-19 pandemic have made the situation more challenging.
That's why Dr. Hunt decided to write her fourth book, Fast Facts for Patient Safety in Nursing: How to Decrease Medical Errors and Improve Patient Outcomes (Springer 2022). Here, she covers some of the common causes of adverse events and the strategies for preventing them. "My goal was to improve patient outcomes and safety," she said.
In addition to staffing shortages, Dr. Hunt, a New York Academy of Medicine fellow, found the main causes of errors are:
A lack of clear communication (verbal and written)
Delays in information, like critical lab results
Not following policies and procedures
Misidentification
Inadequate orientation and staff development
Poorly written or lack of clearly written policies
Technology issues (equipment failure or improper use)
Dr. Hunt also wrote about preventable major errors, including falls, medication errors, pressure ulcers, hospital-acquired infections and surgical and procedural errors.
She said safety should be a whole team approach, including not just nurses, but also physicians, technicians and transporters. But as the head of a College tasked with teaching the next generation of nurses, she said her book is focused on nursing students and new nurses. Dr. Hunt also wanted to offer prevention strategies. So her book includes tips from the field for patient safety; staffing, discharge planning and transition to care; hand hygiene and reducing transmission of infections; medication safety protocols; root cause analysis and policies based on current evidence.
"The whole point is to prevent as many errors as possible," Dr. Hunt said. "Unfortunately, at times we will make errors, but if we have the processes and systems in place, and are always educating our nursing workforce, helping them to develop their critical thinking, reasoning and judgment skills and also using some theoretical basis, hopefully we will change the trajectory and start to see the adverse errors decrease again."
She also focused on the need for hospitals to follow the policies and procedures already in place—and to make sure that all staff understand them. "That's particularly true as students come from nursing school, where they get a lot of support, to hospitals as new nurses and suddenly have to be autonomous," she said. "It's a very demanding job and even experienced nurses make errors." Engaging in self-care practices has numerous benefits and Dr. Hunt shares several of them in the book.
Some mistakes aren't preventable because nurses don't always have control over them, Dr. Hunt said. But in those situations, Adelphi's nursing students are taught to be advocates for themselves and for their patients. When an error is made it is vitally important to report it in accordance with the organization's policy.
One area in her book that she emphasized was about developing clinical judgment models—being able to assess your patient, analyze the situation and intervene based on all the data that you have looked at—because it's also an important area in the new Next Gen National Council of State Boards of Nursing exam. Preparing Adelphi students for the NCLEX is one of Dr. Hunt's goals as the new dean. Another focus of the book is resiliency development in the nursing workforce. "That's helping someone with their ability to bounce back from a negative or traumatic event, to have the skills to do what they need to," she explained. "And unfortunately nurses deal with many traumatic experiences. It's easy to get overwhelmed, but we must provide our students and nurses the knowledge, support and tools they need and help them advocate for themselves and their patients."