In a news article, the Adelphi alum spoke about his record and how sports and college helped him overcome a difficult childhood.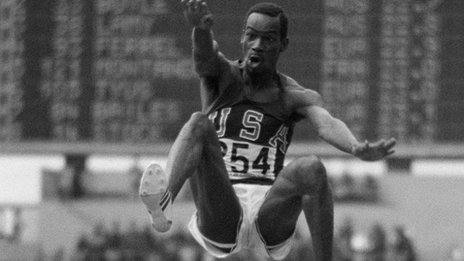 On the cusp of the opening of the Rio Olympics, the Pittsburgh Tribune-Review profiled the athlete who still holds the Olympics long-jump record: Bob Beamon '72.
At the 1968 Olympics in Mexico City, Beamon stunned the world when he jumped 29 feet and 2 ½ inches, shattering the previous record by nearly two feet. His record has stood for the past 48 years, much to Beamon's pleasure. He does acknowledge: "However, records are made to be broken."
 "I think Bob's feat was equivalent to walking on the moon," fellow Olympic medalist John Carlos told the Pittsburgh Tribune-Review. "What he did was phenomenal 48 years ago, and it's just as phenomenal today."
Beamon said that sports was the hook that pulled him through a difficult childhood. His mother died when he was 8 years old. He grew up poor and, he said, "was definitely headed to a life of crime."
A member of the Adelphi Athletics Hall of Fame, Beamon told the Pittsburgh Tribune-Review that it was "vital" that he earned his college degree at Adelphi.
Read full Pittsburgh Tribune-Review article.
Watch a YouTube video of Beamon's record 1968 jump.
---
For further information, please contact:
Todd Wilson
Strategic Communications Director 
p – 516.237.8634
e – twilson@adelphi.edu