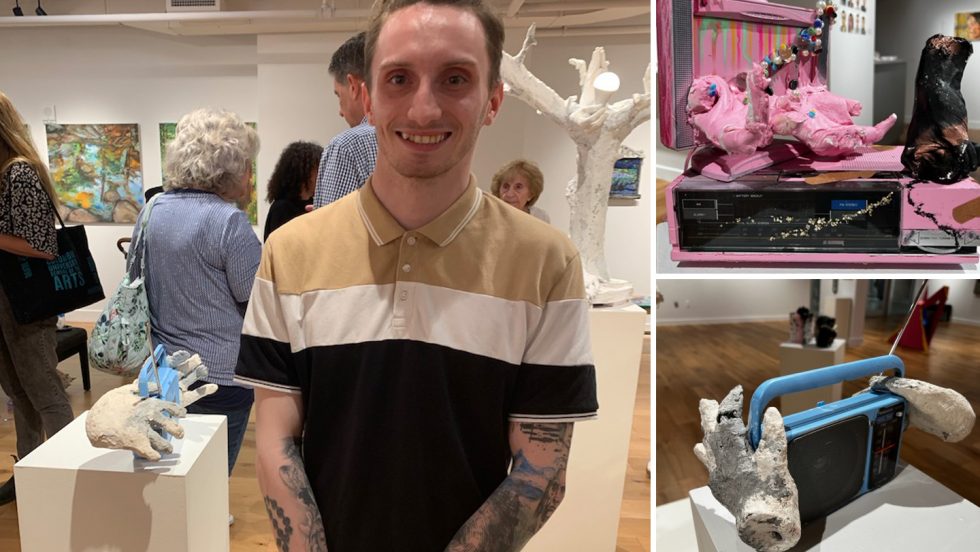 Shea Wachter '22 turned to sculpture and the Adelphi community to work through grief.
Experiencing unimaginable loss and sorrow over the past two years, Shea Wachter '22 turned to his artwork and the Adelphi community for comfort and strength. He credits both with helping him graduate in May with a BFA in art and design education and land a prestigious art residency that begins this fall. Tragically, neither of his parents were there to share these proud moments.
Junior year got off to a rough start for Wachter, now 22. His father, who had been disabled for many years due to serious health issues, including heart disease and diabetes, had difficulty seeing his doctors regularly in 2020 because of the pandemic. That fall, he underwent debilitating foot surgery and, in April 2021, he was admitted to the hospital with kidney failure. "He caught COVID in the hospital and, because of his poor health, couldn't fight it," said Wachter. His dad passed away a week later at the age of 60.
Just seven months later, in November 2021, Wachter's 58-year-old mother died suddenly at home. "The medical examiner's report was inconclusive, so we really don't know what happened," Wachter said. "She did have some health problems, but we think she really missed my dad and died of a broken heart." After losing both parents, he and his older sister moved from their family home in North Bellmore to live with an aunt in Malverne, also on Long Island.
Expression Through Sculpture
Looking to his art as a means of expression during this difficult time, Wachter found special purpose and solace in sculpting. "I was first exposed to sculpture in a three-dimensional design class with Professor Christopher Saucedo my sophomore year at Adelphi, but had done more painting and drawing over the years," he said. "I found those too rigid … I needed a more expressive outlet," he said. "Sculpture allows me to say more."
He found creating plaster hands especially cathartic. "I make molds of my hands, reminiscent of Greek sculpture," he said. "I often attach these forms to a nostalgic object … like an old radio. This allows me to explore different aspects of the human experience, from childhood to old age, and influences like sickness and religion." He said there is a connection between how he is dealing with the loss of his parents and the work he creates, but that he wants "the observer to form their own interpretation" of his sculptures, and "to explore how they may or may not relate."
The body of work he created during his junior and senior years at Adelphi so impressed Kellyann Monaghan, associate professor and chair of art and art history, that she nominated Wachter for a prestigious artist residency administered by the nonprofit Eileen S. Kaminsky Family Foundation (ESKFF). He learned at Adelphi's senior art show in the spring that he was among those selected for the program, designed for local, national and international mid-career, emerging artists—and students. It provides stipends for materials, grants, exhibition opportunities, visiting professionals, and studio space in an environment that promotes self-growth and fosters collaboration between artists. He also received the Hugh Wilson Studio Award, established by retired professor of political science Hugh Wilson, DSW '95, an art lover, to recognize an art student outstanding in studio practice. Wachter is excited to start the three-month ESKFF residency in Jersey City, New Jersey, in September. "This is a great stepping- stone … I'm so excited to try something new and to meet, and learn from, other artists in such a supportive and creative atmosphere," he said. He hopes to get a few other residencies under his belt over the next few years and eventually to "make art for the community, work with murals, and teach underprivileged kids in a nontraditional setting."
Finding Extraordinary Support and a Sense of Purpose
It's not surprising that Wachter wants to give back. For him, school has always been an outlet. "I couldn't control a lot of things in my household when I was growing up, but I could control my education," he said. It was after taking a 10-week figure-drawing class with faculty member Robyn Cooper at Adelphi the summer of his junior year in high school that he knew the University would be his first choice for college.
"My experience at Adelphi was life changing and I developed relationships that I know will last a lifetime," he said. "Faculty, staff and students were so supportive, even though it was hard for me to ask for help when I was going through everything." He said Monaghan, Cooper and other art faculty—including Jennifer Maloney, who taught his senior thesis classes, and Samantha Dominik '17—were among those who were especially accessible and encouraging, while challenging him to become a better artist by questioning convention and breaking barriers.
While still grieving the loss of his parents, Wachter is building resilience and is optimistic about the future. "The world doesn't stop spinning. Good and bad things will happen. People are going to say nice, unkind and maybe even crazy things to you. What matters is how you treat yourself and others," he said. "I've learned that it's up to each of us to write our own stories and create our own pictures. You can't be doing things just to please someone else; you have to follow your own path."