Last year, Adelphi hosted 344 weekend programs for 12,200 students, and 395 weekday programs for 10,300 students.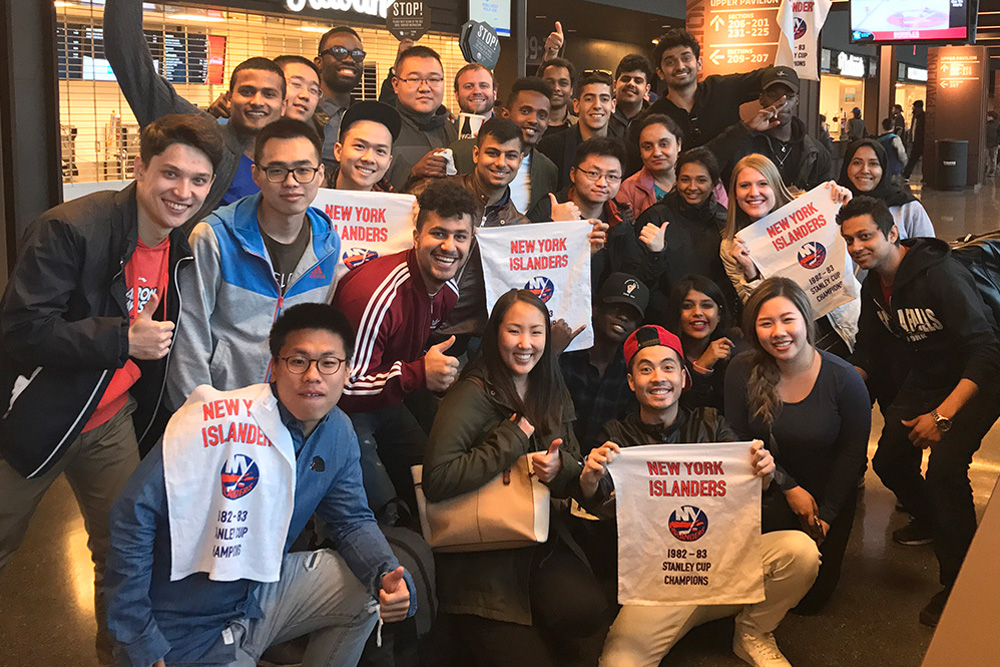 The Adelphi experience doesn't have to begin and end in the classroom. In fact, it shouldn't.
Students grow and learn by experiences too, which is why Adelphi's student life and residential life teams are committed to providing programs for all students, whether they live on campus or commute.
Last year, Adelphi hosted 344 weekend programs for 12,200 students, and 395 weekday programs for 10,300 students. The University also offered more than 40 programs and experiences that brought students into nearby New York City, including Broadway shows, museum exhibits and holiday excursions to Rockefeller Center, which boasts the famous ice rink and Christmas tree.
Weekend and late-night programs in particular grew, as Adelphi increased funding and resources for these events. For instance, this year Adelphi launched a free Monday Masterpieces series. These monthly workshops guide students through DIY projects like ceramics and canvas paintings that they create alongside friends (with free food, of course).
"The resident students have really been appreciating the late-night programs because they give them something to do after class while they're on campus," said Tara Wagner, director of the Center for Student Involvement (CSI).
Students can also give back to their community through charity service programs such as the Panther Day of Service, senior citizen meal delivery and the Autism Speaks Walk.
These growing offerings can largely be attributed to the hard work of the new Weekend Engagement Committee, which includes representatives from campus offices such as CSI, Athletics, the Performing Arts Center, the Interfaith Center and the Office of International Student Services. They've worked diligently to ensure that weekends at Adelphi are filled with fun and engaging activities.
CSI also created the Go Gold! program to encourage students to participate in weekend events. Using swipe cards, students can check into select Go Gold! events and receive a small prize when they attend three, five, and 10 programs. Examples of Go Gold! events include the Department of Music Alumni Concert, the Brooklyn Bike Tour and the Halloween-themed rUndead zombie-run fundraiser for the Special Olympics.
Students in the Panther Street Team help spread the word about these programs across campus. They encourage students to buy tickets through the online University tickets system or to sign up for free events on the spot.
Whether students are working with CSI to plan these events or participating in these new experiences with friends and classmates, it's all part of Adelphi's commitment to fostering new generations of curious, compassionate and successful professionals.
"These programs help round out students' education here at Adelphi," Wagner said. "Instead of just going to class and going home, it's helping them connect to Adelphi, meet new people, enjoy new experiences and feel a sense of belonging to the University."
Check out all the events and activities our students enjoy:
---
For further information, please contact:
Todd Wilson
Strategic Communications Director 
p – 516.237.8634
e – twilson@adelphi.edu