Higher education isn't all fun and games, but it shouldn't be entirely without them, either.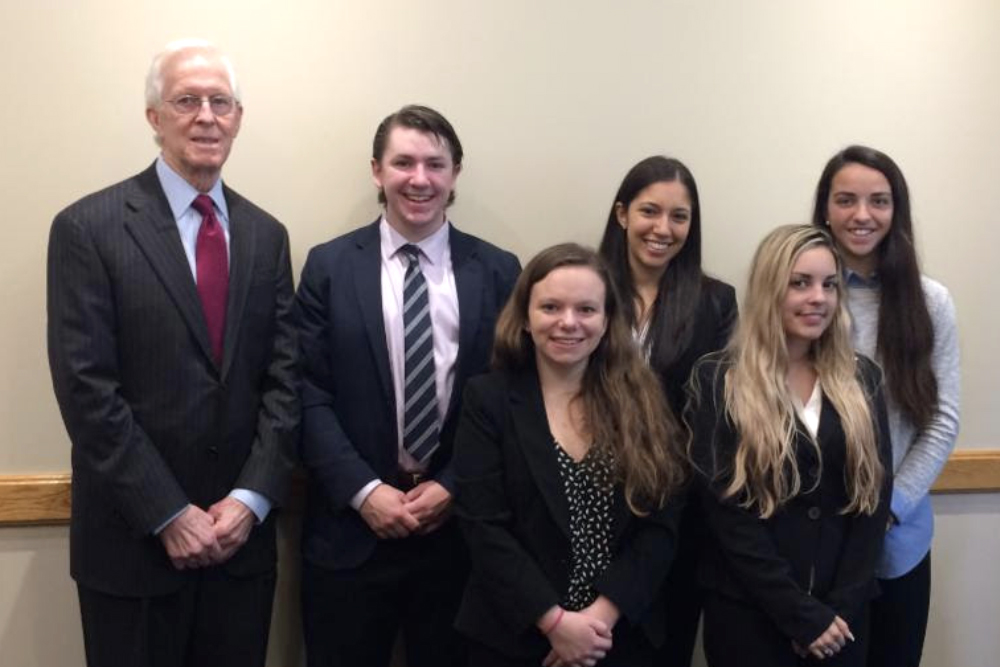 Higher education isn't all fun and games, but it shouldn't be entirely without them, either. That's the conclusion the first group of students in the Willumstad Winning Edge Leadership Scholars cocurricular program came to when they proposed creating a new game room for the University.
The six undergraduates in the Robert B. Willumstad School of Business Initiative for Adelphi project were charged with identifying a project that would meet some need on campus and then seeing that proposal through to a working plan. After considering a number of options—including hammocks, solar panels and interactive bulletin boards—they settled on creating a student game room as their group project.
"Although there's a lot of space on campus, there isn't really a place for students to socialize in a relaxed setting," said Chelsea Abreu '19, now in her first year in Adelphi's MBA program, with a specialization in marketing. "I thought it was great. I didn't realize so may campuses offer that amenity. That's a selling point for students."
Simply saying something is a selling point isn't enough at Willumstad. The students had to do market research, conducting two student surveys to learn what their classmates wanted to see on campus and then presenting their proposal to Clinical Assistant Professor Cem Karatas, DBA, and a panel of faculty advisers and, ultimately, to President Christine M. Riordan.
"I loved being a part of the inaugural leadership program," Abreu said. "Professors encouraged you to think freely in a collaborative process. There was no right or wrong way to go about it."
"The president always says, 'The people make the place,' and it's so true," she added. "I'll definitely never forget it."
The price tag might not be as steep as some would expect, either. Rather than video games and virtual reality headsets, the team's market research showed that what students most wanted was a pool table, a ping-pong table and board games.
"I thought it was pretty funny," said Abreu, a member of Adelphi's 2019 NCAA champion lacrosse team, NE10 Woman of the Year and one of nine finalists for NCAA Woman of the Year. "For me personally, there's nothing that will ever beat ping-pong. I love ping-pong."
While a game room might seem a frivolity to some, it was recognized quickly as a potential asset when the student team proposed it, according to MaryAnne M. Hyland, PhD, associate dean for undergraduate programs and student success.
"Upper administration took it very seriously," she said. "We have a large commuter population and they are very aware that this could really be beneficial and help keep students on campus," she said. "With regard to the program as a whole, the feedback we got from students is that one of the highlights was the opportunity to work as a team with hardworking and talented students from different majors and tackle a real issue at the University."
The project was the first of an ongoing Willumstad initiative. A select group of students develop and research a proposal and present their recommendations in a detailed report to senior leadership at the University and to the School's benefactor, Robert B. Willumstad '05 (Hon.), chair emeritus of the Adelphi University Board of Trustees.
If all goes well, the project will be seen through to fruition, although where—or even if—the game room might be is not yet certain. Dr. Hyland said she expects that the enthusiastic team may well return to campus to help ensure it becomes a reality.
"They were all extremely motivated students," she said. "I wouldn't be at all surprised if they wanted to come back and be involved."
---
For further information, please contact:
Todd Wilson
Strategic Communications Director 
p – 516.237.8634
e – twilson@adelphi.edu