The third annual TEDxAdelphiUniversity will bring together 10 impressive speakers under the theme of "Be the Change" for a day of talks, networking and dialogue.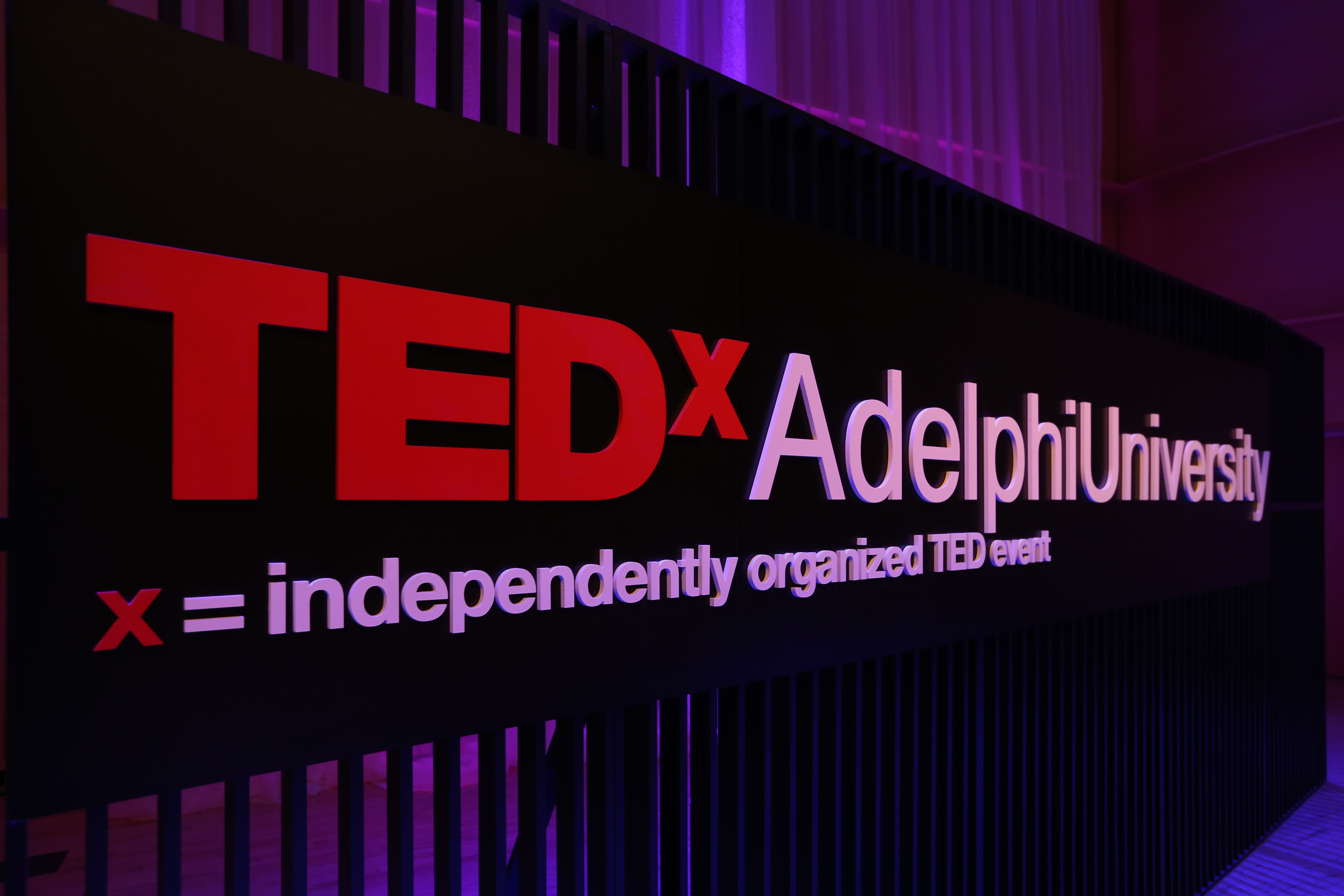 ---
The third annual TEDxAdelphiUniversity will bring together 10 impressive speakers under the theme of "Be the Change" for a day of talks, networking and dialogue on Friday, March 9, 2018, from 9:00 a.m. to 3:30 p.m. on the Adelphi University Garden City campus.
The independently organized event is licensed by TED, a nonprofit organization devoted to ideas worth spreading. It will feature a compelling lineup of speakers, among them a former warden at New York City's Rikers Island Prison Complex, an authority on cybersecurity, an award-winning author and Adelphi professor, a leader in the environmental movement who trained under Al Gore, and two outstanding Adelphi graduate students—one a veteran and accomplished entrepreneur and the other a martial artist and advocate for LGBTQ youth.
"The time for asking how we can 'Be the Change' has never been more important and essential to our community and society at large," said Elizabeth Cohn, Ph.D., organizer of TEDxAdelphiUniversity and director of Adelphi's Center for Health Innovation. "We are thrilled to bring this event back to Adelphi for a third year to continue these critical dialogues."
Tickets are now on sale with early-bird pricing through February 11—note that last year's event sold out early. The venue is at the Adelphi University Performing Arts Center Concert Hall, Westermann Stage, at One South Avenue, Garden City, N.Y.
Speakers at TEDxAdelphiUniversity 2018 are:
Janine L. Bradley, born in Brooklyn and raised in St. Albans, Queens, is an English teacher at Uniondale High School as well as coordinator/principal at the Uniondale Alternative High School twilight school program. Her talk will call for a change in the perception of the night alternative high school program, from a disciplinary institution for delinquent students to a supportive school where students champion themselves to invest in their own education and future success.
Kaylenne Brown is a plant-based chef and a nationally recognized authority in health education and dance fitness. As a plant-based advocate, she delivers the Health Is Wealth Project curriculum to several schools with the power of aeroponics (the process of growing plants in an air or mist environment without the use of soil) and seedlings. Brown will talk about the program she started, Health Is Wealth, which teaches students the power of urban agriculture and economic stability through the use of the aeroponic Tower Garden system. Brown, a U.S. Marine Corp veteran and graduate of Old Dominion University, is pursuing her Master of Science in Nutrition at Adelphi.
Oscar Bruce, Jr., a Long Island native and graduate of Baruch College, currently serves as community organizer and workshop facilitator for The Pulse Center for Patient Safety, Education and Advocacy – ASK for Your Life Campaign. With his passion for poetry, Bruce will deliver through the spoken word, his message on empowering marginalized people to advocate for themselves to achieve better healthcare outcomes.
Karen Clements-Roach, an award-winning journalist who has interviewed dignitaries, history-making grandmothers and civil rights activists, is founder of the news organization Communities of Color News, honored by New York City as a Best Business for Communities in Queens. Roach was part of the press contingent that welcomed former President Barack Obama and Air Force One on its maiden voyage to New York. She will speak on the importance and impact of how news is portrayed and reflected in communities and the struggles of the change-agent journalist.
Benjamin Dynkin, J.D., has spent his career working to help defend the United States and its businesses from cyberthreats. He has championed the cause of raising awareness of cybersecurity for a variety of audiences, ranging from federal officials to small mom-and-pop shops. He combines his technical and legal background to develop solutions and policy prescriptions that work. Dynkin is co-founder and co-executive director of the American Cybersecurity Institute. He will give the TEDx audience an understanding of the complex world of cybersecurity and share tools to better secure themselves in the current environment.
Beth Fiteni is executive director of Green Inside and Out, a nonprofit whose mission it is to educate on matters of toxins and environmental health. Fiteni, who earned a master's degree in environmental law from Vermont Law School, has 20 years of experience working in the environmental movement for nonprofit organizations in Washington, D.C., and New York, and trained under former Vice President Al Gore in 2012. She has worked at Renewable Energy Long Island, the Sustainability Institute at Molloy College and Beyond Pesticides, through which she coordinated educational programs such as organic lawn-care trade shows, energy policy work groups and national conferences. Fiteni's passion is helping people see how what they don't know about common products can harm them. Her talk will focus on empowering individuals to seek out healthier alternatives to common toxins and inspire them to create a greener, lower-impact lifestyle.
Hannah Fons, born in rural Iowa, moved to New York City in 2000 to seek her fortune. She serves as senior editor at a small trade publishing company and is a professional strength and conditioning coach at Five Points Academy in New York City—and is also a graduate student in the Master of Social Work program at Adelphi's Manhattan Center, focusing on the care and concerns of LGBTQ youth in general and transgender/gender-divergent youth in particular. In addition to her current work, she holds a master's degree in sexuality and gender studies from the CUNY Graduate Center. Fons' talk will focus on gender identity as fluid, not fixed, and existing on a spectrum.
Anthony Guerne began his career in medicine in 1990 as an emergency medical technician and later a paramedic in New York City. After almost 20 years as a clinician, he took a full-time educational role as a simulation specialist at the NYIT-College of Osteopathic Medicine. Guerne, who has a master's degree in medical/healthcare simulation, is currently the simulation center technologist for the Adelphi University College of Nursing and Public Health. Post-traumatic stress disorder (PTSD) has increasingly become a hot topic in the EMS field and, as a PTSD sufferer, Guerne believes that the culture in medicine needs to change. His message to PTSD sufferers in healthcare will be that they do not have to just "get over it"—they can get help and be better practitioners.
Howard Robertson retired from the New York City Department of Correction after serving more than 22 years. During the course of his career he had care, custody and control over some of New York's most notorious drug kingpins, murderers and gang members. In the last three years of his career, Robertson served as a warden at Rikers Island Prison Complex. Specializing in rehabilitation, he received the prestigious Commissioner's Award for implementing programs that significantly reduced the violence at the adolescent detention jail at Rikers. Robertson came across many personal stories of how these individuals came to be there. He wants young people to understand that, while we all have stories to tell, we cannot use our story as a reason to do the wrong things—but, rather we should use it as fuel, energy and motivation to become successful in life.
Tracy Stopler, M.S. is a registered dietitian, adjunct nutrition professor at Adelphi University, Enough Abuse Campaign Coordinator at The Safe Center, and author of an award-winning debut novel, The Ropes That Bind: Based on a True Story of Child Sexual Abuse. In her work at The Safe Center, Stopler often meets survivors who ask her, "How did you learn to let go [of the childhood trauma of sexual abuse]?" She will provide the no-nonsense model of the "how to" in her TEDx talk.
For more about the speakers and the event, visit tedxadelphiuniversity.com. Lunch is included in admission and audience members are encouraged to stay for the entire program.
For more information, contact tedxadelphiuniversity@gmail.com or 516.877.3792.
---
About TEDx, x = independently organized event In the spirit of ideas worth spreading, TEDx is a program of local, self-organized events that bring people together to share a TED-like experience. At a TEDx event, TEDTalks video and live speakers combine to spark deep discussion and connection in a small group. These local, self-organized events are branded TEDx, where x = independently organized TED event. The TED Conference provides certain rules and regulations and general guidance from the TEDx program, but individual TEDx events are self-organized.
---
About TED TED is a nonprofit organization devoted to ideas worth spreading, usually in the form of short, powerful talks (18 minutes or fewer) delivered by today's leading thinkers and doers. Many of these talks are given at TED's annual conference in Vancouver, British Columbia, and made available free on TED.com. TED speakers have included Bill Gates, Jane Goodall, Elizabeth Gilbert, Sir Richard Branson, Nandan Nilekani, Philippe Starck, Ngozi Okonjo-Iweala, Sal Khan and Daniel Kahneman. TED's open and free initiatives for spreading ideas include TED.com, where new TED Talk videos are posted daily; the Open Translation Project, which provides subtitles and interactive transcripts as well as translations from thousands of volunteers worldwide; the educational initiative TED-Ed; the annual million-dollar TED Prize, which funds exceptional individuals with a "wish," or idea, to create change in the world; TEDx, which provides licenses to thousands of individuals and groups who host local, self-organized TED-style events around the world; and the TED Fellows program, which selects innovators from around the globe to amplify the impact of their remarkable projects and activities.
---
For further information, please contact:
Todd Wilson
Strategic Communications Director 
p – 516.237.8634
e – twilson@adelphi.edu