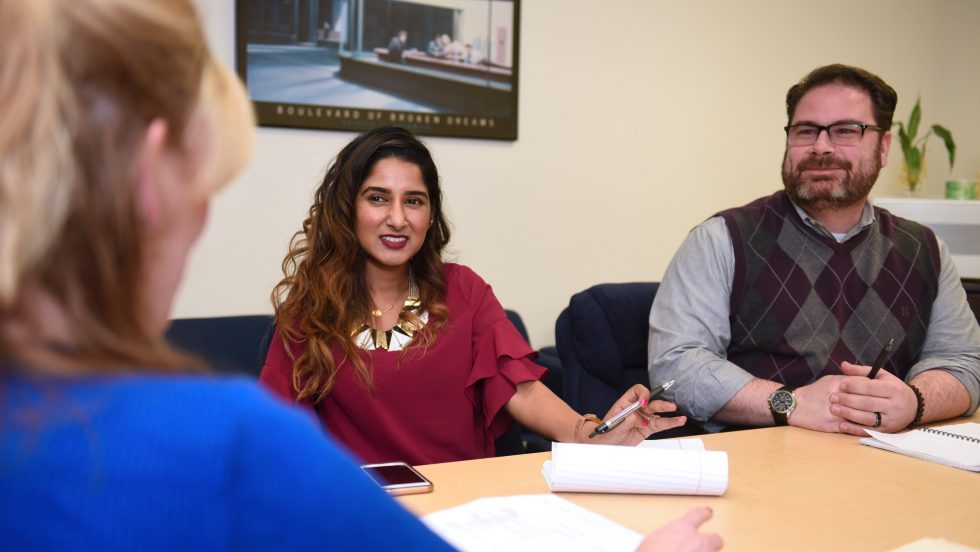 These new partnerships will expand access to the School of Social Work's nationally recognized programs, diversify the profession and serve underrepresented communities.

Adelphi University has forged an innovative partnership with Suffolk County Community College (SCCC) to expand access to its nationally recognized social work program to eastern Long Island starting this fall. Transfer students, as well as adults seeking a career change after taking a break from college or completing a bachelor's degree in another discipline, are expected to take advantage of the opportunity.
Classes will be held on Monday and Wednesday evenings at SCCC's Riverhead campus. Students who have met Adelphi's core requirements through an associate degree program at SCCC or coursework completed elsewhere will be able to enroll in four classes per semester and complete the Bachelor of Social Work (BSW) in two years. Part-time enrollment is also available.
"Social work is a growing profession with tremendous opportunities," said Sheila Edwards-Robinson, who is overseeing the collaboration with SCCC and serves as director of social work programs at Adelphi's Hauppauge Center. "This new site offers convenience and flexibility for those who live and/or work in the Riverhead area, eliminating the need to commute up to an hour for access to Adelphi's top-ranked program."
Manoj Pardasani, PhD, dean of the Adelphi University School of Social Work, said the partnership with SCCC "supports the University's goal of building a diverse workforce in the social work profession, especially those individuals from underrepresented backgrounds."
The University's highly regarded Master of Social Work (MSW) program may become available at the SCCC location if the need arises.
Partnership With The New Seminary
The School of Social Work has also announced a new master's degree partnership with The New Seminary, an organization in Brooklyn that serves students from across the country and overseas, with the heaviest concentration from the New York metropolitan area.
The two-year cohort will be offered fully online for 15–20 students and include clinicals. Students will have the opportunity to pursue fellowships and specialized training in the fields of gerontology, behavioral health, psychiatric social work and evidence-based practice with children and families.
"We are thrilled to partner with The New Seminary," said Dr. Pardasani. "This new partnership will make our highly ranked social work program available to members of the Orthodox Jewish community, enabling them to pursue careers in social work. We envision the graduates of this initiative bringing much-needed social services and professional expertise to their communities."
While this is a new partnership for the School of Social Work, The New Seminary has worked successfully with the Adelphi University College of Nursing and Public Health for more than 15 years, offering an undergraduate nursing program to its students. Today, more than 500 New Seminary graduates in social work are serving the Jewish community and the broader community at all levels of social services and counseling.
"The need for more well-trained social workers is undeniable," said Sora Bulka, dean of The New Seminary. "Adelphi University has proven to be an excellent partner in meeting these goals, without compromising on their high academic and professional standards. Students joining this program can look forward to an exceptional experience and the confidence that they will be well prepared to take their place among the best professionals in the field."