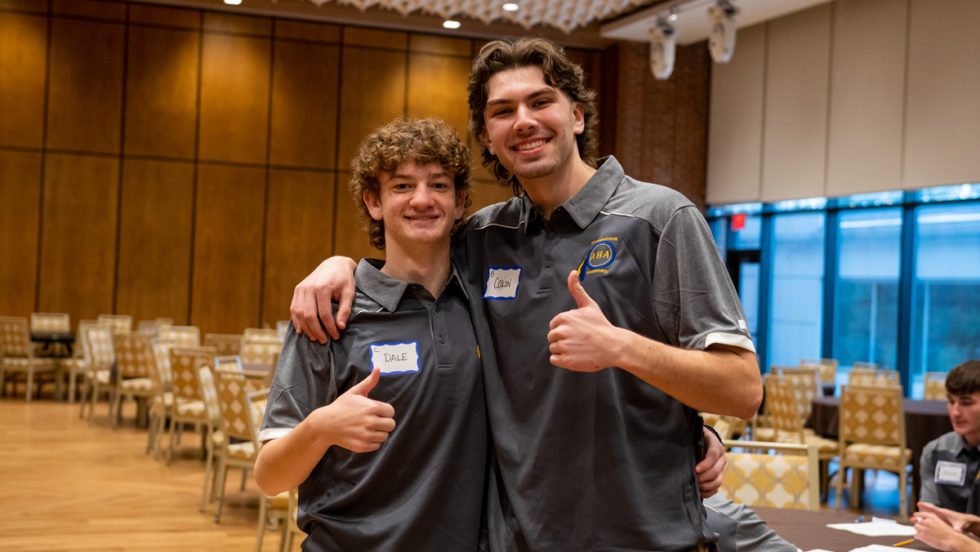 Greg Bouris asked 200 high school athletes to lift their left foot off the floor. All gamely followed his instructions, leaning on teammates for balance in the Ruth S. Harley University Center's main ballroom on January 6. Then Bouris, lecturer and director of Adelphi University's undergraduate sport management program, quipped: "Now you're all starting off the new year on the right foot!" The room erupted into adolescent groans, but his point was well received.
The students were here for a three-day leadership training conference run by the Athletes Helping Athletes Student Athlete Leadership Team (SALT).
Getting students and young athletes on the right foot has been a nearly 40-year mission for Warren Breining '74, director of Athletes Helping Athletes (AHA). After earning his social work degree, he founded the nonprofit in 1984 and, starting in 1985, worked closely with Bouris, then serving in the public relations department of the New York Islanders, to launch SALT. It's a program that trains high school athletes to become role models to younger students in their communities. Breining also taught physical education special topics like leadership development from 2001 to 2008 at Adelphi.
Breining pointed out that the highlight of this program is the unique delivery system: The high schoolers are trained in problem-solving methodology by a range of professionals—from active and retired professional athletes to retired teachers and social workers—to speak with elementary students in their school districts.
These sessions are conducted by teaching professionals and former professional and elite amateur athletes. Breakout sessions covered problem-solving and motivational messaging, all with the goal of preparing these athletes to return to their school districts and mentor fifth or sixth grade students in three separate visits. The January program was the second of three training conferences for about 500 high school student-athletes for this academic year. A different cohort participating from 27 high schools will be on campus from March 14 to March 16 for another training conference.
"The first session is designed to be an introduction where they talk about sports as a metaphor and how they've learned life lessons and life skills from sport," Breining said. "The second time they go back it's about sportsmanship, civility and bullying. The third time they talk about drugs, alcohol and tobacco and how to negotiate those situations. We train our high school student-athletes to present scenarios to the sixth graders about what they're going to encounter in middle school and process with them how to negotiate these situations."
The Adelphi Connection
For 11 years, the program was housed in Levermore Hall at Adelphi when they were invited by Ron Feingold, PhD, then dean of the Ruth S. Ammon School of Education and chair of the Department of Health and Sports Sciences. Breining said Dr. Feingold was an advocate of "using sports as a metaphor to talk about issues more important than sports."
Adelphi students have been volunteering at the conference for 15 years. On January 4 to January 6, the sport management program hosted the first SALT conference since the pandemic.
Undergraduates Danielle Puglisi, Daniel Klein, Andrew Smith, Carlex Villier and William McConville, and graduate student Edwin Chinyemba '22 all volunteered to help with event logistics like registration and taking photos. Bouris said this gave them an opportunity to get hands-on experience with managing events and activities. Clinical Assistant Professor Dan Bedard, graduate sport management program director and a trainer in the program for 22 years, said they were also program ambassadors, talking to the high schoolers about why they chose Adelphi.
Klein, a first-year sport management student, said he was impressed by how the guest speakers gave guidance to the high school students that they would, in turn, relate to the elementary school students they mentor. "They tell them you don't ever want to scream and you always want to give a fist bump at the end and say 'good game' or pick someone up when they're down," he explained.
A Legacy of Participants
Many former volunteers and students return, either as facilitators or to accompany their own students. Among them is Jay Bryant, MS '02, vice president at Harlem MagicMasters and an adjunct professor. He first learned about AHA when he was earning his master's degree in sport management and has been volunteering for 15 years. "The people who have been doing this for so long [are] the reason I make sure to help facilitate sessions each year."
Nicole Kidd, a physical education teacher at Comsewogue High School in Port Jefferson Station, New York, accompanied her 25 students to the January 6 session. She was in the first group of AHA high school athletes from Miller Place High School in 1998. "I remember Warren coming to the school and training us and I thought it was cool," she said. "When I started teaching, I decided to start the program here." She said the messages "not to drink or do drugs and have good sportsmanship and not bully" are more meaningful to younger students when they're given by older student-athletes "who are excelling in sports and school" rather than by teachers or other adults.
Bouris said another bonus of the AHA program is that it helps promote diversity and inclusion since students come from all over Long Island to train together. "I love to see them interacting, all the different school districts coming together in one place in an inclusive environment, all moving in the same direction for the same goal. It's pretty powerful."