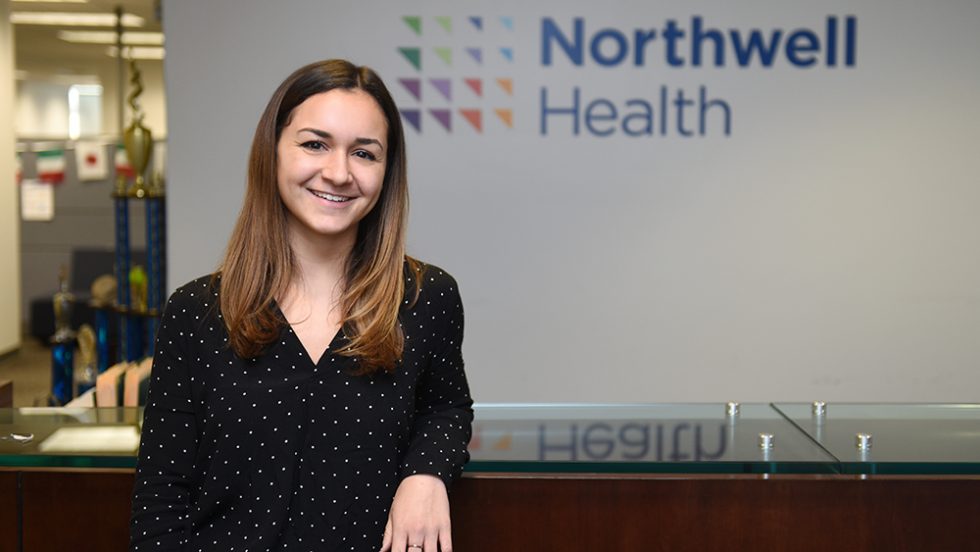 The rigorous Internship Preparation Seminar helps students like Jenisa Caban '18 build the skills they need to land coveted placements.
Like most college students, Jenisa Caban '18 didn't know how she would transition from the academic world of books and classes to the real world of résumés and job interviews."I remember having no idea where to begin," Caban said.
She did figure that she could find some help at Adelphi's Center for Career and Professional Development, and when she visited it during her first year, she discovered a menu of programs that would put her on her way.
Through the Center's Prep for Success program, she learned what it takes to put together an effective résumé and online profile.
"I learned the importance of having your résumé tell a story," Caban said. "A clean, neat, grammatically correct résumé is essential, but it is equally as crucial to be able to communicate your message and bring your experiences to life. That's how you get the job."
She also learned to communicate that message clearly in her LinkedIn profile and in interviews. The whole process not only gave her the basic skills she needed—it helped her build confidence. "It really got me started on planning my career and made me comfortable enough to work on improving other areas of my development," she said.
The Internship Preparation Seminar
The career center even offers an academic program to get students ready for their career search. A key component of Prep for Success, the Internship Preparation Seminar is a one-credit course that provides a formal classroom setting for the basics of career prep—the writing of résumés, online profiles and cover letters and the sharpening of networking and interview skills.
The seminar is demanding. Students must bring an existing résumé, which they then update based on feedback from the professor. They must create a LinkedIn profile, complete the Myers-Briggs Type Indicator Career Report, and write and revise a cover letter. Students participate in video and in-person mock interviews, and build their public speaking skills by creating and delivering PowerPoint presentations.
Career Support for Online Students, Too
The career center also provides help for the growing number of Adelphi students—undergrad and graduate—who are taking their classes online. The centerpiece is the Online Career Coach it developed, a site containing a wide range of learning modules that students can complete at their own pace. Many of the modules—including ones on how to negotiate a job offer and how to succeed in a new job—are geared to grad students who are already in the workforce and are looking to get to the next level.
Students can also email their résumés and cover letters to a counselor and schedule time to talk over the phone.
"Online students receive the same personalized attention as those who come into the office," said Maria Casey '89, associate director of the Center for Career and Professional Development. "We work with them over the phone, always trying to accommodate their schedule. Students appreciate the convenience. Many work full-time and live far from campus, so it can be difficult for them to come to the office."
A Great Resource at "Crunch Time"
While specializing in helping students start preparing for their careers almost as soon as they arrive on campus, the career center also is there for students who are nearing graduation and working hard to line up a job.
"This is job crunch time for me," said Ryan Foley, who will get his MBA in marketing in May. "Even though I took a lot of the career center programs as an undergrad at Adelphi, I'm still going in for help fine tuning my résumé and cover letters. It's such a great resource. The advisors help you be the best candidate you can be."
Gaining Job Experience
Once armed with her résumé, profile and interview skills, Caban began focusing on volunteer work to gain experience. She became an Orientation leader the summer after her first year, then served as a resident assistant, advising students in her residence hall. And she landed her first internship through Adelphi's prestigious Jaggar Community Fellows Program, which provides paid summer internships at nonprofit organizations in the New York area. A psychology major, she interned at the Five Towns Early Learning Center on Long Island. As a senior, she was a vocational coach in the Bridges to Adelphi program, helping students on the autism spectrum prepare for their careers.
Caban earned a BA in psychology in 2018. She's now working toward her master's degree in industrial psychology, and she just landed a job as an associate talent acquisition specialist at Northwell Health, the largest healthcare provider in New York.
"My job is fantastic, and the work I do is incredibly meaningful,"' she said. "I owe much of my success to the experiences gained through the internship seminar and other Prep for Success programs. They helped me set my goals and gave me the skills I needed to achieve them."