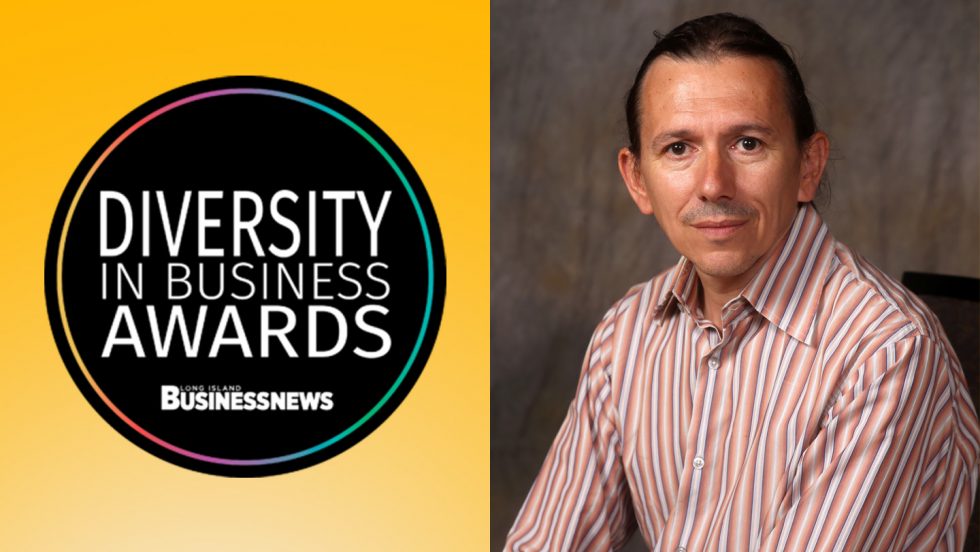 When Juan Jaramillo, PhD, associate professor of decision sciences and marketing, came to Adelphi in 2018, he brought with him more than just the skills and knowledge to help launch the Master of Science in Business Analytics program in the Robert B. Willumstad School of Business.
He also came with the sensitivity and life experience to actively contribute to the University's ongoing commitment to diversity and equity. Now he has been recognized for his efforts and expertise with a Long Island Business News Diversity in Business Award. According to LIBN, honorees of the Diversity in Business Award have shown a steady commitment to creating an inclusive workforce that reflects the diversity of Long Island and promotes equality through commitment.
Hailing from Colombia, Dr. Jaramillo immigrated to the United States with a civil engineering background to further his education. He earned his master's and doctorate degrees in industrial engineering at West Virginia University, where he was active in establishing Latin American student organizations at his school.
Dr. Jaramillo brought that organizing initiative to Adelphi, along with a strong commitment to fairness and inclusion. He joined the University's Diversity Committee, which takes a leadership role in advancing the University's diversity goals.
"We are working to create an inclusive environment in which everyone has the same opportunities to grow and succeed," he explained, "and an environment in which we support and help each other to achieve our professional goals and ensure a healthy, fair and constructive environment for our students."
Since May 2021, he has also been co-chair of the Faculty of Color Network, acting as a liaison between it and the Diversity Committee. The network is a voluntary group that supports the retention and professional development of new faculty members. It also addresses racial equity issues and provides a safe space where faculty members of color can openly discuss their experience.
His motivation for joining the group was to get an even better understanding of the invisible barriers faced by faculty of color. "Our work is not only to remove these barriers," he says, "it is to ensure that the paradigms change."
Powerful Connections
Dr. Jaramillo also supports diversity and inclusion at Adelphi by using his connections to companies in Latin America to widen the perspective of Adelphi business students. Working in concert with Adelphi's new Innovation Center, he established a partnership with the Colombia-based manufacturer Corona, which markets home and construction products worldwide. He brought Corona executives into his classroom via Zoom to participate in a real-world project for students in his machine learning course. Students worked on forecasting methods to predict sales for one of the company's divisions, doing such a great job that the company's director of innovation invited them to present their ideas to other top-level executives.
Projects like these give Adelphi business students—many of whom come to the University from Asia, Europe and Central and South America—the opportunity to work for international clients in teams made up of students from varying backgrounds. In doing so, they gain experience working with and relating technical information to people of different cultures, with whom they often don't share a first language. Such experiential learning opportunities are vital for many international students who, without work visas, are often ineligible for traditional business internships.
More than that, though, these classroom experiences support diversity and inclusion on campus, helping Adelphi's business students—and future business leaders—appreciate different perspectives and the value of cooperative effort. "When you encounter different ways of thinking, initially there is a shock, but eventually the students see the value that is there," Dr. Jaramillo says of the international mix found in his business classrooms. "I have a lot of experience dealing with people from different cultures and the shock it can make you feel. But you can overcome that feeling. And when you do, the benefits are great."