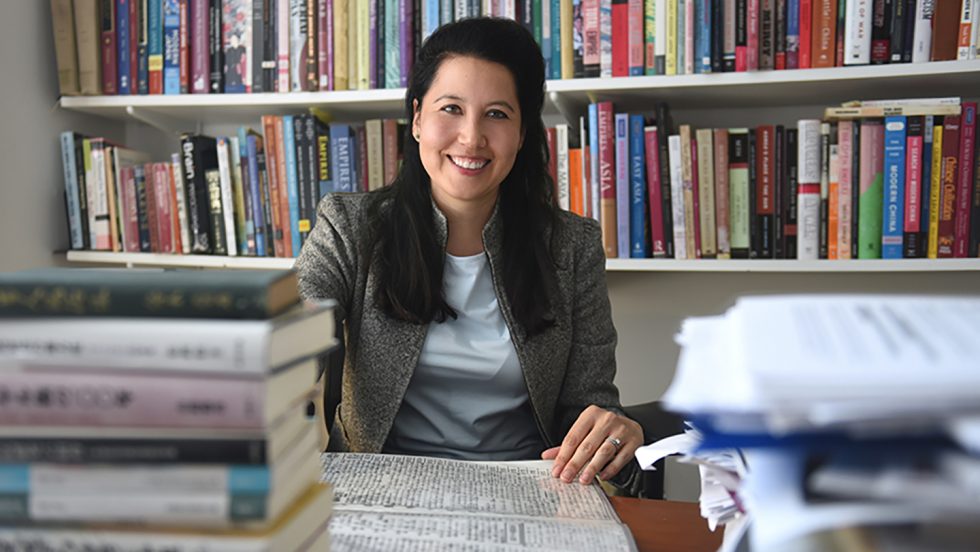 Kirsten L. Ziomek, PhD, Adelphi University associate professor of East Asian history and director of Asian studies, has been awarded a $60,000 Fellowship for Advanced Social Science Research on Japan by the Japan-United States Friendship Commission and the National Endowment for the Humanities (JUSFC-NEH).
During her fellowship period, which will take place in the 2023-2024 academic year, Dr. Ziomek will conduct research and writing leading to the publication of a book about the multitude of cultures and individuals involved in Japan's Asia-Pacific operations during World War II. The book, which will draw from multilingual research from numerous international archives, is tentatively entitled The Disorder of Killing: Colonial Soldiers, Forced Laborers, and the Local Peoples on the Japanese Empire's Edge.
Dr. Ziomek's award was among three JUSFC-NEH fellowship grants, totaling $180,000, announced on January 12, 2023, to support research on modern Japanese society and political economy, Japan's international relations, and U.S.–Japan relations.
"This national grant recognizes the significance of the subject matter," said Dr. Ziomek, who noted the complicated history of the fighting that took place in the Pacific theater during World War II and the misconceptions that Japan's military was a homogenous monolith. "There are still more histories and stories to be told about World War II that have not yet been written. My hope is that my research will transform understanding of not just Japanese history, or military history, but will also help contribute to a changed view of global trans-imperial interactions.
"Japan relied upon countless ethnoracial peoples across the empire and beyond to fight and labor for its military throughout the Pacific," she continued. "It is often these people who get written out of military history as inconsequential to actual on-the-ground fighting. What my research aims to do is show how it was not just white Americans fighting homogenous Japanese." For example, in the Philippines, Americans relied upon countless Filipinos to wage war with them. In Okinawa, segregated white and Black troops fought alongside Nisei interpreters against equally diverse forces that included Okinawan men, women and children. In New Guinea, Indigenous Taiwanese forces fought alongside Japanese, Korean and Han Taiwanese soldiers against Australians and Americans. At the same time, the Japanese military relied on Chinese and Indian prisoners of war to provide forced labor alongside New Guineans, Micronesians, Okinawans, and Korean and Taiwanese forced laborers.
This will be Dr. Ziomek's second book about Japanese history and culture. Lost Histories: Recovering the Lives of Japan's Colonial Peoples (Harvard University Asia Center, 2019), featured stories about people among four different groups—the Ainu; Taiwan's Indigenous people; Micronesians; and Okinawans—during the 20th-century colonial period in Japan. More information about her research can be found at kziomek.com.