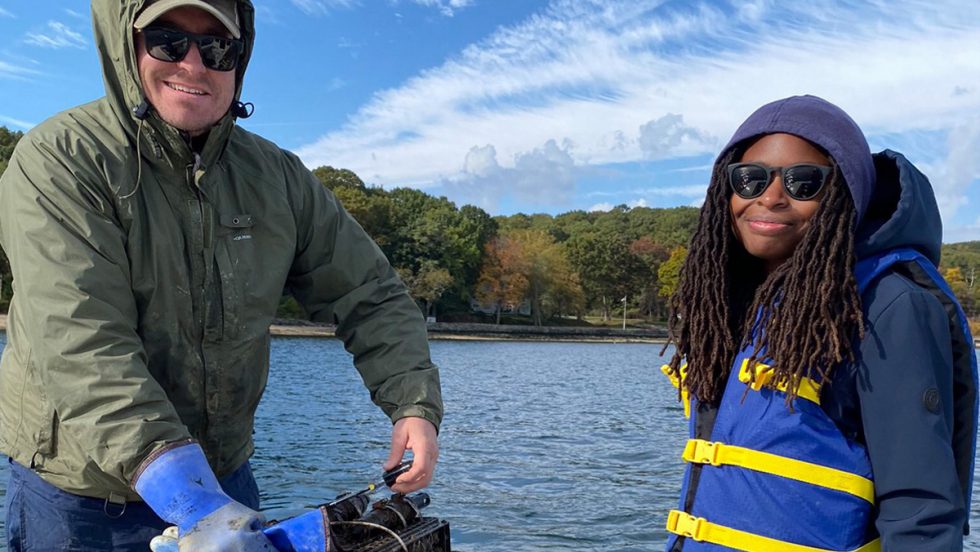 Ryan Wallace, PhD, assistant professor in the Department of Environmental Studies and Sciences, has received a federal grant to tackle the threats acidification and harmful algal blooms pose to Long Island Sound ecosystems and organisms.
Long Islanders are well acquainted with the seasonal sight of red or brown tides caused by harmful algal blooms, or HABs, as they're called, in coastal waters. And these algae aren't just unappealing to look at; they can poison or kill oysters, clams and other marine life. It's not only a disappointment for clam diggers, fishers and seafood lovers who can become quite sick after eating infected shellfish, but also a growing ecological threat.
Native Long Islander Ryan Wallace, PhD, assistant professor in the Department of Environmental Studies and Sciences, is passionate about Long Island Sound. "I grew up in Nassau County, but I spent my summers out east, harvesting oysters with my father and grandfather, until the brown tide algal blooms appeared," he remembered. "I've seen it happen—and hope to do what I can to mitigate these effects, so that my kids can enjoy the experiences I had as a child."
Dr. Wallace is a co-investigator on a major project funded by the National Centers for Coastal Ocean Science (NCCOS), in partnership with the National Oceanic and Atmospheric Administration's (NOAA) Ocean Acidification Program. He, along with principal investigator and Stony Brook University Distinguished Professor Christopher Gobler, PhD, and co-investigator Konstantine Rountos, PhD, associate professor at St. John's University, have received a three-year, $105,000 subaward of a $1 million NCCOS project grant that will explore how harmful algal blooms respond to acidification, how climate change will affect them, and how together HABs and acidification will reduce populations of the oysters, clams, and other shellfish and fish and potentially shutter commercial fisheries that rely on getting a good catch.
Green Lawns but Murky Waters
Ocean acidification, a global process related to climate change, increases carbon dioxide in the atmosphere that lowers the pH of the water column when it enters the ocean. Yet for Long Island Sound, according to Dr. Wallace, acidification is linked to nitrogen and nutrient pollution from excess fertilizer and sewage waste that leaches through groundwater systems to enter the sound and stimulate the growth of HABs.
"While algae are necessary for the ecosystem, HABs are not a good thing," he explained. "In our coastal areas, when the HABs die, bacteria decompose the algal biomass, releasing carbon dioxide, which lowers the water's pH and adversely impacts marine organisms."
For Suffolk County, with its growing population, this is a particularly pressing issue. "Everyone has septic systems that leach into the ground, eventually making it to the groundwater and into the sound," Dr. Wallace said. "This has been a problem for many years on Long Island."
The team is trying to get to the bottom of this by examining the co-stressors of acidification and HABs on marine organisms and Long Island Sound ecosystems.
That's why, as a co-principal investigator, Dr. Wallace has established fixed field stations in Cold Spring Harbor and Northport—which historically see the growth of annual HABs—to monitor the effect of two species of HABs responsible for the area's red tides during the three-year project. "As shellfish like oysters and clams filter the water, toxins produced by algae blooms can accumulate in their tissues," he said. Ultimately, both the fishing industry and lovers of local seafood suffer.
Measuring Algal Bloom
The project team is focusing on three algal bloom species, with a goal of quantifying acidification and the blooms' seasonal progression, as well as their often lethal impact on the early life stages of clams, oysters and bay scallops, as well as two species of fish—inland silverside and sheepshead minnow.
Adelphi's focus is on the seasonal progression of the blooms, and Dr. Wallace and graduate student Ayanna Vaz-Baker have already begun to monitor spring algal blooms in Northport and Cold Spring Harbor. "This is the start of our first season in the field and we're setting up to collect a lot of data," he reported.
Dr. Gobler and Dr. Rountos will measure the HABs' effect on bivalves and fish in eastern Long Island waters. "This project is a great opportunity for the team to compare year-over-year data across Suffolk County," Dr. Wallace noted. "We expect that the areas we're monitoring will be where we will observe the most intense acidification."
The team also anticipates that the dual co-stressors of HABs and acidification will be worse for vulnerable bivalves in their larval and juvenile stages, and thus negatively impact the building of robust adult populations.
A Safer, Healthier Sound
This is just one of Dr. Wallace's projects to improve local waters. He is involved in two ongoing projects with Aaren Freeman, PhD, professor and acting chair of biology at Adelphi, to repopulate Oyster Bay, Laurel Hollow and Cold Spring Harbor with oysters. Restoring large numbers of oysters to local harbors can actually help limit the development of HABs and improve the Sound's water quality, since oysters filter water they pump into their bodies.
To further address high levels of nitrate from acidification, Drs. Wallace and Freeman have embarked on a third project that involves growing sugar kelp and using it as a natural fertilizer that can replace toxic synthetic industrial fertilizers.
Their work was covered in United Nations Academic Impact: "Strategies Grounded in Scientific Research: Restoring Marine Ecosystem."