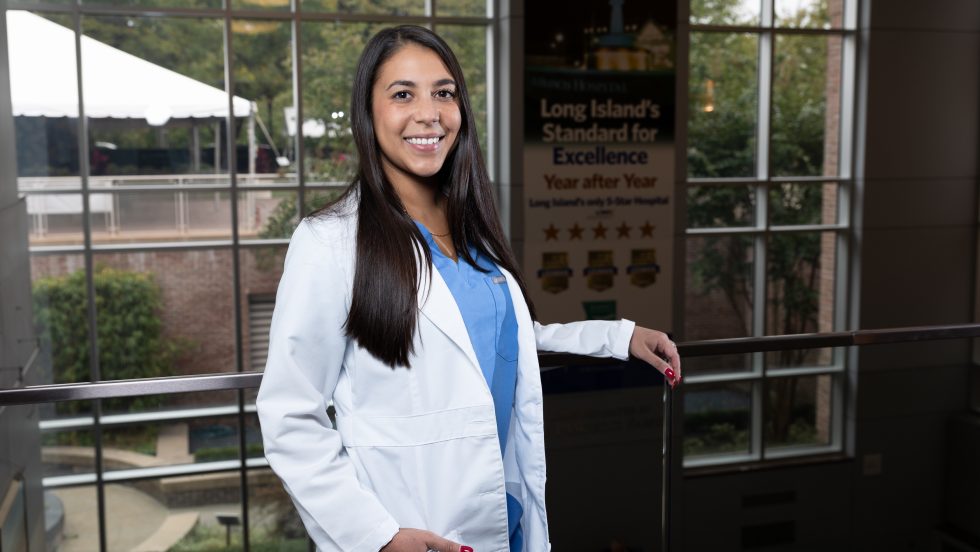 All the best things in my life were rooted at Adelphi.
Member of Adelphi University's 10 Under 10
Nursing (2016), Adult Gerontology Primary Care Nurse Practitioner (2021)
College of Nursing and Public Health
Adult Nurse Practitioner, Catholic Health
Ashley Davios was accustomed to attending small schools while growing up, so when she and her parents toured Adelphi's Garden City campus during her college search, she fell in love. While the beauty of the campus made a big impression, she was also drawn to the University's small class sizes. According to Davios, at Adelphi you feel like a person instead of just another number. 
During her junior year in the College of Nursing and Public Health, Davios was accepted into Adelphi's dedicated education unit (DEU) program at St. Francis Hospital. The DEU model utilizes a more individualized approach that matches a maximum of two students to a single preceptor who works with and tracks the students over three semesters. Davios graduated cum laude with a Bachelor of Science in Nursing in May 2016, after which she says it was an easy decision to continue at Adelphi for her master's degree, which she earned in 2021.
Davios began her first nursing role in September 2016 at St. Francis Hospital on a telemetry/medical-surgical/oncology unit—the very same unit she had previously precepted on. During this time, she served as preceptor to many undergraduate nursing students in their clinical rotations, becoming competent in the administration of chemotherapy as an oncology certified nurse, serving as a relief charge nurse, and training many new hire registered nurses during their preceptorships. 
While preparing for her career in nursing, Davios' passion for service also took flight at Adelphi. While an undergraduate, she joined a study abroad trip to Peru for eight days, where she taught children in an English class, provided basic checkups at an orphanage and visited a nonprofit burn rehabilitation center for children. She joined a second study abroad program in China for two weeks in 2014, receiving a hands-on lesson in Chinese medicine practices and participating in an international nursing convention involving students from the United States, China and the United Kingdom.
Her earlier meaningful service experiences inspired her to continue this work after graduation. While at St. Francis, Davios was introduced to the LJDR Davis Foundation, a community outreach foundation that annually provides health screenings, medical treatment, medical supplies, clothing and education to communities in Jamaica. She joined in this annual experience twice and looks forward to continuing to participate.
Davios says the Adelphi class that had the greatest impact on her was Diagnostics and Management with Clinical Assistant Professor Cheryl Best, MA '13, taken while working toward her master's degree. The class motivated and inspired her to work toward becoming a great nurse practitioner, and Professor Best gave her the desire to keep learning more. She says it prepared her for her next role.
In January 2022, Davios began work as a nurse practitioner in interventional cardiology, assessing, diagnosing, managing and aiding adult patients with the prevention of cardiac-related health issues. She works directly with one of the most renowned cardiologists in the world, Richard Shlofmitz, MD.
"I have always dreamed of working in cardiology and that's why St. Francis, as a heart center, is such a special place to work for me," says Davios. "I wanted to do more for my patients which is what pushed me to pursue higher education as a nurse practitioner."
Davios' achievements are the result of many hours of dedicated work in her field. She was a full-time registered nurse during the peak of the pandemic, while also a part-time student undertaking more than 200 clinical hours during each of her final two semesters—made necessary by time lost amid COVID-19 restrictions. Davios says that her current role makes all of her hard work worth it.
"Adelphi changed my life for many reasons—it opened the door to numerous opportunities that led to my success today," says Davios. "My study abroad trips took me to places I had never traveled, introducing me to new people and opening my life up to different cultures. I was introduced to the nursing profession and learned the many avenues to me on my career path. Adelphi is also the place where I first met my fiancé. All the best things in my life were rooted at Adelphi."