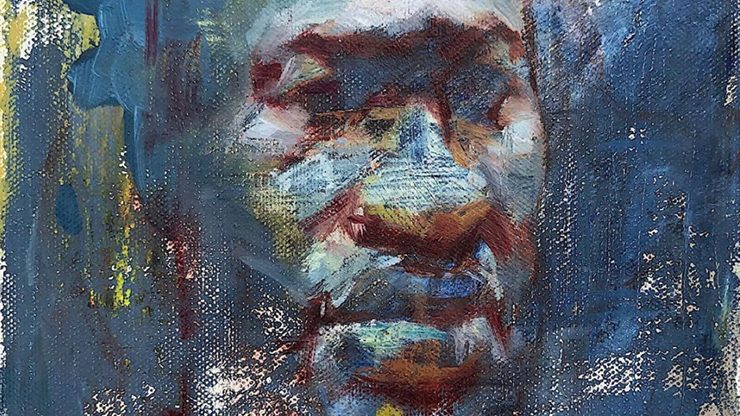 Faculty members Kellyann Monaghan, Geoffrey Grogan and Brooks Frederick discuss what inspired and motivated them to create portraits of George Floyd.
Words can never fully express our collective horror at the senseless killing of George Floyd. At Adelphi, three faculty members from the Department of Art and Art History created portraits that capture his dignity and remind us how each life is precious and worth remembering, and that we must continue to fight to end racial injustice and police brutality.
Here, the artists tell what inspired them.
Kellyann Monaghan, Associate Professor and Department Chair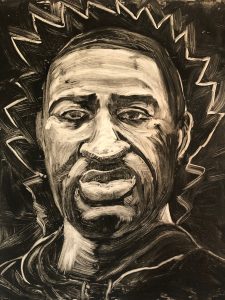 "I was motivated to make this work because I was angry, horrified and moved by the injustice to George Floyd and all others before him. I was observing images and photos of George Floyd and was moved by his soulful eyes and thoughtful face. I wanted to honor his memory and that of those who have suffered from injustice and systemic racism. This was my first portrait in my professional practice in many years.
"I will be making a limited edition of giclée prints available for sale, with profits going to the American Civil Liberties Union (ACLU)."
Follow Kellyann Monaghan on Instagram.
Geoffrey Grogan, Associate Professor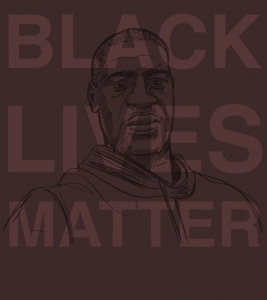 "Like all of us, I was horrified and outraged by the murder of George Floyd, and anguished by the endless succession of black lives lost to racism and brutality. In lockdown in a rural location, I still wished to add my voice to those calling out for justice and change and, in honor of George Floyd, offered this variation on the Black Lives Matter posts seen across social media platforms.
"This was the first in a series of digital portraits of black lives lost. I'll be drawing and posting them throughout the month of June. The process of drawing these faces initiates a period of mediation on each person's life and the terrible manner of their deaths; I hope, in their small way, the portraits offers the same to the viewer.
"I had never thought of the drawings as anything other than signs of protest; so I'd not formatted them for print. However, when the series is completed at the end of the month, I'll format the entire series as one print and will post information regarding how to purchase and which organization the proceeds will benefit. The portraits will also be collected as an animated public service announcement for sharing on social media."
Follow Geoffrey Grogan on Facebook or Instagram.
Brooks Frederick, Adjunct Professor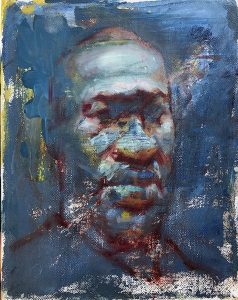 "I painted this portrait because the murders of George Floyd, Breonna Taylor, Tony McDade and countless others are a personal call to action. Like most white people, I can easily become comfortable with my privilege and be complicit with systems that benefit me. The 400-year history of brutality directed at black and brown bodies is our American legacy. I absorb this racist legacy in subtle ways, even when I do not intend this.
"In light of this, I am committed to uprooting all traces of white supremacy within my psyche, my artwork and my teaching. I will speak up against institutional racism, end my own white silence and centralize black, brown and other marginalized voices—antiracist initiatives. I look forward to escalating this crucial and sometimes messy work with my Adelphi community.
"This month I am supporting black-owned businesses and artists, including our Adelphi art department black alumni. These are just a few of the artistic voices you can follow and support: J'Nell Jordan '09, Monifa Mayo '19 , Nia Binford DeSilva '07, MA '08, Lorryn Moore '13, Taylor Elan '14 and Jillian Peters '15."
Follow Brooks Frederick on Instagram.
---
For further information, please contact:
Todd Wilson
Strategic Communications Director 
p – 516.237.8634
e – twilson@adelphi.edu