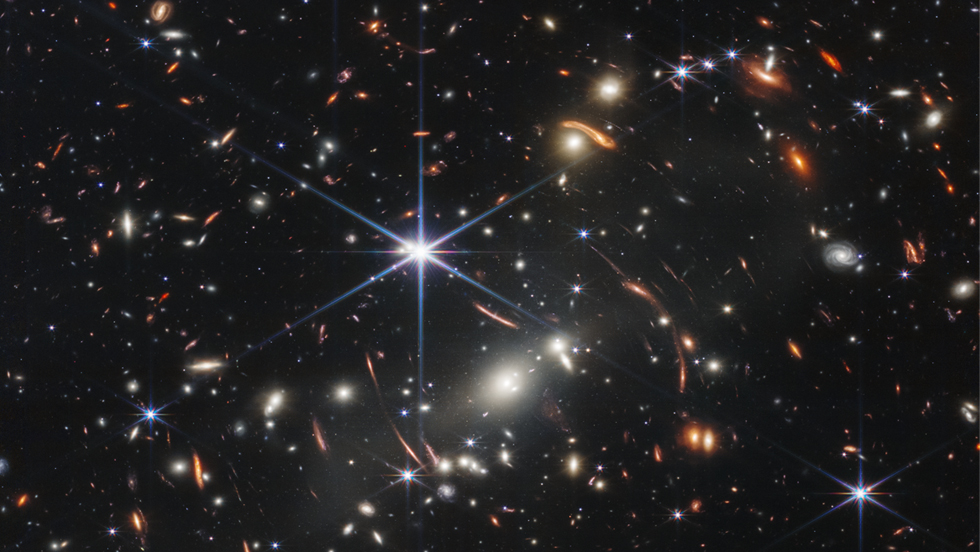 The special issue, guest edited by Sean Bentley, PhD, associate professor of physics, captures the engineering behind the historic telescope—and has received an award for excellence in design.
The James Webb Space Telescope made headlines around the world when it began sending back detailed views of the universe in July 2022. Since then, it has continued to capture images that enable us to observe the universe in unprecedented detail and that help us draw insights into the origins of the cosmos, the evolution of galaxies and perhaps discover exoplanets with the potential to harbor life.
Behind the telescope's breathtaking images lies a great deal of engineering technology. These key technologies for space were the focus of a special issue of IEEE-Eta Kappa Nu's The Bridge entitled Engineering Space Exploration. Sean Bentley, PhD, associate professor of physics, served as the guest editor.
In his "Letter from Guest Editor," Dr. Bentley describes how space exploration has progressed over the last several decades, how this has inspired future scientists and engineers, and how "a wealth of engineering advancements, from portable electronics to artificial limbs, was brought about through space programs."
Dr. Bentley's former student James Olsen '12, now a field-programmable gate array (FPGA) designer at NASA's Goddard Space Flight Center, contributed an article on a design for a lunar monitoring module. In the article, he described how it reduces needed power, an important advancement that could potentially be adapted for use in other probes and even future space-based telescopes.
"One of my favorite aspects of working on the publication is introducing students around the globe to cutting-edge science and technology from leading experts," Dr. Bentley said. "It is even better when those experts can include Adelphi physics alums, such as James in this issue, and Dan Stack ['07], who contributed to an issue I edited in 2018 on Quantum Entanglement and Engineering. Our alums do amazing work, and they can inspire the next generation of innovators and leaders."
The issue has recently been awarded a a 2023 Grand APEX Award for Publication Excellence in design in the electronic media category.
While the issue is geared primarily to engineers, laypersons can gain a better understanding of the science involved in this project, appreciate the design of the magazine and be amazed by the incredible images of our universe.
Eta Kappa Nu, or IEEE-HKN, is the international honor society of the Institute of Electrical and Electronics Engineers.