"My first year when I was given an assignment, I'd think, 'I can't do this,'" she said. "Now I know I can do whatever I am presented with."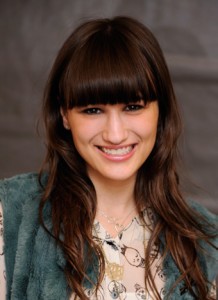 "My first year when I was given an assignment, I'd think, 'I can't do this…Now I know I can do whatever I am presented with." —April Yaffe
For as long as she can remember, April Yaffe has wanted to be a kindergarten teacher. Currently enrolled in Adelphi's Scholar Teacher Education Program (STEP), a unique, five-year combined bachelor's and master's program that integrates field-concentrated programs with a strong foundation in the liberal arts and sciences, Ms. Yaffe is on her way to fulfilling that dream.
Self-described as quiet and shy in high school, she often felt intimidated among her classmates. "I was worried about everything," said Ms. Yaffe. While she was apprehensive upon entering Adelphi, it didn't take long for her to find herself feeling at home at the University. "My first day at Adelphi I felt a sense of community. I liked that the classes were small…I could tell the professors wanted students to feel comfortable," she said.
Ms. Yaffe, who started in General Studies Learning Community—a one-year, intensive program for freshmen whose potential for academic achievement has been identified by the University, but whose high school records and SAT scores may not meet traditional admission requirements—continues to take advantage of academic support services, including individual tutoring and counseling.
Utilizing the resources Adelphi has to offer its students has allowed her to thrive in Adelphi's rigorous liberal arts curriculum and gain confidence in her communication skills. Supportive faculty and an "intense" course load have helped her to establish, and build upon, a strong foundation in public speaking and writing. "My first year when I was given an assignment, I'd think, 'I can't do this,'" she said. "Now I know I can do whatever I am presented with."
Ms. Yaffe, who is looking forward to being a teacher and having her own classroom, remains actively involved in the program that helped her find her voice. She contributes to the General Studies Learning Community newsletter, and shares her time and experiences at admissions events in addition to programs for prospective and accepted students. For her past leadership and continued involvement at Adelphi, she has been provided the Adelphi University Recognition Award. She can still recall her initial reaction when she learned of the financial award. "I was shocked, I didn't expect it at all," she said. "It feels really nice to be noticed for what I've done."
Published March 2013
---
For further information, please contact:
Todd Wilson
Strategic Communications Director 
p – 516.237.8634
e – twilson@adelphi.edu