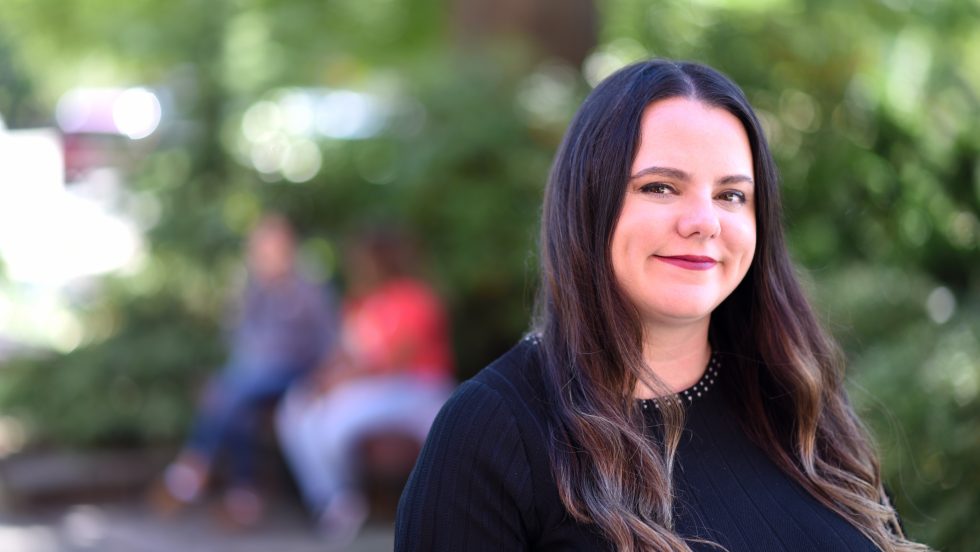 Every year, Adelphi honors four exceptional employees with a President's Award for Excellence and one employee with the President's Award for Diversity, Equity and Inclusion. According to President Christine M. Riordan, the honorees "have won the admiration of their peers and colleagues by providing an extraordinary level of service to the University, and working to advance our shared values and goals."
Candidates are nominated by their colleagues, and these nominations are reviewed by committees that are representative of our community. After reviewing the nominations, the committee submits final nominees to the president.
We congratulate Adelphi's 2021 President's Award for Excellence honoree:
Anna Zinko, Assistant Dean for Students and Community Engagement, Center for Student Involvement
Immediately upon being hired as the director of the Center for Student Involvement (CSI) in 2018, Anna Zinko began transforming students' lives at Adelphi University. She is now the assistant dean for students and community engagement at Adelphi University. The change in her title and responsibilities is a reflection of her previous and ongoing contributions to the Division of Student Affairs and to the University. She plays many important roles in our community, serving students as an essential resource of the University.
"The Center for Student Involvement plays an integral role on campus," Zinko said. "Our work is wide-reaching and encompasses so many important aspects of the student experience. I feel lucky to get to be a part of it and to work with an amazing team of colleagues who are constantly thinking about how we can make students' time at Adelphi meaningful, impactful and fun. I am regularly inspired by my colleagues' creativity and commitment and even more so over the past year, where they've had to overcome so many challenges and transitions. I know that the work we do matters."
Zinko supervises all functions of the Center for Student Involvement. She collaborates with faculty, staff and administration to build institutional awareness and support program assessment efforts, and she provides consultation for campus partners regarding central issues affecting undergraduate student success. She advocated for the creation of a professional staff member to oversee first-year and transfer student engagement, contributing to student retention.
Zinko has always invited the opportunity to take on more responsibility. She seizes the chance to sit on University committees and is genuinely excited at the prospect of creating real and lasting change for the University community. She co-chairs the Faculty Senate Committee on Student Life, bridging the Division of Student Affairs and faculty to more seamlessly serve students. She helped to create living-learning communities to work toward our goal of a more robust residential campus. She is an active member of the Student Success Committee, Diversity Equity and Inclusion Committee, Student Strategic Communications in Student Affairs, and the Campus Advisory Committee.
Much of Zinko's professional life has been dedicated to social justice and diversity work. She had previously worked at Adelphi University as an assistant director of multicultural affairs in the Center for Student Involvement from 2011 to 2014. In this role, she developed and facilitated popular diversity and inclusion initiatives that still exist at Adelphi, including CORE (Creating Ongoing Respect and Equity) Training, Safe Zone (LGBTQIA+ Ally) training, the implementation of 45 gender-inclusive restrooms on campus and a 10-week social justice training program on race, class and gender. Her experience and expertise allow her to look at the University's operations and activities through a unique lens.
Zinko is currently pursuing a doctorate in higher education administration at New York University. She works tirelessly throughout the day, attends CSI events after hours to support her team and attends classes two nights a week. Her commitment to furthering her education demonstrates how dedicated she is to the field and to Adelphi University.
"I look forward to relying on the experiences of the past year to bring new innovations in our campus offerings," she said. "We've been able to reach new students by offering our programs in flexible formats and I look forward to seeing how we can continue to expand once we're able to safely gather back on campus."