I wouldn't be where I am in my career without the experience I've had and the relationships I've built at Adelphi.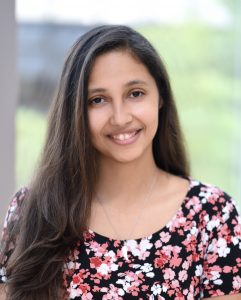 Member of Adelphi University's 10 Under 10
Human Resource Business Partner, ProHealth Care
For Angelica Cintron, '11, CAGS '12, MBA '12, success is achieved through building relationships with others. It is a work ethic that makes her very successful in her position as human resources manager at ProHEALTH Care. Known among her colleagues as a consummate professional who goes above and beyond to achieve her team's goals, Cintron's responsible and reliable reputation was evident early on at Adelphi.
Cintron was surprised by Adelphi. She expected to obtain a quality education from an institution close to home. What she received was the support of faculty and fellow students to get the most out of her education and her campus experience. This included enrolling unique courses, participating in social and networking events, and joining clubs and activities. Through Adelphi, Cintron found her passion.
Cintron discovered her interests through the classroom experience. Dr. Anthony Libertella introduced her to teaching and she served as his teaching and research assistant for several years. Professor David Prottas, who taught her favorite class, is credited for her decision to pursue a career in human resources.
She began her career in 2013 at a small family-owned business called Business Dynamics RCM as their human resources manager. After six years and two acquisitions, Cintron transitioned in 2019 to ProHEALTH Care, where she has recently been promoted to the position of human resources manager. In her role, she is responsible for various human resources projects and initiatives. Cintron embraces the challenges and responsibilities of her new role, seeking out leadership roles and responsibilities. She feels great about the success she has already achieved, which "reaffirms my belief that I can truly make a difference."