Andrew Olsen is part of the Web Communications team.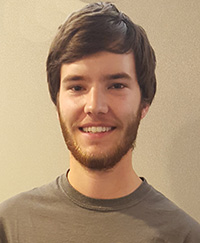 The staff of the Office of Information Technology would like to congratulate
Andrew Olsen
Student Worker of the Month for March 2017
Andy has worked with the Web Communications team since Spring 2015. This fall he went from being a general web assistant to being our web programming assistant. He is a Computer Science major in the Class of 2017.
In his spare time, he enjoys playing on Adelphi's Ultimate Frisbee team, going to tournament around the country. He is also a member of Adelphi's Cyber-Security Club and plays in a band.
Here are some of the comments we received from IT staff members and other student workers who nominated him:
"Andy is highly self motivated and has proven analytical and problem-solving abilities. He has assisted our team with some back-end functionality and has taken the initiative to write some custom scripts to handle content formatting. He's a great asset to our team!"
"Andy has been a great asset over the past three years and he continues to excel at finding solutions to problems. This past month he independently wrote a script to automate changes to a tedious weekly web post that can take hours to format manually. He has been a tremendous help in keeping our clients happy with his quick turnarounds on requests, as well as in researching coding solutions."
"Andy is a great student worker. He has helped stream line work in our department. He has created several plugins that we use all the time in out web site development."
"Andy has been incredibly helpful to the IT department since I've been here. He's always detailed, efficient and accurate with all the work he does, and takes the initiative to help others. This month he developed a script that has helped the team cut down on the time we spend creating and reviewing certain items."
"Andy is a great addition to our team and is great to have around helping out."
---
About IT's Employee of the Month Nominations
It is important to demonstrate our appreciation for the contributions of our student workers to their teams, to the Office of Information Technology, and to Adelphi University as a whole. At the end of each month, we will honor one student worker who has demonstrated commitment, leadership, and initiative in their position. The recipient will be presented with a certificate and gift, as well as a featured spot on our IT website.
All IT employees (including student workers) are encouraged to submit nominations for their choice for Student Worker of the Month. Your nominee should display qualities deserving of recognition.
Please submit all nominations through the Student Worker of the Month Nomination Form.
---
For further information, please contact:
Todd Wilson
Strategic Communications Director 
p – 516.237.8634
e – twilson@adelphi.edu