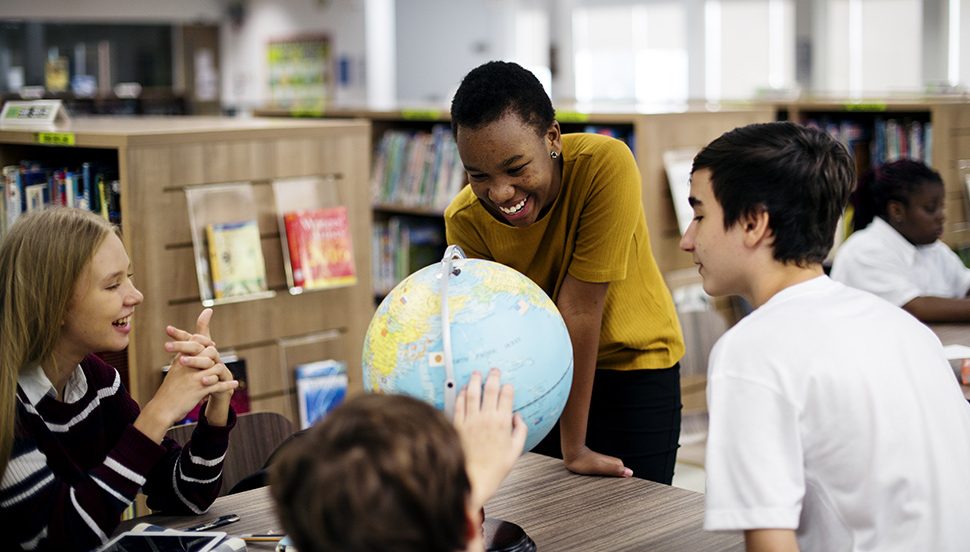 Adelphi's long-running partnership with a school district in a neighboring community has led to a federal grant to create innovative summer and after-school programs designed to meet the needs of students and their families. Two Adelphi faculty members are leading this high-impact five-year effort.
Adelphi has been granted an exceptional opportunity to provide life-changing educational programs in a neighboring town with areas of high rates of poverty.
The 21st Century Community Learning Centers Grant is a federally funded program that supports the creation of centers providing academic enrichment programs during nonschool hours for students in low-performing schools. Clinical Associate Professor Lisa Minicozzi, EdD, and Devin Thornburg, PhD, a senior adjunct faculty member, both of Adelphi's Ruth S. Ammon College of Education and Health Sciences, together with the West Hempstead Union Free School District, have been awarded a $4.2 million, five-year grant to develop a center in the West Hempstead district.
[Adelphi's Gordon F. Derner School of Psychology also received a 21st Century Community Learning Centers Grant—of $6 million—to help create a center in the Hempstead Union Free School District. Read about that center in the July From My Desk newsletter.]
The grant and learning center project reflects the University's outstanding commitment to the larger community. It is a commitment that led the Carnegie Foundation to designate Adelphi as one of only 119 U.S. colleges and universities to receive the 2020 Carnegie Community Engagement Classification.
"This is such a great example of a highly effective and innovative partnership between higher education and one of our partner school districts," said Dr. Minicozzi. "This is how I always envisioned leading and learning in a post-pandemic teacher education society."
Adelphi has been partnering with the West Hempstead school district for more than 10 years, working closely with Superintendent Dan Rehman, MA '97, an Adelphi alumnus and adjunct faculty member himself. Together, they've built residency programs for student teachers and custom courses for the Scholar Teacher Education Program (STEP). This grant takes their work to the next level.
"We're really proud of this partnership," Dr. Minicozzi said. "West Hempstead has continually opened its doors to our student teachers and faculty. So this was our opportunity to show how we're invested in them."
Work on this new initiative will begin in July 2022 and span five years. The goal is to build a summer school and after-school program for targeted populations within the district. West Hempstead will work alongside Adelphi students and faculty to support and strengthen learning outcomes as well as parent engagement.
"This grant really expands our community partnership to provide a much wider range of services to support students both academically as well as socio-emotionally," Dr. Minicozzi said. "That's what we're most excited to do."
This initiative is particularly important given the ongoing national teacher shortage.
"Even pre-pandemic, we knew we had to start rethinking our partnerships with local districts and work together to both recruit teachers and build better programs for all kids," Dr. Minicozzi said. "This is the fruition of that."
Going forward, Dr. Minicozzi and Dr. Thornburg hope this grant serves as a model for innovative partnerships between universities and local school districts, not just on Long Island but across the country.
"We've been involved in West Hempstead schools for 10 years, but the ways in which we can be developing those partnerships are yet to be imagined," said Dr. Thornburg.
Dr. Minicozzi added, "We hope to have further meaningful, rich partnerships, allowing our students and faculty to work in conjunction with local school districts as professional developers."