The University's joint enrollment program with NYU makes it possible for students like Dasum Lee '18 to earn their bachelor's and dental degrees in just seven years.
When Dasum Lee was in high school in Korea and thinking about a career, her parents suggested shadowing a dentist they knew. It turned out to be a real learning experience.
"I learned that this job wasn't just about fixing teeth…it was also about communicating with people and running an office space," Lee said. "It combined business, science and relationship-building, and I thought that was interesting."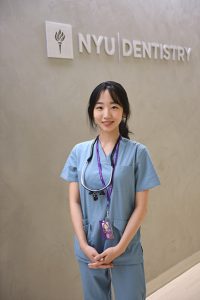 It was interesting enough for Lee to apply to Adelphi and entrance into the University's joint degree program with the New York University's College of Dentistry. Offering students a bachelor's degree and Doctor of Dental Surgery in seven years rather than eight, it is one of several joint degree programs Adelphi provides for students seeking an accelerated path to a career in professional fields such as medicine, law and engineering.
Lee is now in her second year at NYU, after receiving her bachelor of science at Adelphi in 2018. She is like other members of her class, 95 percent of whom had jobs or were in grad school within six months of graduation. The average base salary of the Class of 2018 is 25 percent higher than that of their peers nationally.
[pullquote direction="right"]"There are only a small number of students in the program, so we got a lot of individual attention at Adelphi."[/pullquote]
Adelphi's joint degree program with the NYU College of Dentistry is limited to 10 Adelphi students a year, which makes our University's personalized approach even more directed. "There are only a small number of students in the program," Lee said, "so we got a lot of individual attention at Adelphi."
The attention also helps students to earn their bachelor's degree in just three years. That was enough time to prepare for dental school, Lee said, as courses like Developmental Biology gave her the needed experience in research labs.
"NYU has a lot of research opportunities," Lee said. "Some of the things I learned in my Adelphi courses overlap with the concepts in our first-year biology courses at NYU, so that was really helpful for me."
Lee also joined a club for students preparing for professional degrees in health fields at Adelphi, where she networked with students from different years and other medical programs. "I was able to learn about shadowing opportunities and conferences," Lee said. "If I wasn't in a program like this, I would have to find those resources on my own."
She even gained more real-world experience by returning to Korea to shadow the dentist during the summer after her second year and the winter of her third year.
"I learned about which products the dentists are using, how they communicate with patients, and how they build a treatment plan," she said. "Those things were really new to me, and shadowing allowed me to be more confident that I wanted to be a dentist."
At NYU, where she's the youngest person in the program, Lee is learning more about anatomy and basic dental procedures, such as pathology and diagnosis. Soon she'll start to meet with patients, shadow dentists in the clinic, and learn about specialty programs like orthodontics, periodontics and pediatric dentistry. She's not sure which specialty program she'll pursue and continues to keep an open mind.
"I don't really know what I want to do yet, but if I do rotations for all the specialties, I might figure it out," Lee said. "I'm learning a little bit about everything and experiencing all of that first."
---
For further information, please contact:
Todd Wilson
Strategic Communications Director 
p – 516.237.8634
e – twilson@adelphi.edu