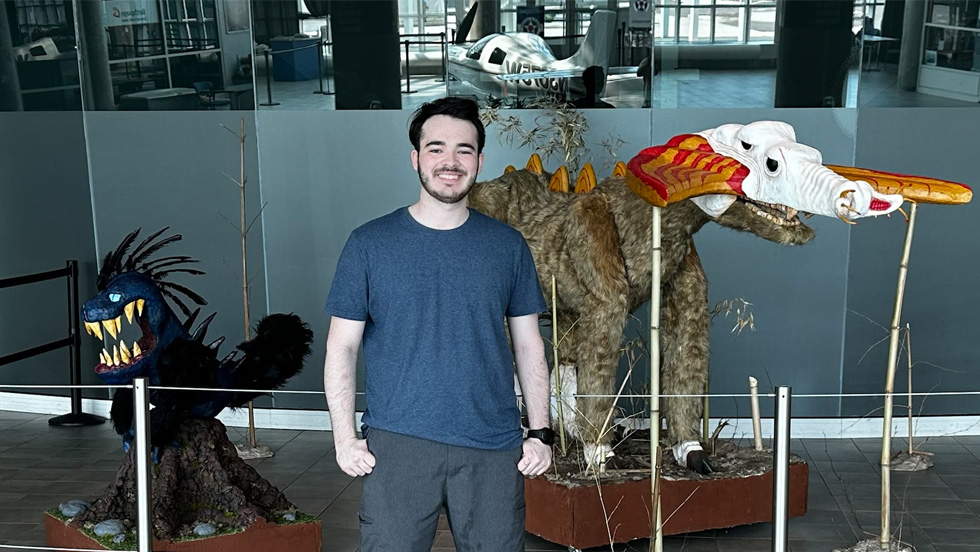 Samuel Abrams '23 drew imaginary creatures as a child, then translated them into sculptures at Adelphi. They're now inspiring young visitors of the Cradle of Aviation Museum.
Visitors entering the Cradle of Aviation Museum in Garden City are greeted by a Blue Angels squadron aircraft directly overhead. In late July, this signature piece was joined by Agia and Pae-Pae, two (grounded) imaginary creatures, created by Samuel Abrams '23.
The exhibit, Believable Creatures, will be on display in the museum's atrium until September 3. But these sculptures made their debut at Adelphi's Art and Art History Senior Thesis Exhibition, at which Abrams was awarded the Thomas McNulty Award for Excellence in Sculpture.
And the initial inspiration goes back long before that, to Abrams' childhood, when, he said, he drew animals like Pae-Pae. At Adelphi, he used a combination of household appliances and more traditional sculptural materials such as wood, spray foam and plaster to reimagine the drawings as mixed-media sculptures. He also created skeletal and anatomical charts describing and depicting both creatures' biology. The result, he said, "is a life-size pseudo-scientific diorama of childhood fantasies fashioned after a natural history exhibit."
While inspired by science fiction and fantasy, the exhibit aims to get children to think like scientists and envision what "believable creatures" might be like on other planets. At an activity table beside the sculptures, young visitors are encouraged to draw a creature of their own. Their drawings are clothes-pinned in front of Abrams' original drawings, thus becoming part of the display.
Adelphi and Beyond
In addition to his thesis, Abrams acted as the art director and lead artist of Adelphi's Haunted Halls Festival from 2019 to 2023.
"Adelphi had a wide range of professors, each having something unique to offer with their artistic abilities," he said. "The part that struck me the most was the amount of freedom I had to expand my use in different art materials. My professors allowed me to break away from traditional mediums and expand my own skills on top of what I already learned."
In the future, Abrams would like to work in a fabrication workshop and help produce props, costumes or set stages for either theatrical productions or films. He features his work on his website, Eagleye Productions.
He advises current students that "there are three types of artists: artists who don't make art, artists who make art when they are told to make it and artists who make art because they are artists. Don't be the first two; limiting yourself to only classroom projects is not a sure way to grow as an artist."