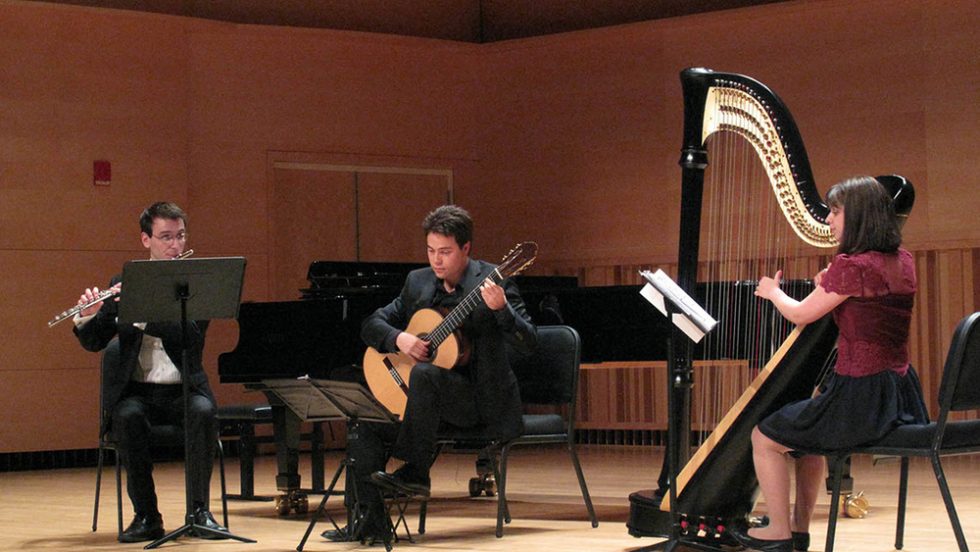 Harpist Skyla Budd '13, guitarist Daniel Moreno '13 and flutist Philip Lauto '15 were Adelphi music majors who became inspired to form a trio after performing "Seven Meditations on Tibet" by Carmen Moore—a piece that, according to Budd, "required the unusual instrumentation of a harp, guitar and flute. Due to that performance, we all realized what an interesting and unique sound we had and formed Trio Delphi."
We corresponded with Budd to learn what these three alumni have been up to since graduation, what we can expect from the performance, and how the trio has been handling rehearsing and performing in our socially distant new normal.
What has everyone been up to postgraduation?
We all have professional, individual music careers. Daniel and I got our MAs in music from Mannes School of Music, and Philip obtained an MA in Music Composition from NYU. We all teach privately. Daniel has performed concerts in numerous places, like the Frick Collection, Morgan Library and Opera America.
Philip currently works for Face to Face films. He is a composer who writes the majority of our current pieces. His work has been performed in numerous places, including several off-Broadway productions.
I arrange music if we need a pop or classical piece. I've had wonderful opportunities to perform at Alice Tully Hall twice and Carnegie Hall with the Mannes orchestra and have performed with the Mannes Opera Orchestra as well. I've played at the Museum of Modern Art and at numerous events such as at weddings and with local orchestras.
As a trio, we have performed at weddings, events and concerts.
Do you continue to perform at Adelphi?
We have performed here as a trio twice for music alumni concerts. As soloists, we have played at multiple Adelphi events. We have wonderful memories here. We love performing at Adelphi and are excited to come back August 3.
What will you be performing for Live from the Adelphi PAC Living Room?
Our performances have been prerecorded for the concert. I will perform some classical harp solos, Daniel some classical guitar solo pieces, and, of course, we'll perform trio pieces including Philip's new "Winter's Contemplation."
How have you all been able to rehearse together?
We have had a couple of socially distanced rehearsals. Daniel and I wear masks and we put Philip at least six feet away from us. He can't play the flute wearing a mask!
Are you performing more frequently online?
We are thinking of doing more online concerts in the near future. We miss performing live together but we are glad we have found ways to rehearse safely.
Visit Trio Delphi's website to learn more about the group.