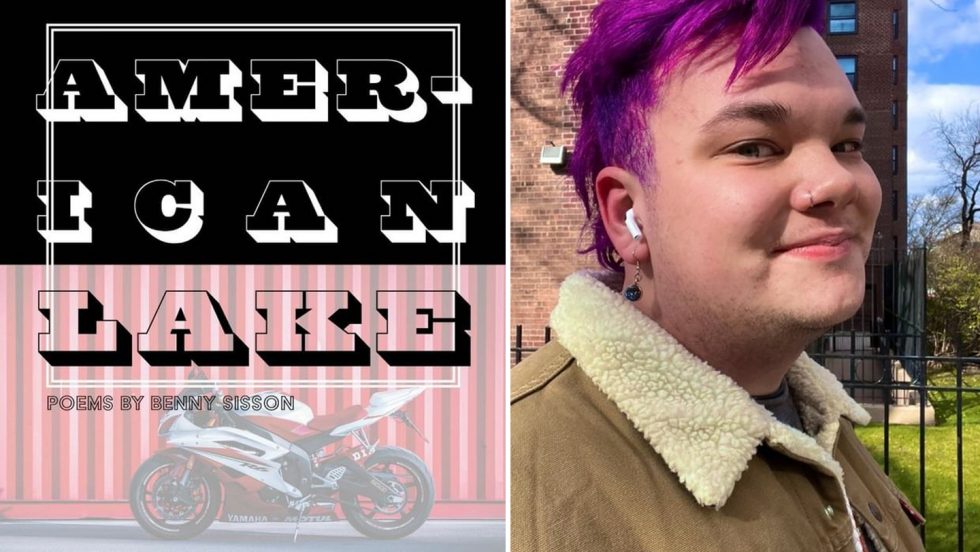 After graduating with a bachelor's degree in English, trans poet Benny Sisson, MFA '20, wanted to get her master's degree in creative writing. She was accepted by many MFA programs, but after visiting Adelphi's campus, Sisson knew Adelphi "felt right and like a really good community," she said.
"Everything I gained from Adelphi is so much inside me," said Sisson. "Every workshop, every relationship I made with a professor, every event that we had that was either in the city or on Long Island. The connections I made there taught me something."
From MFA Thesis to Published Chapbook
On June 2, Sisson published American Lake, a chapbook, or short poetry book, that explores masculinity, intimacy and queerness. The collection of poems was from Sisson's MFA thesis and touches on how her relationship with men is impacted by her relationship with her father.
"As a queer person growing up, my only vision of man was my father," she said. "I had men in my life but never had friends who were guys. I never had a community of men around me … . So it's this idea that something about my relationship with my father has bled into how I interact with men."
American Lake is part of the 2022 Ghost City Press Summer Micro-Chapbook Series, which helps established writers find broader audiences and derive income from their work. Sisson had known about the Ghost City Press Summer Series since pursuing her undergraduate degree. Most of the poems from her MFA thesis were already published in different literary magazines. Sisson wanted to publish the rest of her poems to "get it all out there and start something new," she said.
"I was a little bit afraid of people's reactions," said Sisson. "I didn't want people to be uncomfortable, but it's kind of supposed to be. Because intimacy, queerness and complicated relationships with our family members are uncomfortable."
Connections That Last After Graduation
Currently, Sisson is a marketing operations assistant at HarperCollins Publishers. She has many connections to professional designers but wanted her friend and MFA cohort, Rachel Stempel, MFA '21, to do the cover art for her book.
"She's my very good friend and she's been with these poems for so long. She's been reading them in different versions. She knows what my vision is," Sisson said.
Stempel was one of the many connections Sisson made while at Adelphi. Judith Baumel, founding director of the creative writing program, was one of Sisson's advisers. "She was the person who took me under her wing and knew that I was a poet before I knew it," said Sisson. When it comes to career advice, Sisson said Katherine Hill, assistant professor, was the person to talk to.
While at Adelphi, Sisson was an adjunct professor. A course taught by Jacqueline Jones LaMon, JD, vice president of diversity, equity and inclusion, called Teaching Writing: Theory and Practice, prepared Sisson for the classroom. Though Sisson doesn't teach anymore, she "still [takes] from that class in [her] own life all the time," she said.
"I always say I learned in my undergrad that I wanted to be a writer," said Sisson. "At Adelphi, I learned how to be a writer."
Currently, Sisson is working on a young adult novel about a teenager coming out as transgender. She plans to use her experience in publishing to bring her in-process book to life.
"It's indicative of what I'm going through in my life," she said. "It's about labels and do labels matter. When are they important? When are they positive? When do they kind of complicate things? It's exciting."