Read about four pairs of siblings who have all found their unique place at Adelphi University.
We often marvel at how closely knit the Adelphi University community is and love to hear students refer to each other as brothers and sisters. For these four pairs of siblings, attending Adelphi is truly a family affair.
---
Rachel and Stephanie Staiano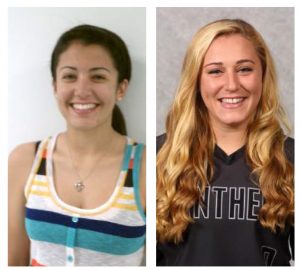 The Staiano sisters are a matched pair— both of them are deeply dedicated to athletics, good health and each other.
Rachel, pursuing an M.S. in Nutrition, was first onto the Garden City campus. She now coaches cross country and track and field at Molloy College while working on her master's degree at Adelphi—and still finds time to volunteer at the American Diabetes Association. "My goal is to be a certified diabetes educator and help as many people as possible achieve a healthy lifestyle through a healthy diet and exercise," she said.
Stephanie transferred from Dowling College and is a senior studying physical education. After graduation in December 2017, she plans to coach while pursuing a master's degree in health. Sound
familiar?
"Stephanie is the smartest, hardest-working individual around," her sister said admiringly. "I knew she would ace all her classes and make a lot of friends. Softball was the icing on the cake."
The softball team was Stephanie's second family. "We inspired each other every day and always worked hard on the field and off," said Stephanie, whose team eligibility expired in May 2017. "I am a better student because of softball."
Her advice to future transfers? "Be involved in the community at Adelphi. Our school is all about being part of something bigger than yourself."
---
Justine and Anthony DeLuca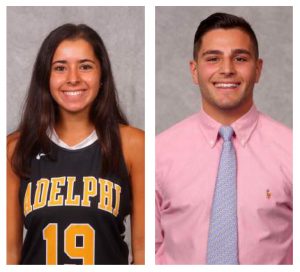 "Anthony has always been one of my biggest inspirations," Justine DeLuca said when asked about her decision to transfer from Dowling College. "He could not say enough great things about Adelphi and about his lacrosse coach, Coach [Gordon] Purdie," she said. "I was motivated by his accolades."
Justine's goals are worthy of accolades, too. As a student in STEP—Adelphi's five-year Scholar Teacher Education Program—she's on track to graduate next spring with a B.A. in psychology and, in her fifth year, to complete her master's degree. Her aspiration is to teach special education, and she's already gaining practical experience working in an assisted-living facility.
Anthony DeLuca '16, himself a transfer from LIU Post, studied accounting at Adelphi and just graduated from the Suffolk County Police Academy.
Both DeLucas built a diverse support network at Adelphi by playing sports and being engaged academically and socially.
"My teammates have made a huge impact on my life and I am thankful for each and every one of them," said Justine of her Panthers field hockey mates. "They all have something great to contribute and their work ethic is impeccable. My teammates, along with my coaches, have motivated me to become a better player and person, both on and off the field."
---
Elizabeth and Bryan Kallenberg
Bryan Kallenberg '13 and his younger sister, Elizabeth, are three for three on formative experiences. Transfer to Adelphi from Nassau Community College—check. Tennis team—check. Career ambitions in finance—check.
"I felt Adelphi would be a good fit for Elizabeth because we both have the same skill sets," said Bryan, now working in commercial real estate finance. "I knew the talented teaching staff and athletic coaches would meet her needs."
Currently a junior majoring in finance, Elizabeth's skills on the court are matched in the classroom. She's already the recipient of numerous recognitions, including Most Outstanding Player at the NE10 Tournament (2015–2016) and an Academic Achievement Award (2016) from the Athletics Directors Association.
"Between practices and traveling to matches, I've had to stay on top of my schoolwork and be conscious of my time management," Elizabeth said.
The Kallenbergs agreed that they've formed lifelong friendships with their tennis teammates, though tennis wasn't the only asset Bryan related to his sister.
Elizabeth recalled, "Bryan said the professors in the business school were able to incorporate their work experiences into the classes, which made the classes much more useful and interesting." 
---
Nicolette and Jessica Lodato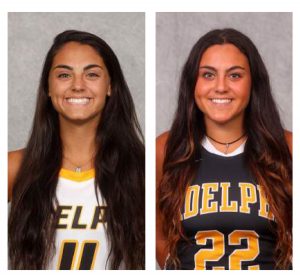 "Everything was a possibility at Adelphi." That's the read from Nicolette Lodato '16, who is now discovering new possibilities around the world.
"I got the awesome opportunity to be head coach of Commack Middle School field hockey, and it solidified my dream," she said. "Since graduating, I have also road-tripped across the country, traveled to Denmark, Switzerland and Mexico, and skied in the French Alps. I want to continue to travel and gain experiences so I can be the best school counselor possible."
Those are big shoes to fill, sure, but her sister Jessica is stepping in with both feet. Jessica, now a junior, transferred from SUNY New Paltz. The Lodato sisters share a focus on communications, and both see Adelphi's field hockey program as the lure they couldn't resist.
Jessica had initially been reluctant to attend her sister's school. "But when I transferred to Adelphi, everything kind of fell into place," she said.
When asked what she would say to a new transfer student, Jessica responded, "People transfer here for so many different purposes. Whatever the reason, you are not alone—and I hope you find a home at Adelphi just like I did."
---
For further information, please contact:
Todd Wilson
Strategic Communications Director 
p – 516.237.8634
e – twilson@adelphi.edu