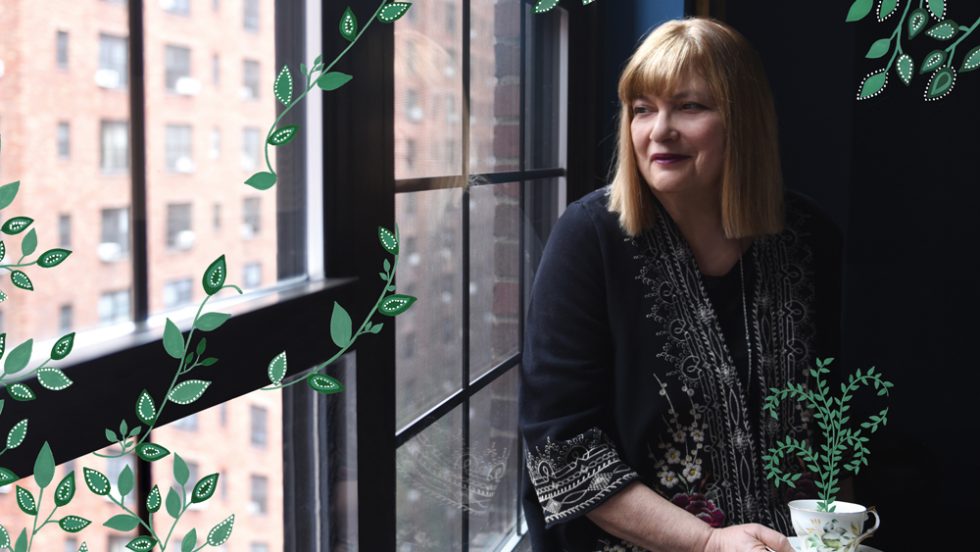 In her imagination and her life, Alice Hoffman '73, '02 (Hon.), has traveled far, but the best-selling author—and 2018 Adelphi Legend—has remained a devoted friend and fan of her alma mater.
A storm washes a mermaid into a beach-club swimming pool, where she cries freshwater tears for love. A mysterious white deer appears in Washington Square Park. In a suburban garden on Long Island, two sisters must find a way to banish the spirit of an evil man who haunts their garden, where the lilacs are copiously blooming out of season. In the fortress of Masada, a young woman can speak with doves, and in a kitchen in Massachusetts, a woman is brewing two cups of tea, one for courage and one for caution.
These are just a few of the scenarios created by Alice Hoffman '73, '02 (Hon.). She's written books for adults, teens and children. Her books Practical Magic and Aquamarine were made into motion pictures, and The Dovekeepers into a TV miniseries. She also wrote the screenplay for the film Independence Day.
I heard a sigh, as though the books were breathing. I felt that this was where I belonged. This was where I lived. —The Ice Queen
Hoffman is perhaps best known for her use of magical realism—stories that take place not in fantasy realms but in the real world, albeit one that is infused with magic. Her strong female characters face challenges and inner demons, but if you heed the advice of your mother, aunt or best friend, or rescue a stray dog, or throw caution to the wind and fall in love, you'll find your way.
Perhaps Hoffman knows some practical magic herself. How else is it possible to write 30 well-received books in about as many years, books where the name of the author is more prominently displayed on the covers than the titles, proof that her name is magical enough to ensure her books will fly off the physical and digital bookshelves?
Women know things that men will never know. We keep the best secrets. We tell the best stories. —Incantation
Hoffman grew up in Franklin Square, Long Island, raised by a single mother and a strong-minded Russian Jewish grandmother, whom she credits with introducing her to the power of fairy tales, which she considers "the oldest way of writing" and the basis for magical realism. Growing up in this "household of women," as she calls it, inspired her interest in the strong bonds between women in her books, in the stories of women and, in her historical novels, the "stories of women who were silenced. I get a chance to try to tell stories that haven't been told."
Of course the best magic is when extraordinary things happen to ordinary people, suddenly and out of the blue. —Alice Hoffman's foreword to Half Magic
As a child, she discovered a book in her local library that was to have a strong influence on her work: Half Magic by Edward Eager. Rather than journeying to Oz, Narnia or Middle-earth, the children in Eager's book have magical adventures in their Connecticut neighborhood.
Hoffman calls it "suburban magic," adding, "People ask, how is it possible to find magic on Long Island? Edward Eager's books gave me that sense that if anything can happen in suburban Connecticut, the same thing was possible where I lived."
"Something happens, and you either walk through the door or you don't."—Alice Hoffman, addressing high school students attending the Alice Hoffman Young Writers Retreat
She was always aware of Adelphi, "a beautiful oasis that was part of my geography growing up," she said. She enrolled in night classes, not sure what she wanted to do, an avid reader but not yet a writer. "I was astounded. The professors I had were truly great," she said, citing former English professors Eugene Roth and Phil Green, and Sal Primeggia '64, M.A. '66, Ph.D., current professor of sociology, as "brilliant" and "fantastic," adding, "All of a sudden something clicked for me. They just blew my mind open."
After earning a bachelor's degree in three years, Hoffman continued to Stanford University for her M.F.A. and published her first book at the age of 21. While she has resided in Boston and Manhattan for many years, she hasn't forgotten her Long Island roots. And she's continued her relationship with Adelphi. "I've been involved with the school for a long time and I'm a big supporter and fan," she said. "For me, it's been a life-changing experience to go there."
"We're often told to write about what you know. I say to write about what you can imagine." —Alice Hoffman, addressing high school students attending the Alice Hoffman Young Writers Retreat
When Professor Robert A. Linné, Ph.D., contacted her about the summer workshop he'd created for high school students, "I immediately thought it was a brilliant idea and wanted to be involved," she said, and she became a lead sponsor of what is now called the Alice Hoffman Young Writers Retreat. "It's exactly what I wished existed when I was a teenager on Long Island. When I talk about the program, I get interest from people all over the country. Most of the kids are helped out financially, so I think it's much more inclusive than anything else I've seen."
I chose to become a fund-raiser for breast cancer…When you help others, your own troubles aren't as heavy. —Survival Lessons
After a battle with breast cancer, Hoffman wrote her only work of nonfiction, Survival Lessons, and began lending her support to the Adelphi NY Statewide Breast Cancer Hotline & Support Program. "I can't think of anyplace else that's doing what the breast cancer hotline is doing and that offers such services to such a diverse group of people," she said.
In 2015 Hoffman donated her papers to the Adelphi archives. "I think it's very interesting for writers to see how a book morphs and changes and what the editing and rewriting processes are like," she said. "David Ranzan [Adelphi University archivist and special collections librarian] has done a fantastic job, so I feel very grateful to him."
The writing world has changed a lot since she published her first book in 1977, she said, noting that for most authors, there was no publicity or book tours: "You handed in the book and you were done. It's radically changed. I didn't expect to have anything to do with my readers.
"Now you get to know your readers in a different way. I got to know Ray Bradbury, who I really idolized, toward the end of his life. And it was really meaningful to me to connect with the person whose books I loved."
Hoffman connects with her readers through her website and social media. (Her dog, Shelby, has an active Instagram account as well.)
In September 2018, another book will join Hoffman's tales. Titled Faerie Knitting: 14 Tales of Love and Magic, it's a collaboration with her cousin, Lisa Hoffman, that will feature Alice's fairy tales and Lisa's knitting patterns for fairy-inspired apparel.
I'm at the point where going forward is easier than going back. —Green Witch
On October 13, 2018, she returns to campus to be honored as an Adelphi Legend and give the keynote at the Adelphi Legends Dinner at Spirit Weekend.
After that? "I don't know what happens next," said the author and proud alum. "I'm kind of interested to find out."