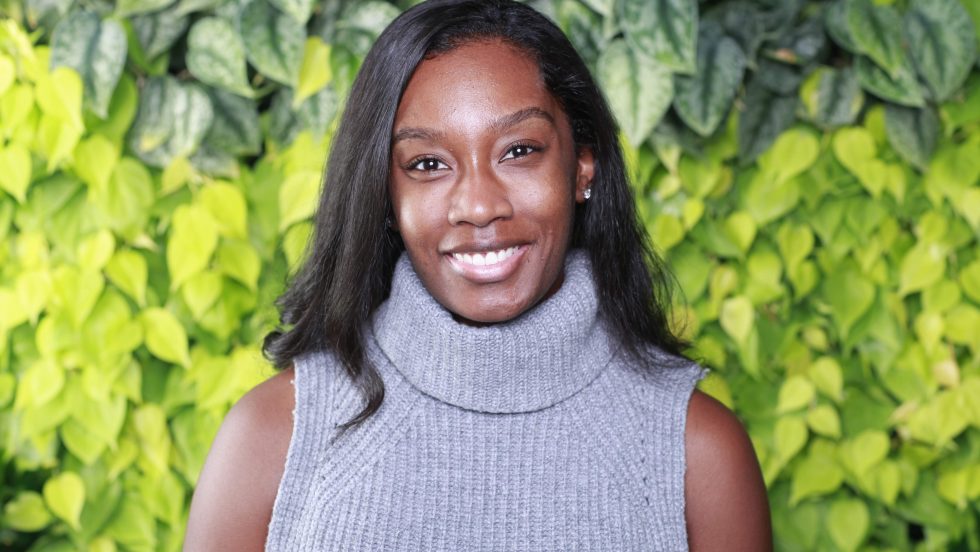 Alexandria Cisco '15 felt that Adelphi was the right fit for her from the first time she stepped foot on campus.
Member of Adelphi University's 10 Under 10
College of Arts and Sciences – Computer and Management Information Systems
Market Development Manager, Accenture
As a high school senior, she was uncertain about her career path but was determined to choose the right environment to help her discover it. After a year of volunteering, completing two semesters of classes and gaining new life experiences, Cisco realized that she wanted to pursue a career in information technology. During her sophomore year, she decided to major in computer and management information systems, and she never looked back. 
Cisco notes that the most influential mentors and leaders entered her journey when she worked as a clerical assistant in Adelphi's IT department. Although the mentorship was never official, Cisco fondly recalls Kerry Nicollet, MA '11, executive director of IT engagement, and Carol Ann Boyle, MBA '17, chief information officer, as her first two mentors during her young adult life. They consistently supported her growth and provided formative feedback, which she carried with her into her professional career.
Cisco secured a position at IBM as a workday implementation consultant eight months before her graduation. However, soon into her career, she returned to her technical roots, transitioning into the workday data conversion consultant role. In 2019, Cisco left IBM and embarked on a new journey with Accenture. Over seven years in data conversion, Cisco earned three promotions and accumulated extensive workday knowledge. This propelled her into a new role as a market development manager within Accenture's sales organization, where she now focuses on sales origination and building the business.
Her work responsibilities include identifying potential sales opportunities on the accounts and qualifying and pursuing them with the sales team. Her primary focus centers on the healthcare industry and extends to support and maintenance services. Outside of her everyday work responsibilities, Cisco teaches elementary school students how to code and she raises funds for the Covenant House.
Cisco points out that her greatest professional achievement thus far has been attaining her first major sales in her new role. She emphasizes that, considering the distinct nature of data conversion and sales roles in terms of work responsibilities, this achievement is a testament to her knowledge, experience and mentorship from her mentors in believing she could begin a new career path and succeed.
Cisco describes her time at Adelphi as a major turning point in her life. 
"Being at Adelphi made me realize that I could be myself in a pool of thousands," Cisco said. "As a minority woman, I found confidence in knowing that Adelphi provided the necessary resources for me to eventually be able to land a job in IT." 
Cisco found her first two impactful jobs at Adelphi. She got a job at Westbury Manor as well as a job at the Adelphi IT department through the Adelphi Annual Job and Internship Expo in 2012.
She honed her skills in mock interviews, cover letters and résumé writing and successfully landed a job at IBM through campus recruiting. These experiences shaped her work ethic and laid the groundwork for her successful career. 
"My time at Adelphi is the reason for my success now, and I am eternally grateful."
Cisco encourages current Adelphi students and graduates by saying, "Make sure that you take advantage of all that Adelphi has to offer. Take care of yourselves mentally and go down the path that feels natural for you. Lastly, connect with leaders and take heed in their mentorship."