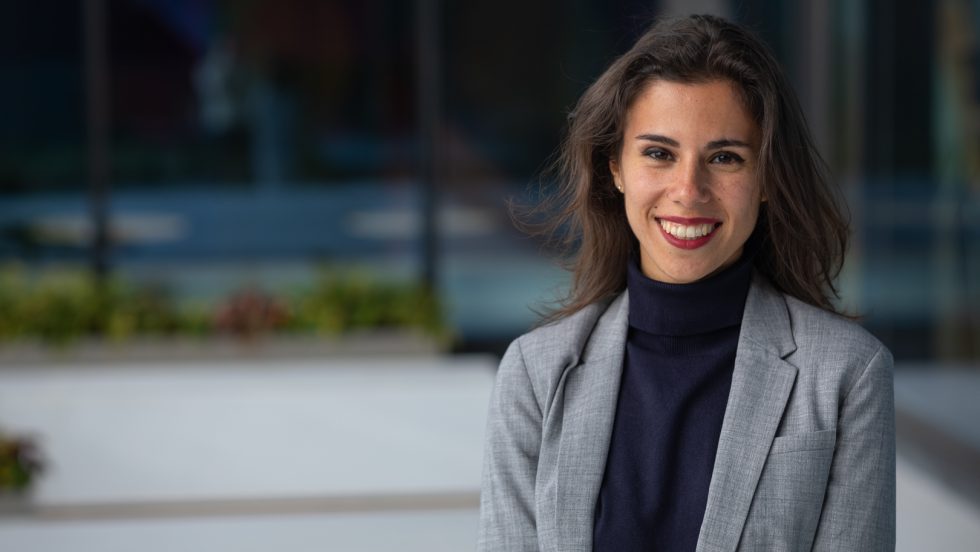 Adelphi introduced me to a truly unparalleled network of people—professors and peers alike—who believed in me and cared deeply about my path.
Member of Adelphi University's 10 Under 10
English/Political Science, College of Arts and Sciences
Litigation Associate, Milbank LLP
Alexa Savino will never forget her first visit to the Adelphi University Honors College after receiving her acceptance letter. She recalls students rushing to greet her with books in hand, excitedly sharing stories from their favorite classes. She felt welcomed with tremendous warmth. "I knew instantly what a privilege it was to be a member of this community," she says.
Savino describes Adelphi's Honors College as having everything she was looking for: a rich curriculum designed to cultivate creative thinking, seminar-style classes to encourage learning through dialogue with peers and professors, and supportive faculty committed to the intellectual and personal growth of their students. She shares fondly her experience in the classes of Craig Carson, PhD, and Nicole Rudolph, PhD, both associate deans in the Honors College.  
"From courses on advanced French-English translation techniques to seminars aimed at exploring the 'Aesthetics of the Crowd' through classic works, my studies were enriched by my mentors' own passion for learning," she says. "Through their teaching, I was empowered to ask and answer difficult questions, to push boundaries, to make connections and to interrogate texts in new ways. This prepared me for my career in law."
While at Adelphi, Savino was inducted into Pi Sigma Alpha, the National Political Science Honor Society, and in 2015 received the W. Grafton Nealley Award for Excellence in Political Science, which the Department of Political Science bestows to its most outstanding senior. That same year, Savino also received the Koster Award for Excellence in English, as well as the President's Student Leadership Award.
After graduating summa cum laude from Adelphi, Savino spent a year at a local law firm while preparing for the LSATs. She joined the Fordham Law community in 2016, and during her first summer there worked as a judicial intern for the Honorable Louis A. Scarcella, United States Bankruptcy Court, Eastern District of New York. Savino also competed in the 2017 Mulligan Memorial Moot Court Competition, finishing as a semifinalist. The following year, she served as a member of the Moot Court National Bench Team, as well as a staff member of the Fordham Urban Law Journal (ULJ), for which she also served as managing editor in 2018.  Savino also worked as a teaching assistant to first-year students in legal writing and contracts courses while at Fordham.  
Savino graduated cum laude from Fordham with her Juris Doctor in May 2019, earning the distinction of Ruth Whitehead Whaley Scholar based on academic performance. She passed the July 2019 bar exam and joined Milbank LLP's Litigation & Arbitration practice as an associate the following fall, where she specialized in bankruptcy litigation as well as complex commercial litigation. Her practice also includes pro bono work, from criminal appeals to immigration matters.
Her work continues to be impacted by the way she learned to think differently at Adelphi. She shares that her most meaningful accomplishments are marked by contributions of thought: those moments when you share an idea or a perspective that helps colleagues, or other members of your community, to consider a problem in a different way.  
"I recently brainstormed in advance of a hearing with a large team of lawyers in much the same way as students of the Honors College do in their seminars," she says. "Together, we found a fresh, new way of reading established law that would bring us closer to the result we needed to achieve, and I was thrilled to be part of such an exhilarating process."
Savino remains engaged with Adelphi, serving on Adelphi's Honors College Alumni Council and welcoming prospective students and their parents each year at the Honors College admissions brunch. She enjoys giving back to the alma mater where she grew and learned so much.
"Adelphi introduced me to a truly unparalleled network of people—professors and peers alike—who believed in me and cared deeply about my path," Savino says. "They cared about what interested me and inspired me, what motivated me and challenged me. They were invested not only in my success, but in my journey of self-discovery as a student, a thinker and an individual."