"Being the recipient of this scholarship support has without question pushed me to do my absolute best in the classroom and when I go out on the field."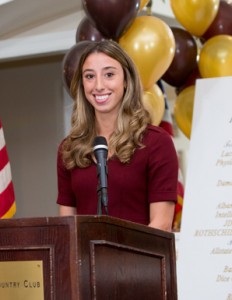 "Being the recipient of this scholarship support has without question pushed me to do my absolute best in the classroom and when I go out on the field." —Alexa Froccaro
Alexa Froccaro, a Long Island native and self-described "family person," knew she wanted to stay close to home for college. Froccaro said Adelphi just felt like the right place for her.
"Adelphi's small campus was a good fit for me," she said. "Here you get to know everyone, and your professors know you. You receive one-on-one attention, and that's something that was really important to me. I didn't just want to be a number in a class, I wanted to be 'Alexa' and be able to ask for help when I needed it."
Froccaro, a four-year member of both the varsity tennis and lacrosse teams and four-time all-county selection as a lacrosse player in high school, also chose Adelphi for the reputation of the University's athletic program. "At the time, Adelphi was a three-time national champion in women's lacrosse. I considered it an accomplishment to even be recruited by the University," she said.
In 2014, she helped lead her team to capture the 2014 NCAA Division II National Championship, and was named Most Valuable Player of the national championship game. "I have had nothing but great experiences and memories," she said. "It has been a joy to be a part of Adelphi lacrosse."
A true student-athlete, Froccaro is as dedicated to her studies as she is her sport. A communications major, she said she tells members of her team who have not yet chosen a major how much the discipline has to offer. "You learn things from public relations to marketing to journalism. It's such a broad major. I was drawn to communications because it offers so many opportunities."
In spring 2014, she was inducted into Lambda Pi Eta, the national honors society for communications. The co-sports editor for The Delphian, Froccaro was awarded first place for Student Journalism Narrative – College Feature Story at the 2015 Press Club of Long Island Media Awards.
For her talent and commitment to her work in the classroom and on the field, she has received both academic and athletic scholarships, and is also the recipient of the Z. Paul Akian Scholarship Award. "I'm so grateful to be recognized for my academics and athletics," she said. "Being the recipient of this scholarship support has without question pushed me to do my absolute best in the classroom and when I go out on the field."
A senior graduating in May 2015, Froccaro has found a second home at Adelphi and among her teammates. "Adelphi has given me so much over the past four years," she said. "It's going to be really hard for me to say goodbye."
Published April 2015
---
For further information, please contact:
Todd Wilson
Strategic Communications Director 
p – 516.237.8634
e – twilson@adelphi.edu