Akshat Patel is a student working as a Help Desk Assistant in IT
The staff of the Office of Information Technology would like to congratulate
Akshat Patel
Student Worker of the Month for December 2016
Akshat Patel works as a Help Desk Assistant for the Office of Information Technology. He a Computer Science major and part of the Class of 2020. Akshat is a student in the AUI UnderGrad Integrated Accelerator program. He is from the city of Ahmedabad in India. When he is not studying he enjoys time in the outdoors, swimming and listening to music.
Here are some of the comments we received from IT staff members who nominated him:
"Immediately after being hired, Akshat demonstrated exceptional abilities to learn and progress very quickly. He has taken on every challenge with ambition and has shown a desire to work hard from the start. He has only been here a short time and he has already demonstrated that he is highly deserving of this award."
"Although he only joined the Help Desk team in December, Akshat's enthusiasm, willingness to learn and filling in the toughest finals shifts earned him this month's nomination. He was very excited to get started right away and was eager to sign up for shifts during finals and extended study hours.  Akshat stepped in with confidence for shifts when no one else was available and gladly accepted the challenge."
---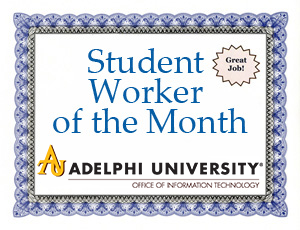 About IT's Employee of the Month Nominations
It is important to demonstrate our appreciation for the contributions of our student workers to their teams, to the Office of Information Technology, and to Adelphi University as a whole. At the end of each month, we will honor one student worker who has demonstrated commitment, leadership, and initiative in their position. The recipient will be presented with a certificate and gift, as well as a featured spot on our IT website.
All IT employees (including student workers) are encouraged to submit nominations for their choice for Student Worker of the Month. Your nominee should display qualities deserving of recognition.
Please submit all nominations through the Student Worker of the Month Nomination Form.