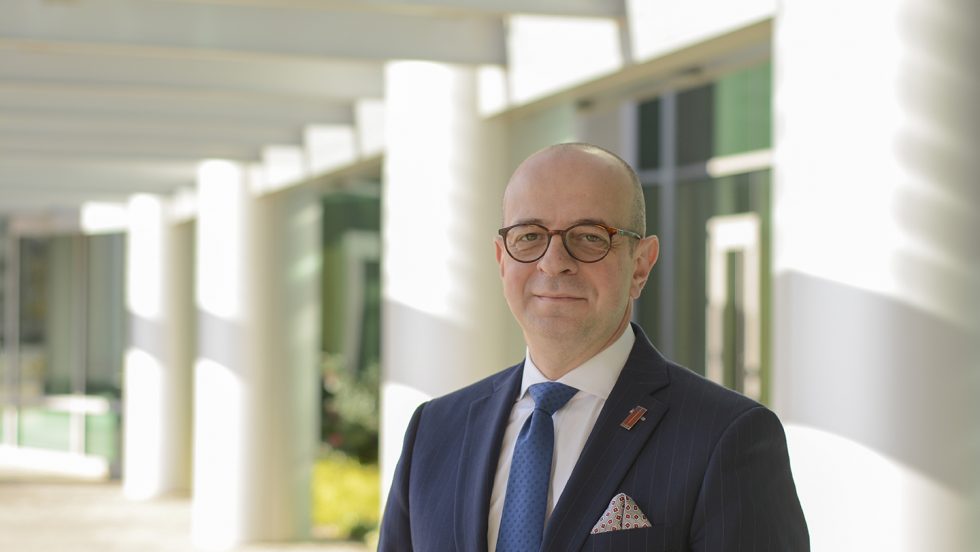 Nicholas V. Cagliuso, Sr., PhD, an adjunct faculty member in the College of Continuing and Professional Studies' graduate emergency management program, was well on his way toward what has become a distinguished career as a national emergency management leader and scholar on 9/11. But he says his experience as a survivor who led his coworkers to safety from the 86th floor of One World Trade Center was a "crystallizing moment that propelled me to take my career to the next level."
When the jet hit the tower on that fateful day, Dr. Cagliuso was working as a management trainee with the Port Authority of New York and New Jersey. By quickly assessing the harrowing situation, he was able to shepherd the group to street level—and save their lives—just 13 minutes before the tower collapsed.
Today, he shares his expertise and love for humanity—and for teaching—with Adelphi, where he is helping to prepare the next generation of skilled, compassionate emergency management professionals for leadership roles in times of crisis.
For Dr. Cagliuso, the urge to help others runs in the family. Inspired by relatives who were firefighters and emergency medical technicians (EMTs) on Long Island, he became an EMT as a Brooklyn high school student. His passion for helping eventually led to leadership roles with the New York City Fire Department's Emergency Medical Services; the Port Authority of New York and New Jersey; New York–Presbyterian Healthcare System; Continuum Health Partners; and NYC Health + Hospitals.
In addition to being an Adelphi adjunct faculty member in the College of Professional and Continuing Studies, he is currently deputy director of the Bethesda, Maryland-based National Center for Disaster Medicine and Public Health's Military–Civilian National Disaster Medical System Interoperability Study at the Uniformed Services University of the Health Sciences/Henry M. Jackson Foundation for the Advancement of Military Medicine.
According to Dr. Cagliuso, over the next few years, the United States Department of Defense-funded project will work to ensure that military and civilian emergency systems are prepared to handle broad-ranging, large-scale medical and other emergency events. "It's very much applied and operational research, with us speaking with a cross-section of seasoned military and civilian experts," he explained.
"We'll be applying their insights and recommendations on how to bolster our emergency preparedness for everything from pandemics and active shooter incidents to large-scale overseas combat casualties and catastrophic weather events. We're even referring to the textbook I used in my Adelphi class this fall."
Combatting COVID-19
Before assuming this role in September 2020, as founding senior assistant vice president for emergency management at NYC Health + Hospitals—the nation's largest municipal healthcare delivery system—he revolutionized its approach to emergency management by developing and implementing its first Incident Command System (ICS ) and Emergency Operations Center (EOC).
"The week between Christmas and New Year's in 2019, we heard there was a PUE—pneumonia of unknown etiology—cooking in China and determined to keep an eye on it through the CDC (Centers for Disease Control and Prevention) and WHO (World Health Organization)," he recalled. "Once we learned of one active domestic case of COVID-19, we activated the ICS and EOC on January 20, 2020."
Despite his proactive leadership, Dr. Cagliuso, like many in his field, was disheartened by early widespread indifference to expert pandemic advice. "It remains sickening," he said. "Decades of public health experience and objective science were actively defied by those in leadership positions. We're still seeing the ramifications of this."
Dr. Cagliuso's career innovations reflect his fundamental belief in the primacy of human relationships. "It's an instinctual thing to survive and help others," he insisted. "All the degrees, skills and titles only mean so much as long as you are human—and connect and interact with others. When confronting new projects, I think there must be a better way to reasonably do good for more people."
A Humanistic Approach to Teaching
His humanistic approach infuses his many years of teaching. A previous stint as a member of Adelphi's Center for Health Innovation Advisory Board indirectly led to his joining Adelphi's fully online graduate program in emergency management as an adjunct faculty member in Fall 2020.
After teaching the fall semester course "Research in Emergency and Disaster Management," he has enjoyed supervising three students' independent study projects on the public health management of disasters, the public administration aspects of emergency management, and organizational staffing options for emergency management this spring.
He delights in sharing his passion for his field with his Adelphi students. "I try to make my courses experience-driven. For me, to teach is to learn twice," he said. "I have been learning and relearning, which makes this such a positive experience."
Dr. Cagliuso also strives to give his students a real sense of what is going on in the field and the world, so that as they apply for roles—whether to advance or start careers—they understand what employers are looking for.
"Formal graduate education has proven to be a real differentiator in the field of emergency management," he said. "The credential is key. Adelphi is unique with its focus on experience-based knowledge and research, which should give our graduate students a competitive edge."