Nurse practitioners are increasingly in demand, and Adelphi University is making news for its innovative approach to student success.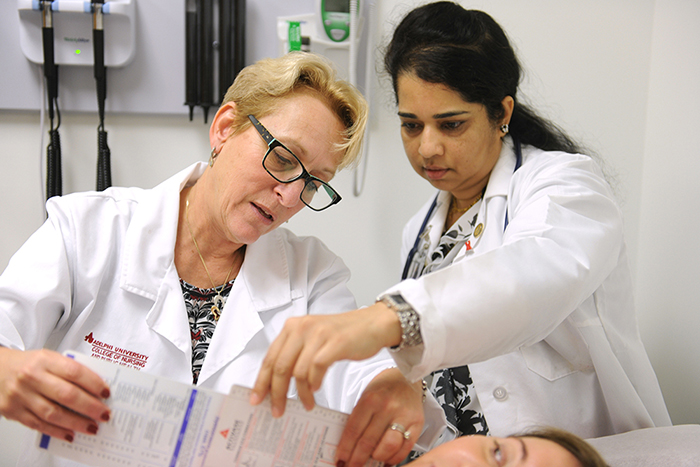 Nurse practitioners (NPs) are increasingly in demand, and Adelphi University is making news for its innovative approach to preparing students for success in this expanding field.
For a recent story highlighting the heightened need for nurse practitioners on Long Island, Newsday interviewed Elaine Smith, Ed.D., acting dean of Adelphi's College of Nursing and Public Health (CNPH), who noted that the 40 nurse practitioners graduating this May will be entering the market with a distinct edge.
"It's a rapidly growing and evolving field," Dr. Smith said, "and our program prepares the nurse practitioner to compete and work in the outpatient ambulatory primary care environment of today."
Rated among the top 10 New York State nursing schools on college ranking site Niche, the College of Nursing and Public Health provides its NPs—there are 136 currently enrolled—with a comprehensive curriculum engaging students through traditional and online settings, with part-time blended opportunities that cater specifically to the full-time professional.
"Our faculty includes accomplished researchers and teachers who are genuinely passionate about healthcare—and especially the future of health in our Long Island communities," Dr. Smith said. The Department of Labor predicts a nearly 30 percent growth in demand for nurse practitioners from 2012 to 2022, mirroring the growth rate of the area's residents over 65—the population that relies most on in-home visits and other services increasingly provided by NPs.
"Adelphi's new Nexus Building features a clinical simulation laboratory where both undergrad and graduate nursing students have the opportunity to practice skills and assessments with equipment identical to that found in hospitals and ambulatory care practices," Dr. Smith said. "But, especially as our older population grows, an increasing amount of care will be delivered in the community, in patients' homes, which is why we're creating a new smart home lab, where students will get to practice on state-of-the-art robotics and telehealth equipment, the tools that make virtual monitoring and assessment services possible in the home."
Margaret Cox, D.N.P., who directs the College's Nurse Practitioner Program, draws on two decades of experience working in the field in the Northwell Health system as she and her team fine-tune a program that will be available next year to fully prepare students to pass their board certification exams.
"Certification is not legally required in New York State, but the reality is that employers here expect NPs to pass the exam, in addition to becoming licensed, before they're hired. We're expanding our program to coursework that ensures students receive what they need to confidently take the test after graduation."
Nurse practitioners become certified in specialty areas, such as adult and geriatric primary care, which the program currently focuses on. In the near future, Adelphi will welcome students considering a mental health career, adding a track for psychiatric NPs. Marissa Abram '08, an NP and clinical assistant professor who is helping to create this program, received a B.S. from Adelphi and is currently finishing up a Ph.D. here focused on psychiatric data collection and data analysis.
"I came back to Adelphi because of the rigor and convenience of the program," Abram said. She emphasized how fortunate she felt to be paired with her mentor, Jane White, Ph.D., associate dean, who is leading the creation of the psychiatric NP program, whose work Abram said she was "very familiar with" before they ever met.
Abram's experience is typical of Adelphi, which strives to make curricula student-focused and relevant to the community, Dr. Cox emphasized. "We work to offer a very personalized, as well as world-class, educational experience—for instance, we have a nurse on staff who is solely dedicated to placing students in clinical situations that correspond with their educational and career goals."
As the demand for nurse practitioners on Long Island continues to grow and technology is adapted to bring the highest quality healthcare into people's homes, Adelphi's College of Nursing and Public Health is readying NPs with the tools they'll need to navigate the evolving, patient-focused environment of the future.
---
For further information, please contact:
Todd Wilson
Strategic Communications Director 
p – 516.237.8634
e – twilson@adelphi.edu