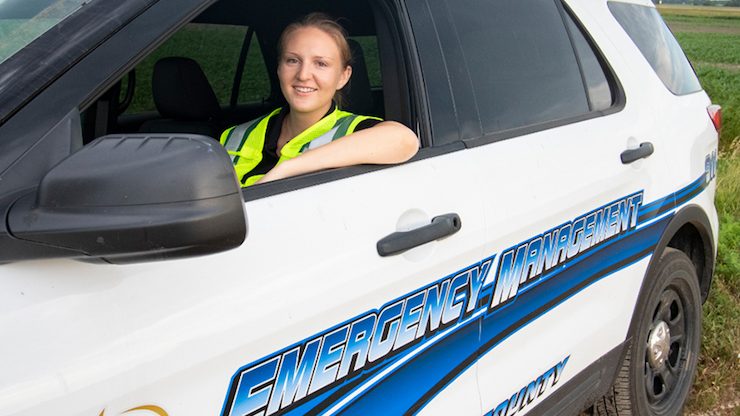 Students from as far away as Kansas are turning to Adelphi's online master's degree programs to advance—or change—their career.
Long Island native Bruce Mawhirter has nearly 40 years of experience as a civil engineer working on recovery projects after natural disasters. After Tropical Storm Irene in 2011, he helped prepare designs for roads and bridges. After Hurricane Sandy in 2012, he prepared designs to elevate and repair approximately 200 homes and increase Long Island Rail Road signal system resiliency. And now, during the coronavirus pandemic, he is studying emergency management with Adelphi.
His career has long been connected to emergency management and, in 2018, he decided to dive further into this field by applying to Adelphi Online for a master's degree in emergency management.
"I was a little bit nervous about going back to school after being out for so many years, but my experience has been phenomenal," he said. "I quickly became accustomed to the online format due to my professors' organization, support of students, and teaching methods through video and voice presentations."
Adelphi Online graduate programs are helping many students who have jobs and families continue their education on their own schedule. Many, like Mawhirter, are so-called "nontraditional students." They aren't fresh out of high school. Instead, they bring a wealth of experience to their new learning and to their classmates. Like traditional students at Adelphi, they enjoy the same personalized education and support from the University—only online and at a distance.
Through his courses, Mawhirter has gained a better understanding of how engineering is tied to emergency management, particularly in response to natural disasters. He's learned more about how to obtain funding for relief projects and how disaster declarations move from the local to the state and federal government levels.
"I now have a broader sense of how I might be able to help," Mawhirter said. "What can we do now that possibly prevents the widespread damage of severe flooding or hurricanes? Let's think not two years down the line, but 30 or 50 years down the line."
Bringing Opportunity to a Full-Time Worker and Mother of Two
New Yorker Shana Vega, another online master's degree student, is studying social work while raising two children and working as a full-time program manager at a community residence for people with mental illness and chemical addiction. She supervises a house of 12 residents and a staff of six who help develop goals and programs for those residents. Vega entered Adelphi's program last year to advance her career and move up to program coordinator in her organization.
A course on evidence-based practice with patients with serious mental illnesses was particularly helpful to her current work, Vega said.
"It gave me a better understanding of the symptoms related to my clients' diagnoses and how many symptoms are needed for someone to be diagnosed with a specific disorder," she says.
Adding "Long" to "Distance Learner"
Meanwhile, Michelle Barkley joins her classmates from Saline County, Kansas. Barkley, 22, is the county's director of emergency management, handling emergency operations plans, grant submissions, and response and recovery services, including those related the COVID-19 pandemic. She's earning her master's degree in emergency management as well.
"There have been some challenges in my position because of the age difference and lack of women in the field," Barkley said. "Those management classes really helped me understand how to take that role and use different ways of communicating with partners and community members."
Barkley chose Adelphi partly because faculty incorporate lessons from local emergency management crises like the 9/11 attacks and the coronavirus. Barkley eventually hopes to work in the private sector of emergency management for a larger city like New York or Los Angeles.
"I know that a lot of those positions require you to have a master's degree," Barkley said. "So I thought going back to school would allow me to engage in theoretical discussions about the field while gaining that boots-on-the-ground experience here in Kansas."
---
For further information, please contact:
Todd Wilson
Strategic Communications Director 
p – 516.237.8634
e – twilson@adelphi.edu