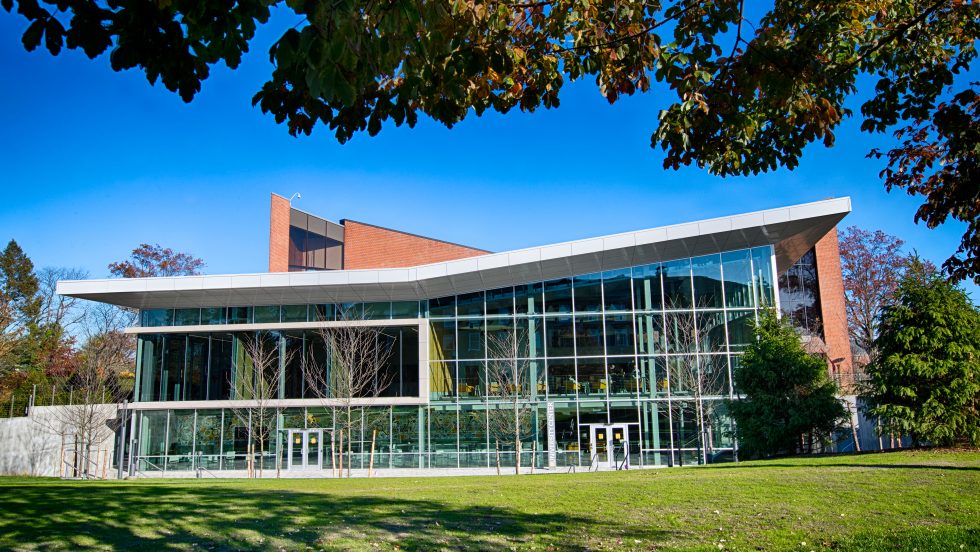 In January, Adelphi University's Ruth S. Harley University Center (UC) reopened after a two-year renovation and expansion project.
Since reopening, the University Center has received recognition for being a top-notch building for the Adelphi community. Now the University Center is open to businesses and outside groups for events, retreats, meetings, training and more.
Located on Adelphi's main campus in Garden City, New York, the eco-friendly facility offers a range of meeting spaces—including the Thomas Dixon Lovely Ballroom, which seats up to 550 people, as well as new meeting rooms that can hold anywhere from two to 100 people. All of the available spaces have the latest technology, including HDMI input capabilities and screens, dual digital projectors, customizable lighting, and livestreaming capabilities. The ballroom is also equipped with an assisted-listening system, which reduces background noise so people who use a hearing aid or loop listener can hear sounds more clearly.
The building's renovation included a new dining area that seats up to 300 guests and offers freshly prepared meals, grab-and-go options and a full-service Starbucks. Adelphi not only provides exceptional event spaces but also quality dining through onsite catering. Professional chefs and nutritionists create a customizable menu to provide a memorable experience for all guests. To ensure that gatherings run smoothly, event managers are assigned to each group for day-of assistance.
The University Center has received awards for its state-of-the-art renovations and expansion—including the Long Island Business News (LIBN) 2021 Real Estate, Architecture and Engineering Award as a Top Education Renovation. It was also recognized by Unique Venues as a Top Pick venue space in the New York/New Jersey region.
Adelphi's campus is within walking distance of multiple Long Island Rail Road stations and is close to the downtown Garden City area, home to various shopping and dining options. Adelphi also has locations in the heart of Manhattan and in Suffolk County in Hauppauge, New York. Adelphi's Manhattan Center is an ideal area for individuals in need of meeting or training space in the Big Apple.
To reserve space for your next meeting, training, event or retreat, visit auxiliary services. View photo galleries of the UC at explore the UC.