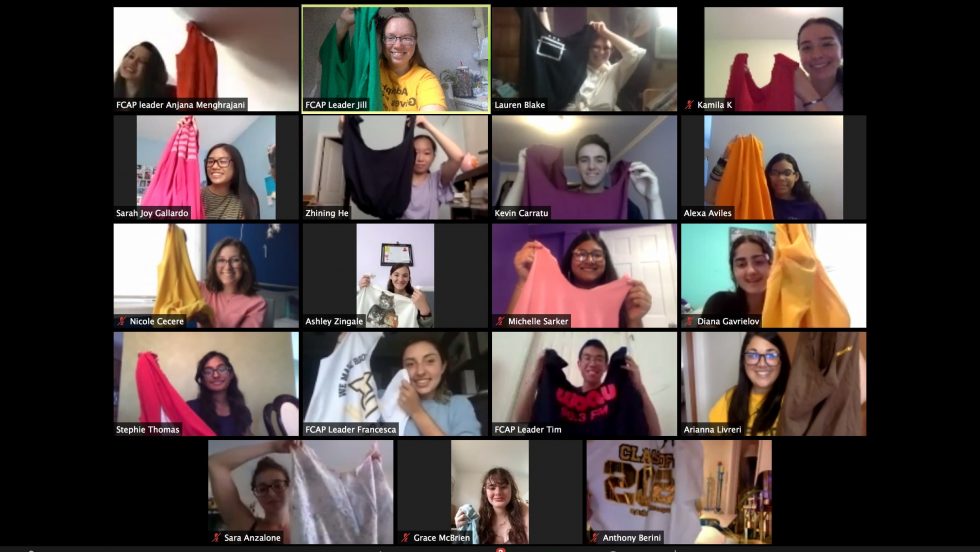 Every fall, the incoming first-year class has the option to participate in the First-Year Community Action Program (FCAP). In this community service program, hosted by the Center for Student Involvement (CSI), first-year students engage in a summer experience with peers and gain a deeper understanding of civic engagement and social justice—two important parts of an Adelphi education.
In the past, students volunteered in groups in various locations on Long Island. They collected and distributed food donations, worked in soup kitchens, and beautified areas by painting murals, picking up trash and weeding gardens.
This year's program could not continue as planned due to health concerns. But CSI decided to hold the program, this time in a virtual format.
Virtual Volunteer Work
Each Friday in August, the students participated in various community service projects. They made 20 dog blankets for the Town of North Hempstead's animal shelter, constructed 60 reusable bags for the INN (Interfaith Nutrition Network), worked on a proposal for virtual fundraising events to be hosted by Adelphi's Greek life to benefit philanthropies, and learned about how to evaluate candidates running for office and the importance of voting.
Even though students were not working together in person, they were still engaging with one another and with community service partners. "FCAP was a really cool program," said Kevin Carratu, a first-year molecular neuroscience major. "It definitely got me interested in serving with other groups and clubs."
Students Mentoring Students
In addition to giving back to the local community, the program gives returning students the opportunity to give back to new students. Four returning student leaders, Timothy Lee, Jillian Hajek, Francesca Amato and Anjana Menghrajani, led the first-year students throughout the program, welcoming them to Adelphi and serving as mentors.
Arianna Livreri, CSI's senior assistant director, has overseen the program for the past four years."We were extremely proud of our FCAP participants and leaders this past summer and cannot wait to see how they impact Adelphi and the surrounding community this year." she said.
Visit MyAULife to see available community service opportunities or email Volunteer@adelphi.edu.